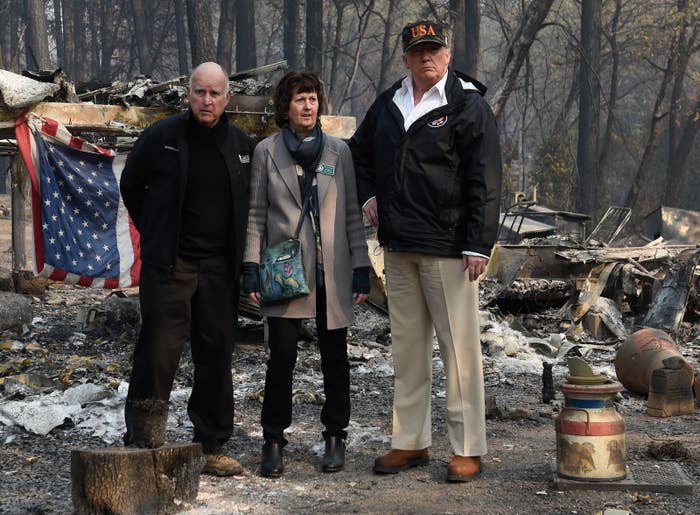 Although President Donald Trump tweeted that he had ordered his administration to cut off disaster aid to wildfire victims in California, federal officials confirmed on Wednesday that they never received any such directive.
The Federal Emergency Management Agency, which helps survivors of national disasters recover, told BuzzFeed News for the first time that Trump never issued an order to stop sending money to California.
"We never got any such directive," Brandi Richard, a FEMA spokesperson, told BuzzFeed News. "That's evidenced by the fact that work is still being done and we continue to support wildfire survivors across the state."
The Department of Homeland Security, which oversees FEMA, further confirmed the news in a Freedom of Information Act request filed Jan. 9 on Muckrock, the same day the president tweeted his order.
"We conducted a comprehensive search of files," FEMA said in a letter. "Unfortunately, we were unable to locate or identify any responsive records."
In January, Trump accused California of failing to properly manage its forests to prevent wildfires and announced, via Twitter, that he had ordered his administration to stop sending money to hundreds of thousands of survivors.
"Billions of dollars are sent to the state of California for forest fires that, with proper forest management, would never happen," the president tweeted last month. "Unless they get their act together, which is unlikely, I have ordered FEMA to send no more money. It is a disgraceful situation in lives & money!"
Since October 2017, California has been working to recover from an unprecedented series of massive wildfires that have killed more than 130 people, destroyed hundreds of thousands of homes, and left many rural communities and towns across the state in tatters.

On Nov. 8, the Camp fire, the deadliest in state history, tore through the Northern California town of Paradise and surrounding communities, killing 85 people and burning nearly 14,000 homes. That same day, the Woolsey fire ignited near Los Angeles, ultimately torching nearly 97,000 acres.
FEMA is still on the ground in several damaged communities, trying to find housing for thousands of people who lost everything.
The day before the president said he was cutting off federal disaster assistance, FEMA and California officials announced they had extended the registration deadline because so many people were still applying. As of Jan. 8, more than 26,000 residents had applied for disaster assistance.
After the president's tweet, which sparked widespread outrage, FEMA told BuzzFeed News several times that it had no plans to stop helping survivors, but it would not confirm whether it had received a directive to cut off financial aid.
Trump has repeatedly blamed California's devastating wildfires on state water policies and management of its drought-crippled wildlands, despite the fact that the federal government is responsible for 60% of the state's forests and most of the recent blazes were urban-interface fires, meaning they consumed neighborhoods.
Experts, firefighters, and fire officials have also pushed back on the president's oversimplified analysis of why California's wildfires have become increasingly overwhelming, pointing to a confluence of factors, such as climate change and urbanization, that have thrust the state into uncharted territory.