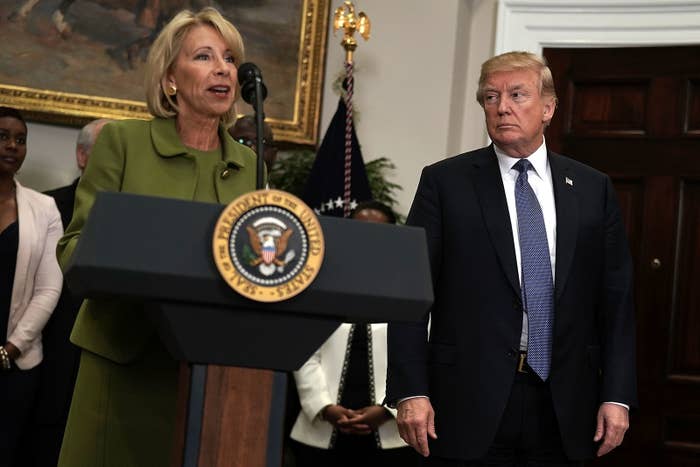 President Donald Trump is proposing the use of Department of Justice funding to help states train and arm school personnel as part of his school safety policy proposal released Sunday.
In addition to supporting firearm training for volunteer educators across the country, Education Secretary Betsy DeVos will also chair a federal commission on school safety geared toward recommending policy and funding proposals for school violence prevention.
The White House billed the new two-pronged approach as a "pragmatic plan to dramatically increase school safety immediately."
"There has been a lot of talk and too little action," DeVos said on a call Sunday. "There are steps that can be taken right away to protect students."

Tapping into Justice Department resources and finances, the government will help states partner with law enforcement agencies to train school personnel who volunteer, the White House explained. Arming educators has been a divisive, contested issue since Trump floated the idea at a listening session with school shooting survivors, with many students and parents from Parkland, Florida, decrying the idea of putting more guns on campus as a way to thwart mass school shootings.
Sunday, officials had said Trump would not be issuing any mandates to raise the age requirement so that a person has to be 21 years old to purchase a gun, and will leave the decision up to the states.

Monday morning, the president tweeted that he would be waiting to see how states decide to implement age limits on when citizens may own guns, "watching court cases and rulings before acting."

Trump will also help military veterans and retired law enforcement into "new careers in education," he said Sunday.

"There are a multitude of programs that exist across the country where school personnel are trained in conjunction with law enforcement, so those are the types of programs that we will be looking at," a senior administration official told reporters.
However, officials could not answer questions pertaining to how much these Justice Department assistance programs will cost and where the money will be coming from.
DeVos said the commission will "bring together a wide array of practitioners," including teachers "on the frontlines" to focus on how to bolster school safety, identify at-risk students early on, and increase access to mental health services.

As with the firearm training programs, officials were unable to explain how exactly the commission itself will enact reforms outside of making recommendations to Congress, nor did they know if there was a timeline in which these changes would come to fruition.
While Trump is also calling on states to bolster background checks, and will direct the Justice Department to "provide technical assistance" to states who ask for guidance on establishing Extreme Risk Protection Orders (ERPOs), he will not be proposing any sweeping, nationwide changes to strengthen the process.
In terms of mental health resources, the president said he wanted to "increase integration of mental health, primary care, and family services, as well as support for programs that utilize court-ordered treatment."
Furthermore, his administration is calling for a review of privacy laws, such as Family Educational Rights and Privacy Act (FERPA), the Health Insurance Portability and Accountability Act (HIPAA), which are meant to protect certain information, like race, gender, and medical information, from being shared.
Trump has also demanded a full audit of the FBI's tip line, which botched two calls about suspected Parkland shooter Nikolas Cruz before he allegedly walked into his former high school on Valentine's Day and killed 17 people.