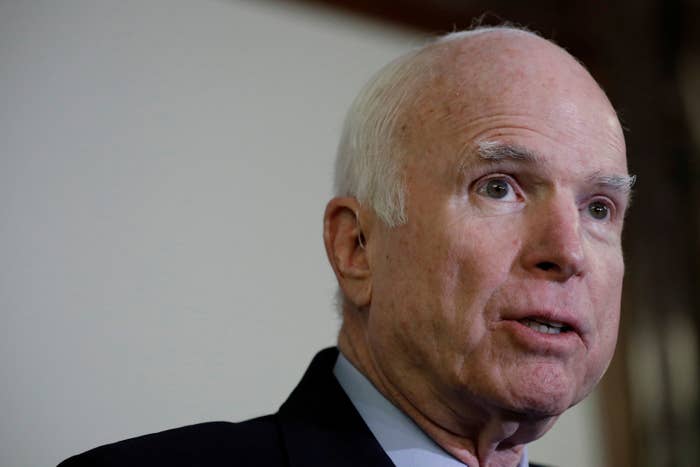 A White House aide brushed aside Sen. John McCain's opposition to President Donald Trump's nominee for CIA director by mocking his brain cancer diagnosis, saying, "it doesn't matter, he's dying anyway," multiple outlets reported Thursday.
Kelly Sadler, a Trump aide in charge of surrogate communications, made the comment during a closed-door White House meeting in front of about two-dozen staffers Thursday morning, the Hill reported.

The joke fell flat, a White House official told CNN.
The White House didn't deny Sadler made the comments, but said it respected McCain and his service "to our nation."
"He and his family are in our prayers during this difficult time," it said in a statement to BuzzFeed News.

On Wednesday, McCain joined a chorus of other senators who are opposing Gina Haspel's pending nomination to lead the CIA over her involvement in harsh interrogation techniques, such as waterboarding, and the destruction of evidence after 9/11.
McCain, who was tortured as a prisoner of war during the Vietnam War, recently implored his colleagues to reject Haspel. The Arizona Republican called her role "in overseeing the use of torture" disturbing.
"As I have argued many times, the methods we employ to keep our nation safe must be as right and just as the values we aspire to live up to and promote in the world," McCain said in a statement. "[Haspel's] refusal to acknowledge torture's immorality is disqualifying."

When asked about Sadler's remarks about McCain, Haspel stated she has "the utmost respect" for the senator.
"I appreciate the thoughtfulness with which he has approached this nomination process," the CIA's deputy director said in a statement to BuzzFeed News.
Last year, the 81-year-old announced that he had been diagnosed with brain cancer and he has been in and out of treatment, spending the bulk of his time at his ranch in Arizona.
The senator's wife, Cindy McCain, snapped back at Sadler on Twitter Thursday.
"May I remind you my husband has a family," she tweeted to the White House aide.
She also called out Fox Business Network, which came under fire earlier Thursday after a guest made a derogatory remark about her husband.
The host, Charles Payne, later apologized to McCain and his family, explaining that he did not catch the comment.