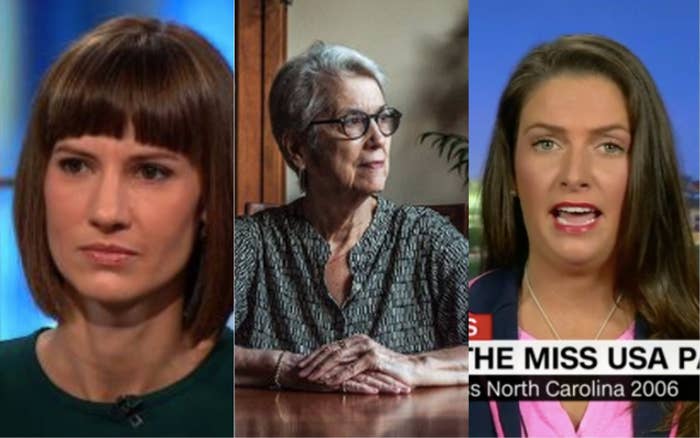 Three women who publicly accused Donald Trump of sexual misconduct have spoken out once again, hoping their stories would make a difference in light of the #MeToo movement, which has led to several powerful men being held accountable after facing multiple allegations of sexual harassment.

"It was heartbreaking last year," Samantha Holvey told NBC News host Megyn Kelly on Monday. Holvey who represented North Carolina at the 2006 Miss USA pageant, has said Trump would come and personally inspect her and the other contestants before the competition.

"We're private citizens, and for us to put ourselves out there to try and show America who this man is and especially how he views women, and for them to say 'meh, we don't care,' it hurts," Holvey said. "And so now it's just like, alright, let's try round two. The environment's different. Let's try again."
Holvey described her alleged encounters with Trump to Kelly, saying he used to look at her "like I was just piece of meat."

"The first interaction with Trump is that he lined all of us up and he goes down – and I thought this was going to be a meet and greet, like, 'Hi, how are you? It's nice to meet you,' and it was not," Holvey, who was 20 at the time of the pageant, said.

"It was just looking me over like I was just a piece of meat, I was not a human being, I didn't have a brain, I didn't have a personality, I was just simply there for his pleasure. It left me feeling very gross, very dirty, this is not what I signed up for."

She said Trump also walked in backstage to the hair and makeup area, where the contestants were only wearing robes. "He comes in like he owns the place and like he owns you," Holvey said. "He was looking at us, eyeing us up and down."

Holvey, Jessica Leeds, and Rachel Crooks, who appeared together on Kelly's show, are three of at least 16 who have accused Trump of sexual harassment dating back three decades, with allegations that range from groping and unwanted kissing to making lewd propositions.

Trump has repeatedly rejected the claims, dismissing his accusers as liars and denying that he has ever been inappropriate with women, despite a bombshell 2005 Access Hollywood tape in which he can be heard bragging about kissing women and grabbing them "by the pussy." Although the president initially apologized for those remarks, calling it "locker room talk," he has recently suggested that it is not actually his voice on the tape.

In a statement to Kelly on Monday, the White House again labeled the allegations as "false claims."
"The timing and absurdity of these false claims speaks volumes and the publicity tour that has begun only further confirms the political motives behind them," the statement added.

Crooks told Kelly the White House response was "laughable."

Crooks, whose account was published in the New York Times last October, said she first encountered Trump in 2005 when she was 22 years old and working as a receptionist for a development company with offices in New York City's Trump Tower.

Recounting her story on Monday, Crooks told Kelly she decided to introduce herself to Trump while he was waiting for the elevator.

"He shook my hand and he kind of gave me the normal double-cheek kiss but then he held onto my hand and he kept kissing me," Crooks said. "He kept asking me maybe a question, 'Where you from?' Kissing me again, and again. It was right outside the elevators, right outside my office. I don't know how many times back and forth, multiple, and then he kissed me on the lips. It happened so fast."
Trump told the Times that the incident described by Crooks never took place.

Crooks told Kelly she was "shocked and devastated" after the alleged encounter. She said she ran back to her office while Trump got on the elevator. She said she called her sister and told her, "I don't know what just happened, but I felt horrible."

She said that a few days later, Trump came into her office and asked her for her phone number. "I remember saying, 'What do you need that for?'" Crooks told Kelly. She said he told her he was going to give it to his modeling agency and have them call her. "But of course, I never heard from anyone," Crooks said.

"I was so uncomfortable and a little threatened, like I didn't have a choice in agreeing to do that," she said. "You feel like you have to say yes. You don't want to be the nasty girl, the mean girl who doesn't comply and who puts up a fight. I wish I had been stronger."

Leeds, who first went public with her accusations to the New York Times less than a month before the presidential election, told Kelly she encountered Trump while she was on an airplane from Dallas or Atlanta in the 1970s.

Before the story was published, Trump had told the Times that "none of this ever took place," and began shouting at the reporter who was questioning him. He has continued to deny Leeds' allegation.

Leeds told Kelly that the stewardess asked her if she wanted to come up to first class and she agreed. Leeds said she was seated next to Trump, but at the time, she didn't know who he was.

"They served a meal and after the meal was cleared, all of a sudden he was all over me," Leeds said. "Kissing and groping and groping and kissing. And believe me my memory of it was that nothing was said...it was just this silent groping going on."

She had previously told the Times that Trump "was like an octopus" and, "His hands were everywhere."

Leeds said that she wondered why the man sitting across the aisle from her or the stewardess did not come to her rescue.

"His hand started going up my skirt," Leeds said. "I'm not a small person. I managed to wiggle out and stand up, grabbed my purse and I went back to the airplane."

She said that a few years later she bumped intro Trump and his first wife Ivana Trump at a fundraising gala in New York City.

She said that while she was handing out his table assignment at the gala, Trump told her, "I remember you. You were that....woman from the airplane," Leeds said, adding that he called her "the worst name ever." Kelly confirmed that it was the c-word.
At a press conference hosted by Brave New Films in New York City on Monday, the three women shared their stories again and called for Congress to investigate the president for sexual harassment.

"If they were willing to investigate Sen. Franken, it's only fair they do the same for Trump," Crooks said at the conference.


In an interview on Sunday, Nikki Haley, the US ambassador to the United Nations, said the women who have accused Trump of sexual harassment and misconduct "should be heard" or "dealt with."

However, on Monday, White House press secretary Sarah Huckabee Sanders the president has "addressed these accusations directly and denied all of these allegations."
"Look, as the president said himself, he thinks it's a good thing that women are coming forward, but he also feels strongly that a mere allegation shouldn't determine the course and in this case," Sanders told reporters during a briefing. "The president has denied any of these allegations, as have eyewitnesses...and again, the American people knew this and voted for the president and we feel like we're ready to move forward in that process."