Chester Bennington, the lead singer of Linkin Park, died Thursday after an apparent suicide, prompting people from across the entertainment industry to share their shock, sorrow, and tributes.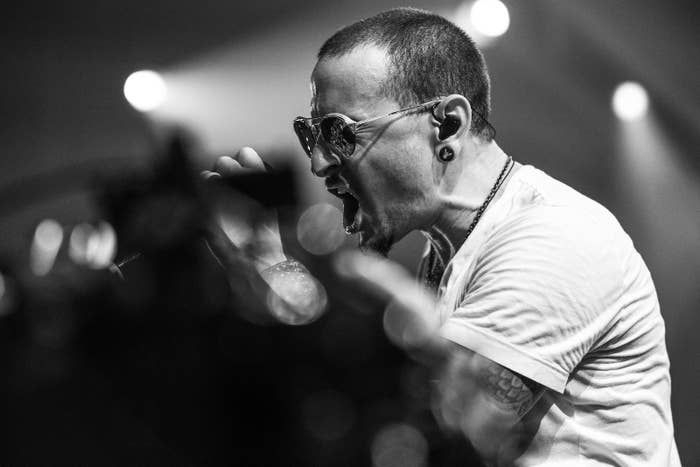 Bennington died on the birthday of Soundgarden's Chris Cornell, his good friend who killed himself in May. He would have been 53 on Thursday. Cornell's wife, Vicky, tweeted, "Just when I thought my heart couldn't break any more..."
His bandmate, Mike Shinoda, also tweeted that he was "shocked and heartbroken."
A slew of artists from all genres of music also shared tributes to the 41-year-old rocker on social media.
"I am in tears. Chester just told me how happy he was....he was a sweet and talented man...," said Nikki Sixx, cofounder of Mötley Crüe.
"Salutes and Condolences to Mike and Your band mates and big love and Condolences…," hip-hop artist Killer Mike wrote on Instagram.
Paramore's Hayley Williams shared a poignant, emotional take on Twitter, writing: "Artists are ppl compelled to bring beauty into a world that can be so dark. makes sense then that artists are always conscious of darkness...... & maybe at times made more vulnerable by it? i don't know. life can be relentless."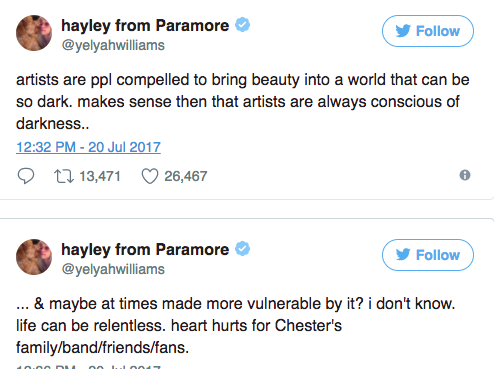 "Gonna miss you," Fred Durst, the singer from Limp Bizkit, captioned a photo of the two artists on Instagram.
Brian Welch, one of the founders of Korn, remembered his "old friend."
"He & @linkinpark are the kindest folks you could ever hope to meet," said singer Ryan Adams.
"What an absolutely tragic loss," said Andy Biersak, the lead singer of rock band Black Veil Brides.
"Literally the most impressive talent I've ever seen live! Vocal beast!" Rihanna posted on Instagram.
"Thank you for sharing your greatness," wrote rapper Pusha T.
"Thank you for your music and incredible voice. Another legendary singer gone," tweeted rock band American Authors.
Nickelback tweeted Bennington's lyric, "When life leaves us blind, love keeps us kind," adding, "Rest easy sir."
"Oh dear God. Massive R.I.P to Chester Bennington of @linkinpark this BREAKS OUR HEART," said OneRepublic.
"No words. So heartbroken," tweeted Imagine Dragons.
"Rock and roll will never fill the space he left," said Ryan Key, the former lead singer of Yellowcard.
"Can't even fathom the news...going to have LP on repeat all day," said Michael Clifford, the guitarist from 5 Seconds of Summer.
"Chester Bennington has always been someone that I've looked up to. I can't believe he's gone," tweeted Geoff Wigington, from the rock band Waterparks.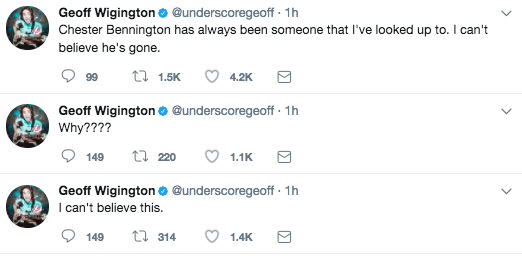 "A voice of a generation," said English rock band You Me at Six.
"Lost another one," wrote DJ group Cash Cash, adding that they were playing Linkin Park's "In the End" on repeat.
Bennington is survived by his six children and wife Talinda Bennington.