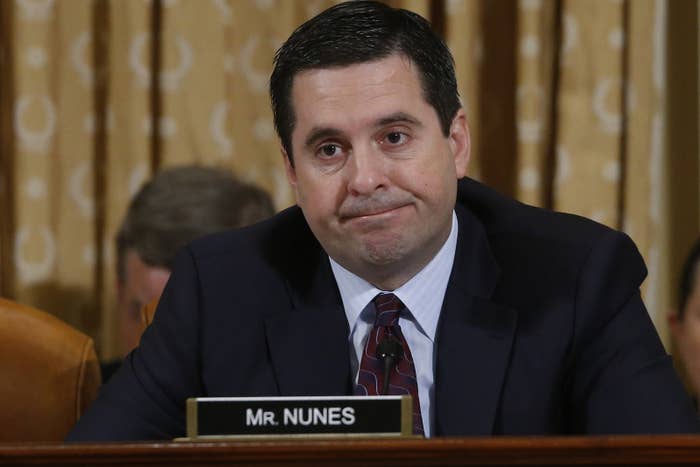 Top Democrats in Congress are demanding House Intelligence Committee Chairman Devin Nunes recuse himself from an investigation into Russian interference in the election and possible ties to Trump aides.
The committee's ranking Democrat, Rep. Adam Schiff of California, called for the recusal on Monday amid revelations that Nunes, a Republican, had met an intelligence source at the White House, raising questions about whether he can be an impartial leader of the investigation.
"I believe that the chairman should recuse himself from any further involvement in the Russia investigation, as well as any involvement in oversight of matters pertaining to any incidental collection of the Trump transition, as he was also a key member of the transition team," Schiff said a statement. "This is not a recommendation I make lightly, as the chairman and I have worked together well for several years."
Schiff rebuked his colleague last week for stating that he had seen evidence showing that personal information for members of Trump's team may have been picked up by routine surveillance. Nunes briefed the White House and House Speaker Paul Ryan, but has not shared the information with his colleagues on the committee.
Nunes, who apologized for his unorthodox behavior, has defended his handling of the information, saying it was necessary to protect his source and that he had a "duty and an obligation" to brief the president.
But on Monday, the political pressure mounted for Nunes as other top Democrats Sen. Chuck Schumer and Rep. Nancy Pelosi also called for recusal.
"Chairman Nunes is falling down on the job and seems to be more interested in protecting the president than in seeking the truth," Schumer said. "You cannot have the person in charge of an impartial investigation be partial to one side. It's an inherent contradiction."
The Senate Intelligence Committee is conducting its own inquiry into possible links between the Trump campaign and Russia.
Pelosi said Nunes' "discredited behavior" had tarnished his office and that Ryan should force him to recuse himself.
A spokesperson for the speaker, however, told BuzzFeed News that Ryan "has full confidence that Chairman Nunes is conducting a thorough, fair, and credible investigation."