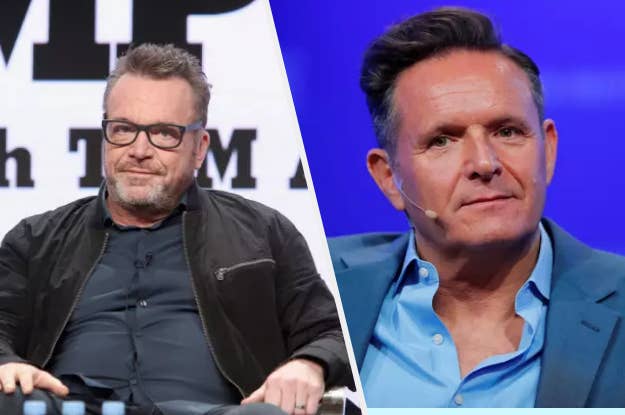 Actor Tom Arnold filed a police report in Los Angeles on Monday accusing Mark Burnett, one of the executive producers of The Apprentice, of attacking him at a pre-Emmys party.
Arnold has become a vocal critic of Donald Trump and is the host of an upcoming Viceland show The Hunt for the Trump Tapes, which aims to find and investigate recordings and outtakes of the president during his time on the reality TV show. For months, Arnold has been hounding Burnett to turn over the recordings.
The two were entering a charity event on Sunday night to kick off the Emmys when they ran into one another and, according to Arnold, Burnett "just went apeshit and choked [him]."
Replying to one of the president's tweets Monday morning, Arnold said he was sitting in "West LAPD filing charges against your best bud ... who lost his mind."
Los Angeles police confirmed to BuzzFeed News that Arnold had filed a battery report and that investigators are now handling the case.
According to TMZ, Arnold immediately approached Burnett and his wife, Roma Downey, when he saw them at the event an altercation occurred.
A representative for Burnett told BuzzFeed News that the producer had "nothing to say at the moment" in response to the allegations.
Other attendees, like How I Met Your Mother actor Alyson Hannigan, confirmed via Twitter that the two got into some type of "fight" and that Survivor host Jeff Probst tried to "break it up."
Patton Oswalt, a stand-up comedian and actor, shared a photo of Arnold shortly before 11 p.m. Sunday, saying that "he's okay."
However, Downey said that Arnold was the one who attacked her and her husband, bruising her hand in the quarrel.

"Tom Arnold tried to ambush my husband Mark and me at a charity event," she tweeted, asking if such behavior was worth his upcoming docuseries.
Arnold vehemently pushed back on Downey's account, retweeting it and calling the allegation "bullshit."
"You lie your crazy husband attacked me you psycho. I'm filing police report & suing you for defamation," he replied. In another tweet, Arnold accused Downey of knocking another attendee's phone out of his hand as he was recording the fight.

"Bryan came with me," he said, referring to director Bryan Fogel. "He has tape."
Apparently Kevin Bacon is also a "solid reliable brawl witness." His daughter, Sosie Bacon, was "a wingman," Arnold tweeted.
Tapes of Trump have again become a contentious issue after former White House staffer and Apprentice star Omarosa Manigault Newman claimed in her new book that the president said the n-word several times while on the set of the NBC show.
Calling Newman "wacky and deranged," Trump said in August that he doesn't "have that word in my vocabulary" and assured his followers that Burnett confirmed there are no tapes.
Burnett has also repeatedly pushed back on the tapes' existence and has stated that he does not have the ability to release any footage from the show.