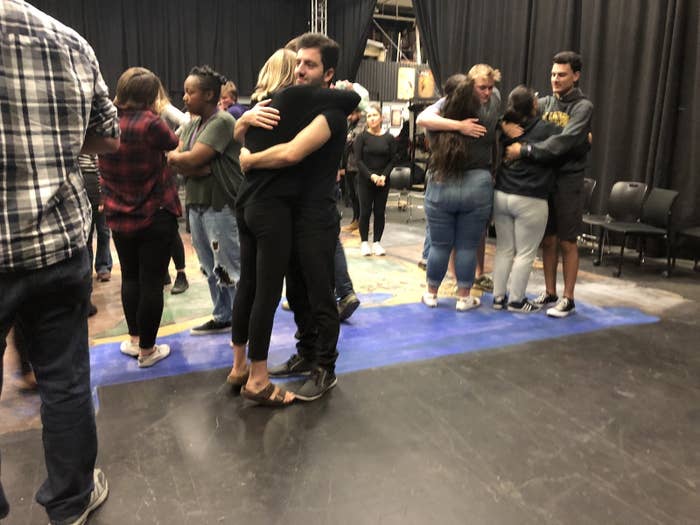 THOUSAND OAKS, California — They had just wrapped their last dress rehearsal when their phones all started buzzing at once. Still in costume, dressed as teens from the Columbine school massacre 20 years earlier, the students from California Lutheran University's small theater department watched stunned as alerts and texts poured in about a shooting at their college's main neighborhood bar.

It was around midnight and practice had gone late. The department's production, Columbinus, was set to premiere Thursday night to a sold-out crowd of about 200 people. As the associate artistic director announced, "it could not feel more immediate"; it was a topic "ripped from today's headlines."
In two acts, the cast and crew of 11 students had planned to delve into the 1999 Colorado school shooting that killed 12 students and one teacher, rocking the nation before most of the actors were even born. For two months, the young actors had watched documentaries, pored over police evidence and interviews with survivors, researched the mental health issues of the gunmen, and tried to put themselves in the shoes of teenagers experiencing a mass shooting. 

But as they were finishing their final run-through, a man stormed into a packed country bar a few miles away during its weekly "college night," killing 12 people, including a recent graduate of the university. 
The shooter was also found dead inside.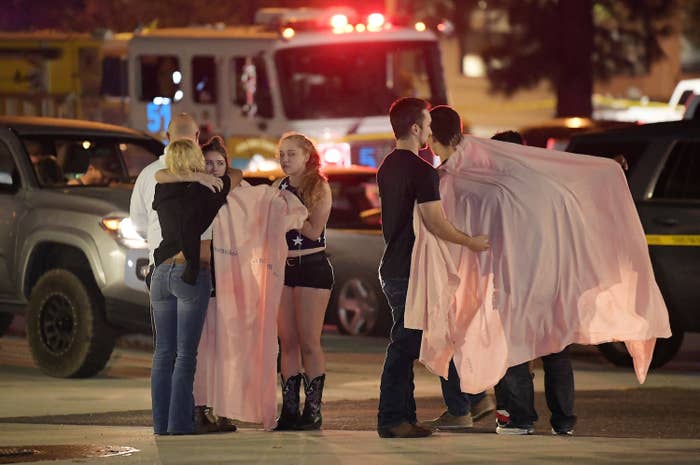 "We all immediately started calling people. Our parents were calling us. We all know so many people who went there who were regulars that I didn't even know where to start," said Victoria Karr, who plays Faith in the play. "I knew I was going to know someone who died."
She did. Her friend's fiancé, 23-year-old Justin Meek, died trying to help people escape the Borderline Bar & Grill. 

Jordan Erickson, a junior, was in the same select choir group with Meek before he graduated last year. 

"For two months, I was wondering how I was going to make this play real for myself because I didn't have anything to relate it to. Now it's too easy," Erickson said as he leaned back in his stiff, black chair. "Every time we've done this show we're able to leave it in the theater and go back to our safe lives, and now our lives aren't safe anymore."

Their play is now on hold as their small, quiet campus tucked in the suburbs of Thousand Oaks has transformed into a surreal kind of mourning center. Students milled around aimlessly, red-eyed, dazed, and often bursting into tears or hugging people they saw crossing the quad area.

Before the massacre at their beloved country-and-western bar, Columbinus had sparked some contention on campus. Several students said people accused the theater department of glorifying the shooters at a time when social media has enabled the personas of shooters and their profiles to go viral and potentially inspire copycats. 

About 12 hours after the mass shooting, the cast and others from Cal Lutheran's tight-knit theater group sat somberly in a wide circle, clutching coffee and chocolate chip cookies someone's mom had dropped off, to discuss why they believe Columbinus should go on. They mulled over the importance of grief, of not shying away from or desensitizing the pain, of what the Parkland shooting survivors did, and why the community needs this production.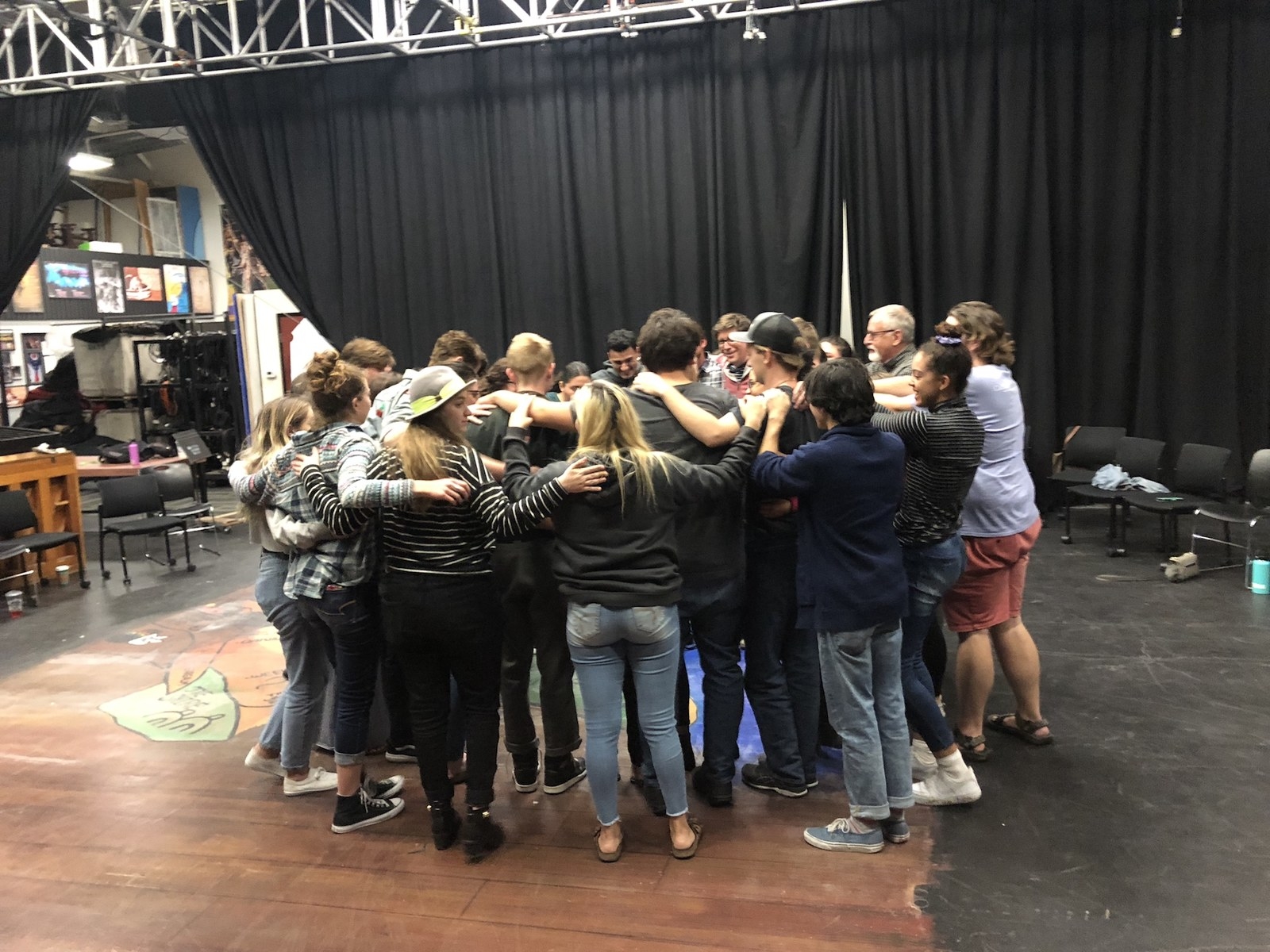 "This is the process: showing up as a human being, allowing yourself to feel the feelings that you have and express them," one person said as the room murmured in agreement.
Through tears, a freshman said she grew up not wanting her back to the door "because I have learned that is dangerous."
"It happens everywhere," she said. "This is the second-safest city around or something like that. We need to push people to talk about this."
Another student said her peers had been practicing for a mass shooting, and now "it's very real to us."
"There was a gun threat during my senior year and I remember not knowing if I would see my mom again, and we need to address this," she said. "We're the lockdown drill generation and we need that awareness to spread, and I think it could be so impactful to have this conversation because I don't want this to still be happening when I have kids."

Nia Bratton, a freshman who is part of the stage crew, said gun violence has defined her life. She grew up in Upland, California, where gang violence was routine. She experienced her first shooting while at Pepper Tree Elementary School. About 10 years later, she lost a friend in the country music festival massacre in Las Vegas in October 2017. Two other friends were injured. 

"I came to this school because it was so safe. I came to escape," the 18-year-old said. "I don't have my words quite yet, but we need this play to go on. That's what these people want, is for us to back away. They want us to live in fear and shrink away, and that gives them the power. That's something we can't do. We can't not go on with our own lives. We have to keep pushing and fighting back." 

For the actors who have spent the last few months immersing themselves in a school that sparked America's contentious, divisive, and seemingly endless conversation about gun violence, witnessing their friends and classmates mourn and process a mass shooting has "blurred the lines" between theater and reality. 

As the shooter's name, Ian David Long, began to ping across social media and group texts, Jonathan Irwin said he couldn't help but Google him. The sophomore is playing Eric Harris, one of the Columbine shooters.

"You keep hearing the same descriptions. The same things. I Google him and what pops up is that he was a Marine, a loner. My character wanted to be in the Marines," Irwin said. "It's just unreal and shows that there is a huge mental health issue here we are not talking about."
Fidgeting with his blue baseball cap, Jacob White mused about how he thought the shooting at the Jewish synagogue in Pittsburgh would derail their play because "it was so close to our premier."

"And now..." his voice trailed off. 

Instead of preparing for opening night, the group coordinated rides to a vigil at City Hall for the bar shooting victims. As for future of Columbinus, university officials have postponed the production while deciding whether to let the show go on, something the cast hopes they'll do.

"We found out our friends were being shot at during a rehearsal about Columbine," Gabrielle Reublin, a senior, said quietly. "We keep saying, 'How does this keep happening? How do these kids, us, how do we keep dying?' That's why we need to do this."
CORRECTION
Justin Meek's name was misspelled in an earlier version of this post.