Lying on a thin mattress flanked by about 50 other homeless women Saturday night, Heather Snow started tweeting about conditions at the Portland, Oregon, shelter where she has been living for the past four months.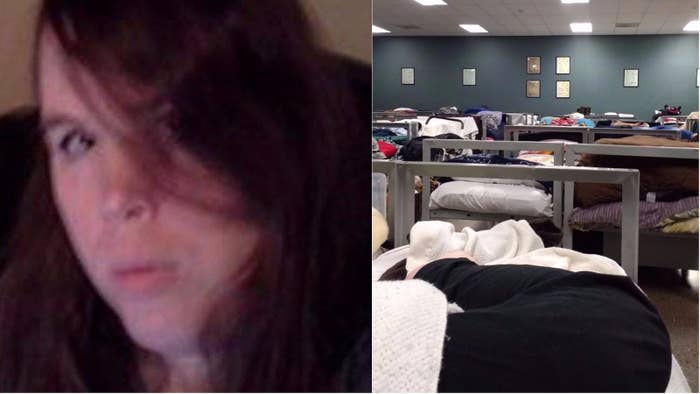 "Don't donate to the Salvation Army," her now-viral Twitter thread began. In a series of tweets, she went on to describe callous treatment, including verbal abuse, by shelter staff, and accuse the Salvation Army of failing to provide clean facilities and basic services.

A few tweets contained pictures, like a bathroom ceiling flecked with mold.
In direct messages with BuzzFeed News Sunday, Snow, who is transgender, said she has been homeless on and off for five years due to depression, anxiety, and a debilitating back injury that she said makes keeping a job difficult.
She tweeted Saturday to share her hurt and frustration over how women, and trans women in particular, were being treated at the Salvation Army Female Emergency Shelter in Portland, where she's been staying for the past four months.
Out of the hundred or so women currently at the shelter, Snow estimated that only a handful are transgender. She said they are often picked on by other women and by the staff.
"I've also seen cis women in here literally sit at a round table and conspire how to have trans women they don't like thrown out of this place," she wrote, adding that she was barred from the shelter for 60 days for allegedly asking another woman a question out of turn, a harsher punishment than normally applied.
Brandi Beckett, who recently left the shelter after staying several months, confirmed Snow's account, saying that she too had witnessed hostility toward trans women.
"Three-quarters of my friends at that shelter are trans and I saw how they were treated," Beckett told BuzzFeed News. "I heard a staff call one trans woman 'Big Frida.' There was just a lot of emotional abuse."
Snow also noted that most homeless shelters in Portland suffer from similar issues.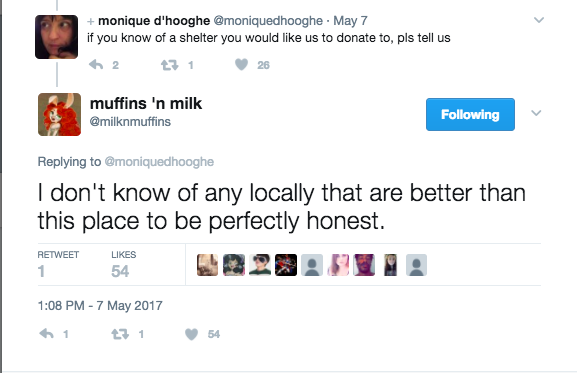 The thread, which has now been retweeted more than 26,000 times, sparked a conversation about homelessness in the United States. People chimed in with messages of support, but also to share their own experiences with the Salvation Army and other homeless shelters.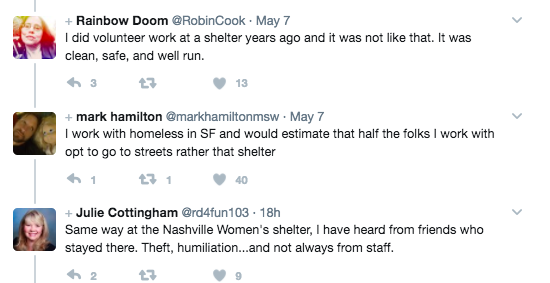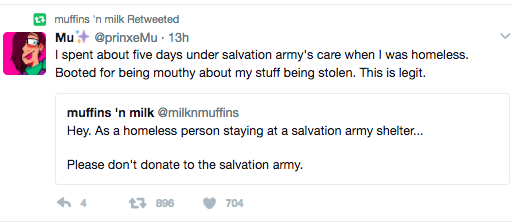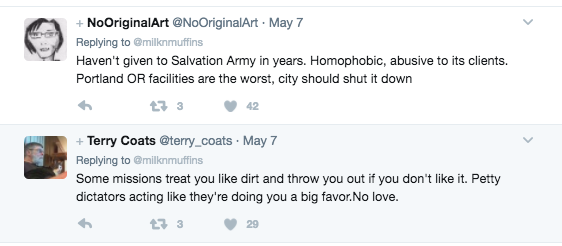 The exploding thread soon reached the Salvation Army, which reached out to Snow and tweeted responses to concerned users demanding answers as to whether the Portland shelter is mistreating its occupants.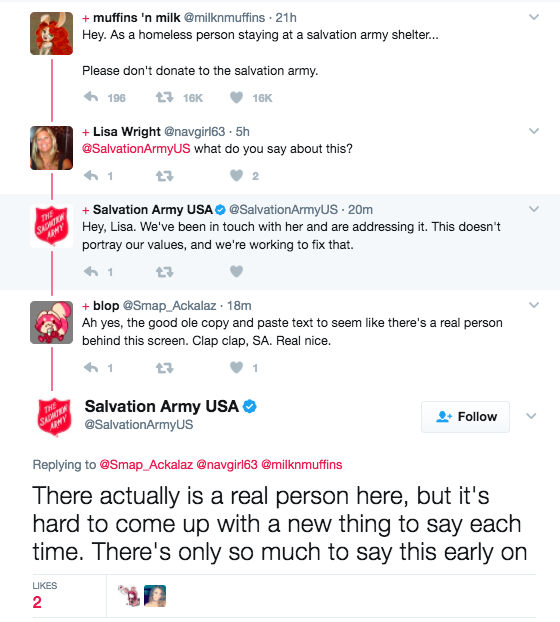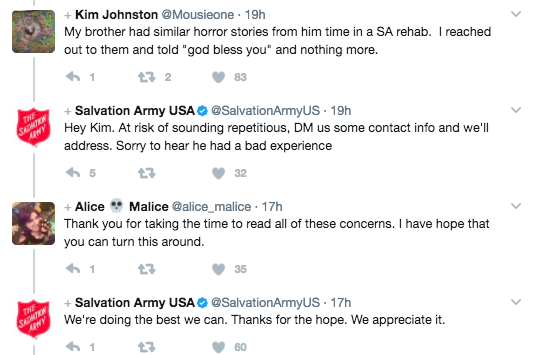 Alarmed by the allegations, the Salvation Army quickly set up a meeting for her with the shelter's program director, Chelsea Bender, and Oregon community relations officer Lt. Jared Arnold.
"It was the first time someone's ever listened to me," Snow told BuzzFeed News afterwards.
Bender told BuzzFeed News that she was shocked by how Snow voiced her concerns, which she said "were out of the blue," and by the fervid social media response. But Bender conceded that she understood some of Snow's frustrations.
Scrambling to serve a growing homeless population in Portland, the Salvation Army moved the women's shelter into a new building in 2013. The shelter has housed 900 women so far this year, and beds are at capacity every night, according to Bender.
"I don't think that they really thought about the use of the building," Bender said. "The mold, bathrooms, poor ventilation, that's all 100% accurate."
On its website, the shelter promises snacks and programs, but Bender says the county forbade the staff from using the kitchen due to improper licensing, which they are working to remedy. No licensed kitchen means no distributing food.
Women staying there take about 1,000 showers per month, Bender estimated, and the taxed staff struggles to keep up.
As for Snow and Beckett's allegations of verbal abuse and mistreatment, Bender said the shelter has been introducing new de-escalation methods and communication techniques to teach "staff to work with the women and not retaliate or lash back at them."
"We're trying to serve the most vulnerable populations and it can be risky territory," Bender said, noting that the shelter has doubled its staff since she took over in 2015. "We have a handful of staff who can be short and rigid and there was a history of escalation but we're changing that."
The charity also sent out a statement after the meeting, noting that it "went well and together we determined steps of action she feels would benefit the entire SAFES community" and that Snow "feels safe" at the shelter.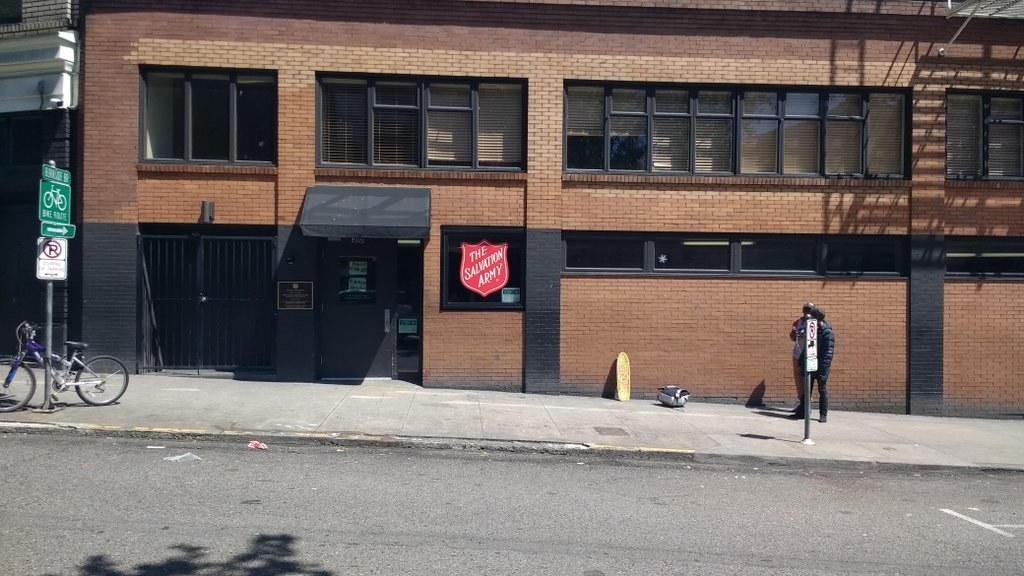 Back on her bed in the shelter Monday, Snow pulled out her white Motorola phone to share that her meeting went well and that, for the first time in months, she felt like she'd been heard.

While she said Bender "admitted things needed to change ASAP," Snow remains skeptical that the shelter, which she says has a well-earned sordid reputation within Portland's homeless community, actually will. After years skipping around shelters and on the streets, she's learned to live with low expectations and "doesn't have a lot of hope."
But her cell phone now constantly buzzes and vibrates with people messaging and joining her Twitter conversation — something she still cannot believe she started.
"I have a little hope," she added. "But it's something. It's more than I had before."