A Student Captured A Stranger Playing His Sax In Irma's Wreckage And His Daughters Found The Video
A student driving through a storm-ravaged neighborhood in the US Virgin Islands captured a stranger playing his sax in the middle of the destruction, and what happened next will give you some feels.
A few days after Hurricane Irma shredded the small Caribbean island of St. Thomas, Kendra Wagner and some friends took a drive along the mangled roads to take in the damage.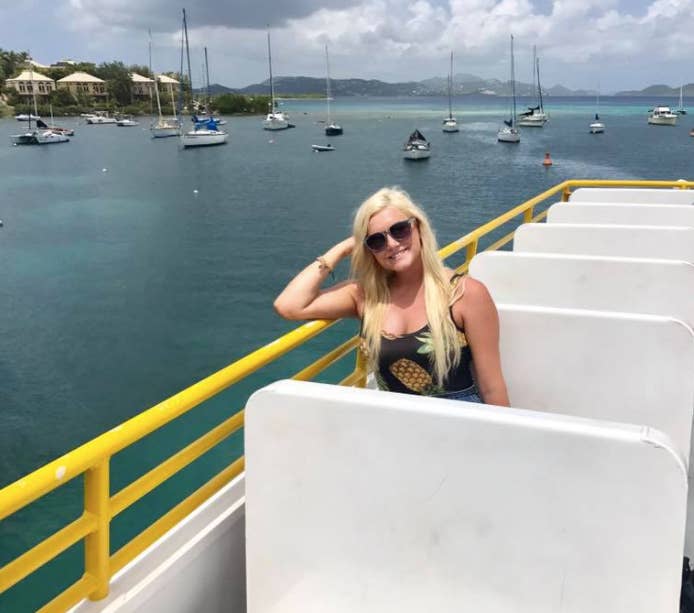 The 20-year-old college sophomore from Wisconsin had just started a semester study abroad program at the University of the Virgin Islands before Irma struck. The school, like most of the US territory, is now destroyed.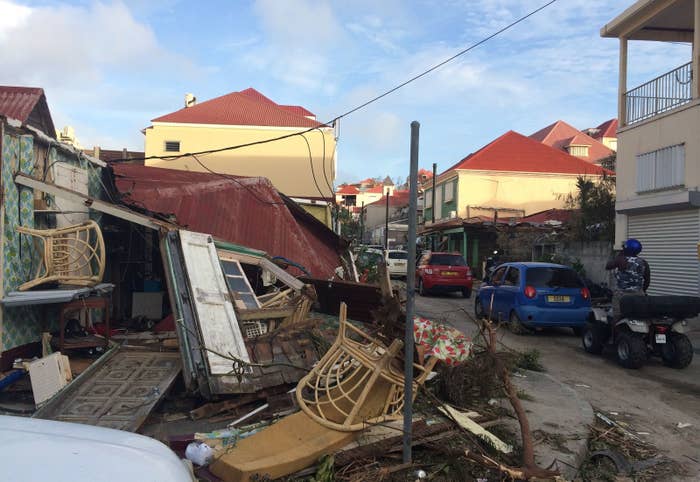 "I've never seen so much destruction in my life. It was hard to take it all in," Wagner told BuzzFeed News after she was evacuated to Puerto Rico, nearly a week after the hurricane bore down.
While driving through Tutu, which was especially decimated by the storm, Wagner was taking photos of the razed neighborhood when she noticed a man playing his saxophone in front of a blown-out apartment building. She was able to record the musician playing as others milled around the wreckage.
"I specifically remember that neighborhood because it was drastically worse than most on the island," she recalled. "People's belongings were scattered about the premises. I saw a pair of heels in a pile of debris, and clothing and trinkets all over the sidewalk and lawn, so I pulled out my camera and as I was recording, Percy played that tune on his sax. It was so meant to be."
Inspired by the scene, Wagner then shared it in a St. Thomas Facebook group for residents trying to find loved ones and supplies and get updates.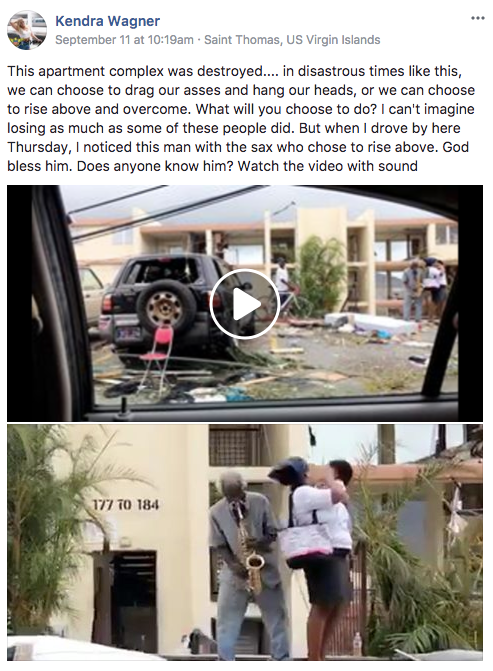 "This apartment complex was destroyed...in disastrous times like this, we can choose to drag our asses and hang our heads, or we can choose to rise above and overcome," she wrote. "What will you choose to do? I can't imagine losing as much as some of these people did. But when I drove by here Thursday, I noticed this man with the sax who chose to rise above. God bless him. Does anyone know him?"
People quickly replied, "Yes, that's Percy!"
Turns out, Percy Nurse is a famous jazz musician on the island and is a fixture and favorite among the residents. People then shared their positive experiences with him.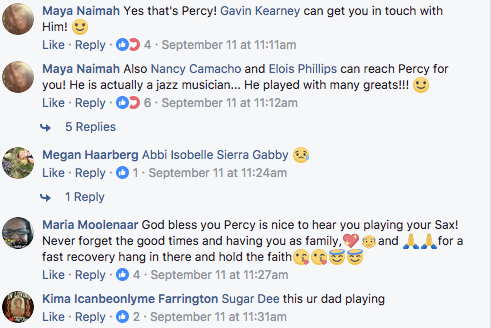 "Percy is still playing his sax in the storm! Amazing," said Maya Naimah, who later told BuzzFeed News that as crushing as the storm was to the island, "it's just filled with people like that always doing good."
"Percy is the best Elder in Hidden Valley. The most positive person I know," a Facebook user named Niko Jay wrote.
"That man been around years, good to see my neighbor still himself and going strong," another person said.
"Not even Irma can stop the music," another person chimed in.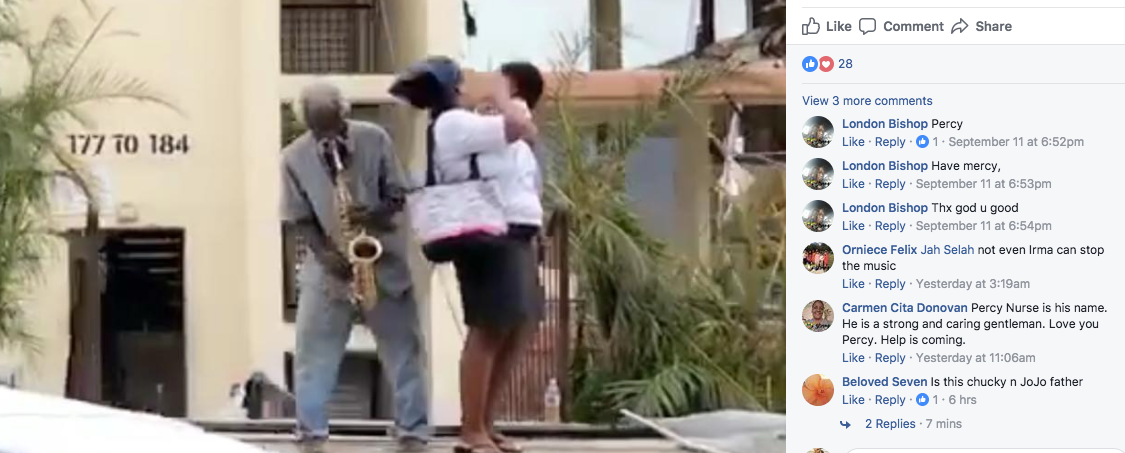 Later that night, Wagner got a Facebook message from a woman in Atlanta, Georgia.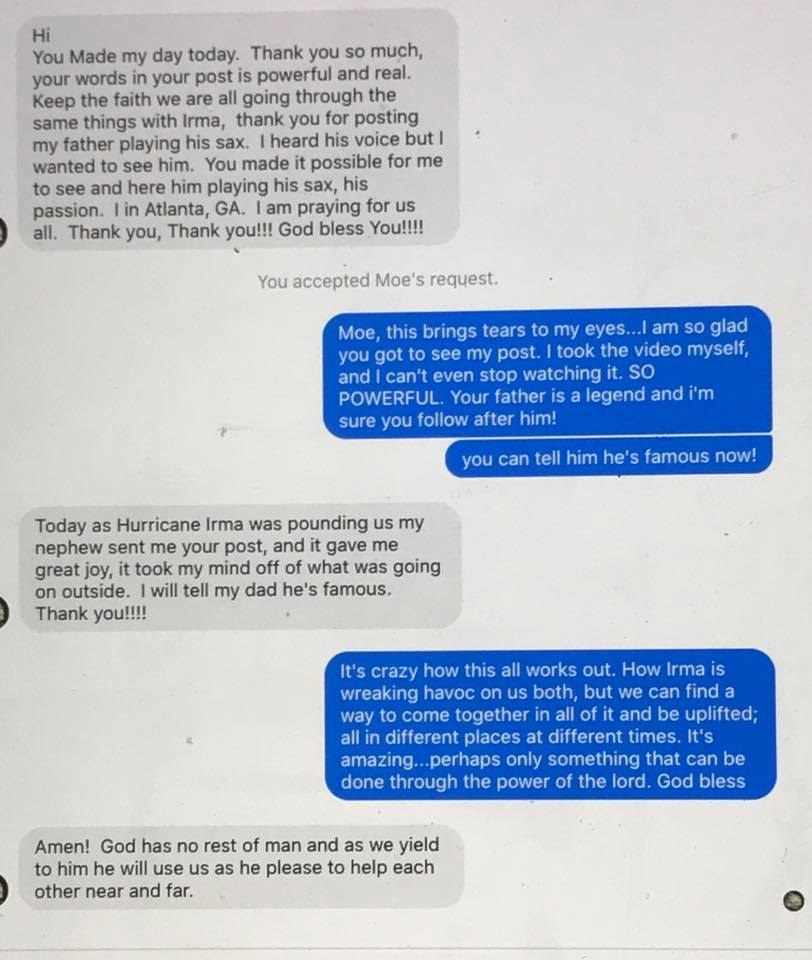 "Hi you made my day today," it read. "Keep the faith, we are all going through the same things with Irma, thank you for posting my father playing his sax. I heard his voice but I wanted to see him. You made it possible for me to see and hear him playing his sax, his passion."
The woman, named Moe Lee on Facebook, said she was the daughter of the saxophone player and her nephew saw Wagner's post shared and sent it to the family.
"Today as Hurricane Irma was pounding us ... it gave me great joy, it took my mind off of what was going on outside."
BuzzFeed News reached out to Moe about the exchange but did not hear back.
Wagner's post then made its way to Nurse's other daughter, Sugar Dee, who lives in Tampa, Florida, and had just returned to her home after being evacuated.
"We call him Tata and he's been playing music since he was a young boy," Dee told BuzzFeed News, who said she got emotional while watching her father play his favorite instrument after Hurricane Irma also battered her state.
"I have such pleasure listening to my dad," she said. "I'm sure he had people dancing. He just loves to blow his saxophone."
The 81-year-old was born on St. Croix, another one of the US Virgin Islands, and has lived on St. Thomas with his dog, named Trash, for many years, his daughter said.
BuzzFeed News tried to track down Percy Nurse, but was unable to speak with him at time of publication due to lack of cell phone service.
Dee says her father's apartment was badly damaged. Irma's 185-mile winds blew out his windows and destroyed his belongings. He's especially heartbroken to lose all his framed pictures, she said, but he refuses to evacuate.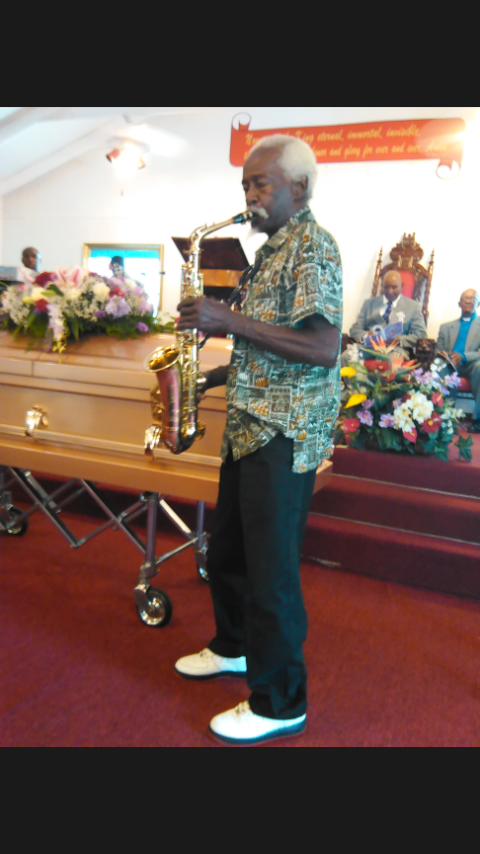 "He's never going to leave," she laughed. "He will stay there and find some wood and repair the windows himself. Him and his dog."
Wagner is on her way to Miami and says the image of Nurse and the exchange with his daughter was "uplifting" and embodied the tight-knit, resilient community on the island.
Dee is trying to get to St. Thomas, where food, water, and gas are still scarce and thousands of hungry, exhausted people are living without internet or power, and in shelters or damaged houses a week after the storm hit.
But she says she expects to find her father in a good mood, as he usually is, and playing his saxophone.
"He just going to blow that sax no matter what," she said. "One time he was playing and it started to rain and we all went inside and he just stayed out there and played song after song."