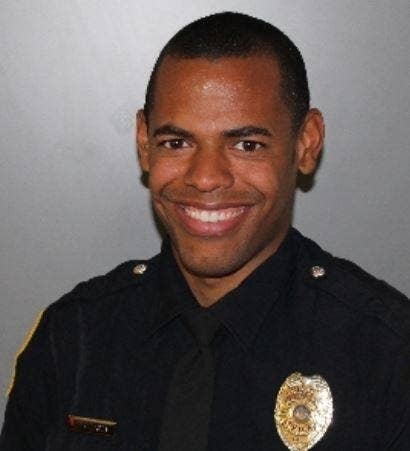 When Wisconsin police officer Darryl Robinson got the call from Howe Elementary School on Monday, he was reminded of a captain who bought him candy from a gas station on his birthday when he was about five- or six-years-old.
"He always checked in on me after that and was always there if I needed to talk to someone and that's why I wanted to become a police officer," said Robinson, 28, who is now an officer with the Green Bay Police Department, the same agency as the former captain the first met more than 20 years ago. "I wanted to be able to connect with people on that level in my community as my career."
The call was regarding an elementary school student who had no one to pick him up from school. Staff told Robinson that his mother was in jail and she had removed other family members from the emergency contact list, meaning officials had to involve police. It was also the boy's birthday — he had just turned eight-years-old.
Robinson said he had met the boy before when he responded to a child custody dispute between his grandmother and mother, who he says is currently incarcerated for a parole violation.

"There was a lot of conflict between the family but he's a happy, honest kid and easy to talk to," Robinson said. "He has a good head on his shoulders despite what's been going on."
Katie Cahoon-Sukow, the school counselor, said Howe Elementary could not comment on the story due to privacy reasons.

After getting permission from his grandfather, who was babysitting the boy's other siblings and couldn't pick him up due to an injury, Robinson strapped him into the police car, drove him around, gave him some Green Bay Packer cards, and took him to McDonald's.
"He was in good spirits and was really excited when he got his Happy Meal, they still put the toys in there," the officer said. "He thought it was cool to ride in the squad car and seemed happy to have an afternoon like that."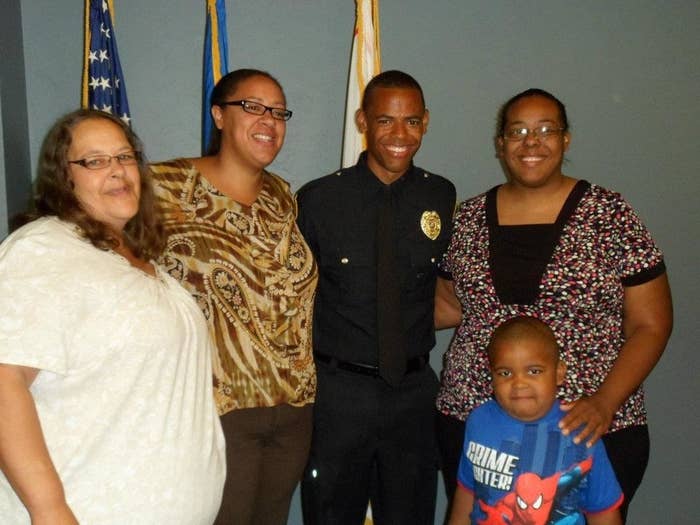 Robinson said he also grew up in a single-parent household just across the river from the eight-year-old and, while he said he had a happy childhood, he remembers what it was like growing up in an environment where he says "it's easy to get into trouble."
"My mom had boyfriends who came and went and they would get into fights and it's hard to see at a young age," he recalled. "It affects kids when they are growing up and if there's not someone there to tell them it doesn't have to be this way and that's not okay, they can get stuck in it."
Since then, its been shared more than 12,000 times. People have inundated the post with comments and memories about Robinson, their own childhood interactions with officers, and thanked him for his kindness and compassion.

"As a child who was taken out of a bad situation and the officer removing me from my home took me to eat at KFC I will always remember that. I was 6 years old and that memory is burned in my mind," someone wrote. "Officers like you make a difference.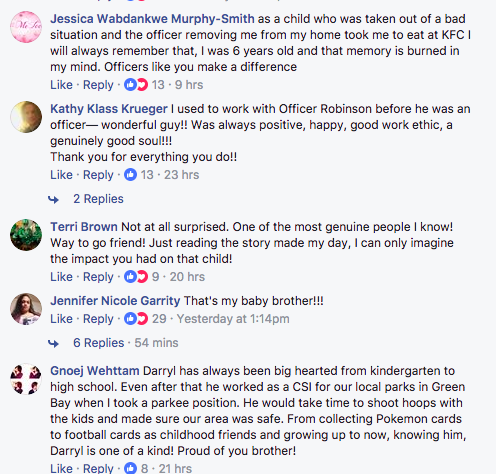 Others also expressed their concern for the boy's situation at home, but emphasized that the interaction "could make a lifetime difference."
"I don't know the officer. And or anyone (I think) from there but I do know something wonderful when I read it. You did such a small kind jester and it made such a huge positive impact. Thank you. Hoping this gets posted around the world. And that people really read it," someone shared.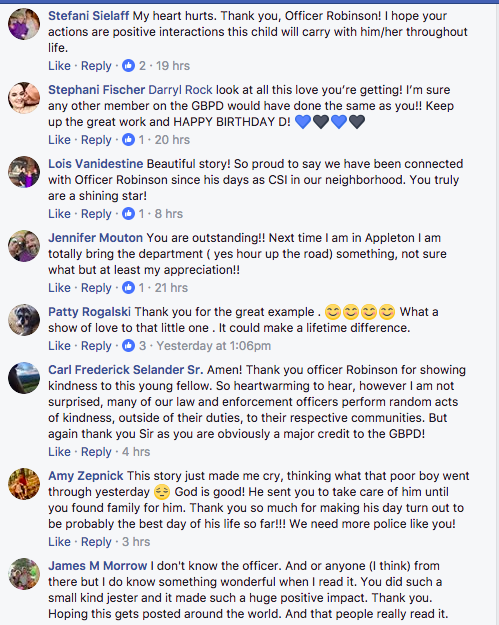 Robinson and Bill Bongle, the former captain who took him out to candy on his birthday, still stay in touch.

"Congratulations on your accomplishments Darryl. From the first time I met you I knew you had a good heart, always looking out for others. That's why you're a good cop. Proud to walk in your company," Bongle wrote on Facebook when Robinson became an officer three years ago.
As for the eight-year-old, Robinson said he plans to keep tabs on him and try to foster a similar relationship.
"We grew up on the opposite of the river but it's the same neighborhood and it's easy to get into trouble if you don't have anyone to connect with in a positive way," he said. "You don't know how it's going to turn out. If It wasn't for that officer I don't know if I would be doing this today."
The two also have birthday's just one day apart. Robinson turned 28 on Tuesday.