While out covering the catastrophic rainstorms around Houston Sunday, a local television news team noticed a man trapped in a semi-trailer truck surrounded by rising floods, and were able to help save his life.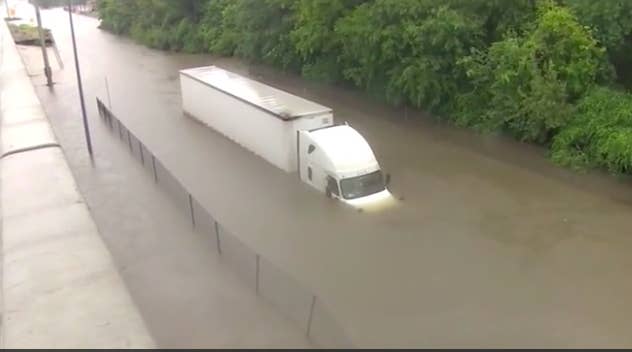 KHOU reporter Brandi Smith was broadcasting live from a deluged Beltway 8 highway when cameraman Mario Sandoval noticed that a driver was still inside a tractor-trailer nearly submerged with water.
"There is movement inside the truck," Smith told KHOU viewers, before calling out to the stranded driver, who was later identified as "Robert."
"Sir, are you OK? Can you get to the top of your vehicle?" Smith asked. "Can you get to the top of your truck? Do not climb into the water."
The news team stayed trained on the truck, telling the driver to remain inside and not to attempt to swim in the floodwaters.
Shortly after calling out to the driver, Smith spotted a pickup truck from the Harris County Sheriff's Office with a boat in tow, and ran over to flag the officers down.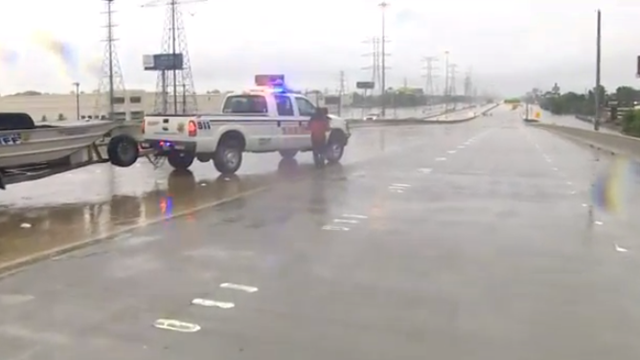 Are you guys headed to the truck right here?" she asked, still on camera. The sheriff's deputies responded that they were not.
"There's a truck driver stuck right here in about 10 feet of water," Smith said, motioning to the trapped driver. The deputies pulled over, and Smith told Robert—and viewers—that a boat had arrived to pull him out of his cab, which was rapidly filling with water. Books, a cooler, and other items could be seen floating around the passenger side window as the driver sat stuck in the front seat.
Robert was trapped in the exact the same spot where another truck driver died during Houston's Tax Day floods last year, one of the deputies said.
"We had to dive for him because he passed away and went underwater," he told Smith.
For "I don't even know how long," Smith anxiously stayed on air as the rescue boat accelerated toward the truck's cab.
"I don't have any word on how long he's been there or what kind of condition he's in," she said anxiously. "I'm sure he's very wet, very cold, very frightened. I am terrified for him, so I can't imagine the level of fear he has here."
The deputies finally reached the drowning semi-truck and helped pull Robert out of the window.
Emotional and in disbelief, Smith relayed the rescue to viewers as she and Sandoval ran over to meet the deputies as they returned to the beltway with the driver.
"What went through your mind when you saw that water?" Smith asked Robert.
"Lord help me, Lord help me," he replied. "Get me out of here safely."
"I just thank God that you all were here to put me back on land safely," he added.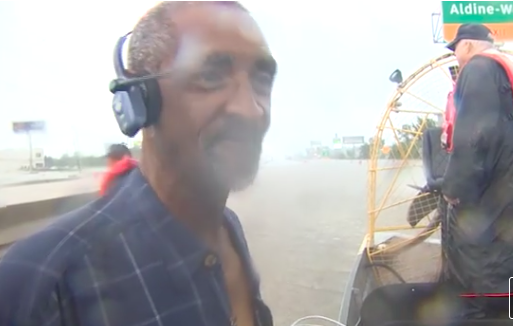 Smith then asked if she could hug him.
Unbeknownst to Smith and Sandoval, their broadcast had actually been cut off, when the KHOU newsroom flooded with two feet of water and employees evacuated.
Smith shared the harrowing footage on Facebook, where it immediately went viral. Fellow journalists and viewers praised their coverage, dedication, and composure.
After taking a little break, Smith and Sandoval are back on the ground covering historic tropical storm Harvey as torrential rains continue to batter Houston.