For those of you who don't know, this guy is the US treasury secretary. His name is Steven Mnuchin, and he helped formulate and pitch President Donald Trump's tax plan, which was recently passed by the Republican-controlled Congress and has come under fire for shortchanging the American middle class in favor of corporations.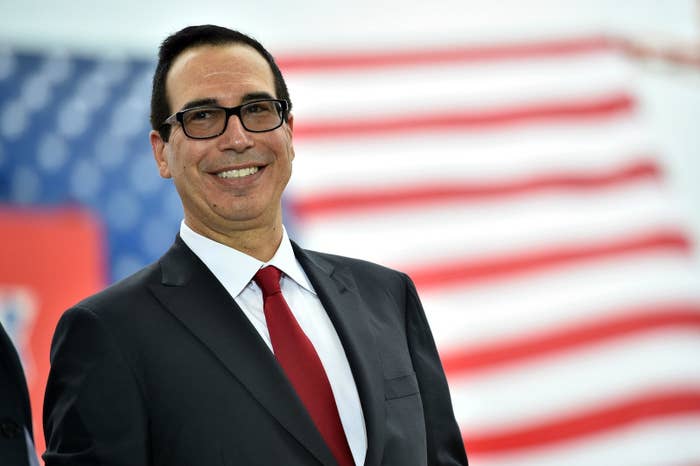 The former hedge fund manager and Hollywood film producer also loves holding up money and taking trips on military aircraft at a cost of more than $800,000. He and his wife, seen here with super-slick black gloves, live in Los Angeles and got an unexpected early Christmas gift late Saturday night.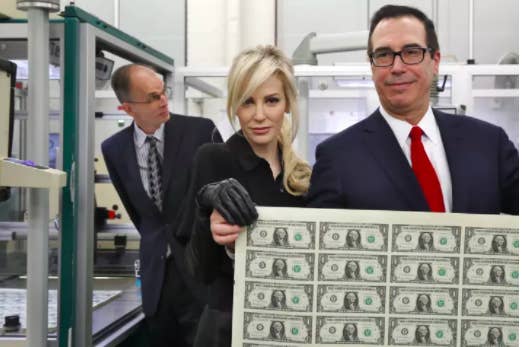 Aerial footage shows Los Angeles police officers investigating a suspicious package that was delivered to the treasury secretary's home in the tony Bel Air neighborhood (it's not coal, btw).
Turns out, a guy named Robert Strong sent the Mnuchins a large wrapped box filled with horse poo in the name of the American people. Good, ole, organic horse shit that he "borrowed" from some friends to make a political statement.
"This is going to go down in the anals of history," Strong later tweeted.
Strong also attached a handwritten card that read: "Mrs Mnuchin & Trump, we're returning the 'gift' of the Christmas tax bill. It's bullshit. Warmest wishes, The American people. PS–Kiss Donald for me."
According to KPCC, Strong works as a psychologist for the LA Department of Mental Health. He told the radio station he realizes he might get fired, but felt the need to take a stand against the controversial tax plan.
"What I did, I would like to compare to what Jesus did when he went into the temple and overturned the tables of the moneychangers, who were exploiting the people financially in the name of religion. I feel like that's what the GOP has done to the American people," he told KPCC, a Southern California NPR station.
Apparently Mnuchin, who has not yet responded to BuzzFeed News' request for comment, was at home when the package arrived, and it was so suspicious that the bomb squad was called in to investigate.
Once police opened it and saw the horse poop, investigators deemed the package nonthreatening, KTLA reported Saturday. KPCC noted that the Secret Service is now handling the investigation.
As for Strong, who is still waiting to potentially get arrested or fired, he told KPCC that he has seen an "intense increase in homelessness" and believes Trump's economic policies are exacerbating the problem and someone needs to stand up and do something.
"In the long run, if we don't do stuff like this, what are we going to have left?" he asked.
CORRECTION
The card tweeted by Robert Strong was mistranscribed in a previous version of this post.