At least one person in Alabama received a robocall Tuesday from someone pretending to be a Washington Post reporter offering to pay for "damaging remarks" about Roy Moore, the Republican Senate candidate accused of sexually harassing five women.
Pastor Al Moore from Creola, Alabama, received a call from a private phone number on Tuesday, he told WKRG-TV. When he checked his voicemail, he had a message from "Bernie Bernstein," who claimed to be a reporter for the Washington Post.
The person said they were "calling to find out if anyone at this address is a female between the ages of 54 to 57 years old willing to make damaging remarks about candidate Roy Moore for a reward of between $5,000 and $7,000."

The call came after the Post published a bombshell report in which four women accused Moore of sexually harassing them when they were teenagers, sending the state's Senate race into turmoil and causing Republicans to rescind their endorsements.
In what appears to be an attempt at a New York Jewish accent, "Bernstein" says in the voicemail, "We will not be fully investigating these claims, however we will make a written report. I can be reached by email."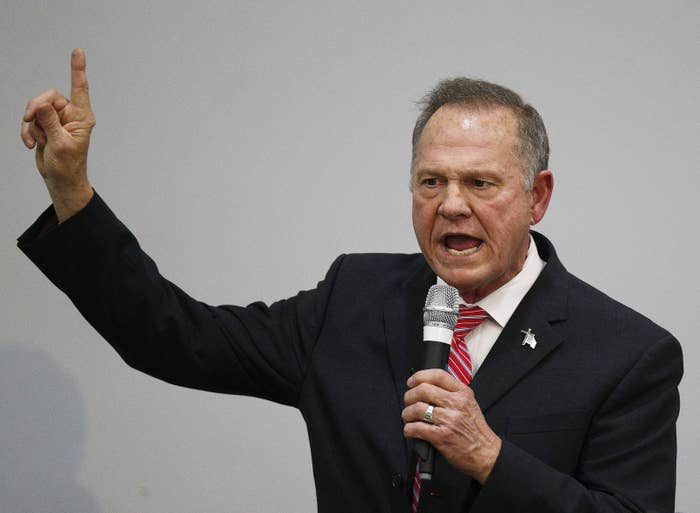 Baffled, Pastor Moore told the station he sent a response to the email address but it bounced back.
The Post slammed the voicemail, calling it a hoax and a shoddy attempt to discredit its journalism.

"The call's description of our reporting methods bears no relationship to reality," Marty Baron, the newspaper's executive editor, said in a statement. "We are shocked and appalled that anyone would stoop to this level to discredit real journalism."
The robocall came the day after another woman, Beverly Young Nelson, came forward and accused the 70-year-old Republican of groping her and forcing her head near his crotch when she was 16. Nelson's claims follow the Post's report that Moore pursued, and in one instance initiated sexual contact with, teenage girls when he was in his thirties. Moore has vehemently denied all of the allegations.
Breitbart, which has relentlessly backed Moore's campaign, sent two of its reporters to Alabama with the goal of exposing holes in the Post's reporting and painting the paper as a politically motivated outlet vying to ruin the Republican candidate.
The Moore campaign did not return a BuzzFeed News request for comment on the calls.