On Friday, Odessa Gunn handed a frightened, burned chicken over to a nurse at the Sonoma Humane Society in Santa Rosa, California, her scalded feet still warm from the wildfire.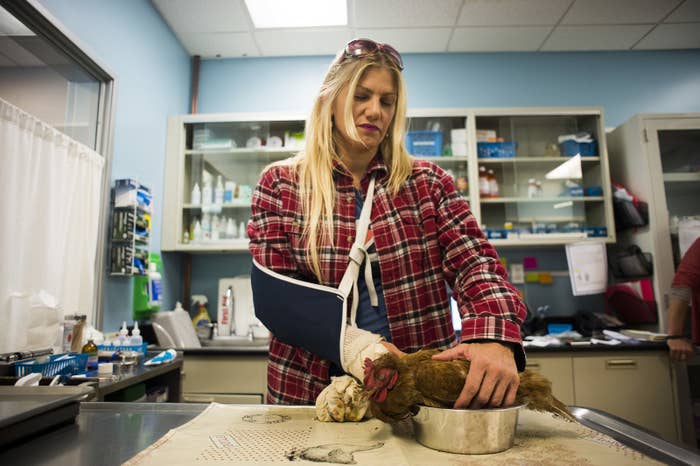 Gunn told the women examining the chicken about how crews from Mountain Fire "went out of their way to save this chicken," handing her over to CalFire crew members who rushed her to the hospital. The rest of the flock died.
There are countless stories like this: Rescuers pulled a cat out of the remnants of her burned home and returned her to her owner. A dog protected eight goats from the flames. A deaf teenager helped her dad save 51 animals as the fire encroached.
In another room at the Humane Society, veterinarians monitored cats with singed whiskers and blistered paws. A group of chihuahuas huddled on a blanket after someone found them all together in the middle of Coffey Park, a Santa Rosa neighborhood now reduced to ash.
The still-raging wildfires, now the deadliest in the state's history, skipped across Northern California's wind-swept counties so fast that many families had to flee and either couldn't find their frightened pets or had to leave them behind.
"We have 500 lost pet reports that we've collected ourselves and we've only seen 100 of the animals so we don't know what's out there," said the Humane Society's Wendy Welling, who has been living in the clinic with her family, dogs, and bunnies for the past week after being evacuated.
"We're short-staffed because so many people evacuated or lost their homes, so we're working around the clock and that's the same at every animal care place you see," she said.
Down south in Petaluma, Noel Matthias is collecting hay donations for the 11 horses (and counting) she and a neighbor are caring for after their owners' barns burned — a relief for the horse owners, who are grappling with losing their homes and farms.
"I put it on Facebook and said anyone with horses, I have room," said the 33-year-old school administrator. "It's overwhelming when people don't have a pot to piss in and they have to worry about a barn. It's what we can do to help."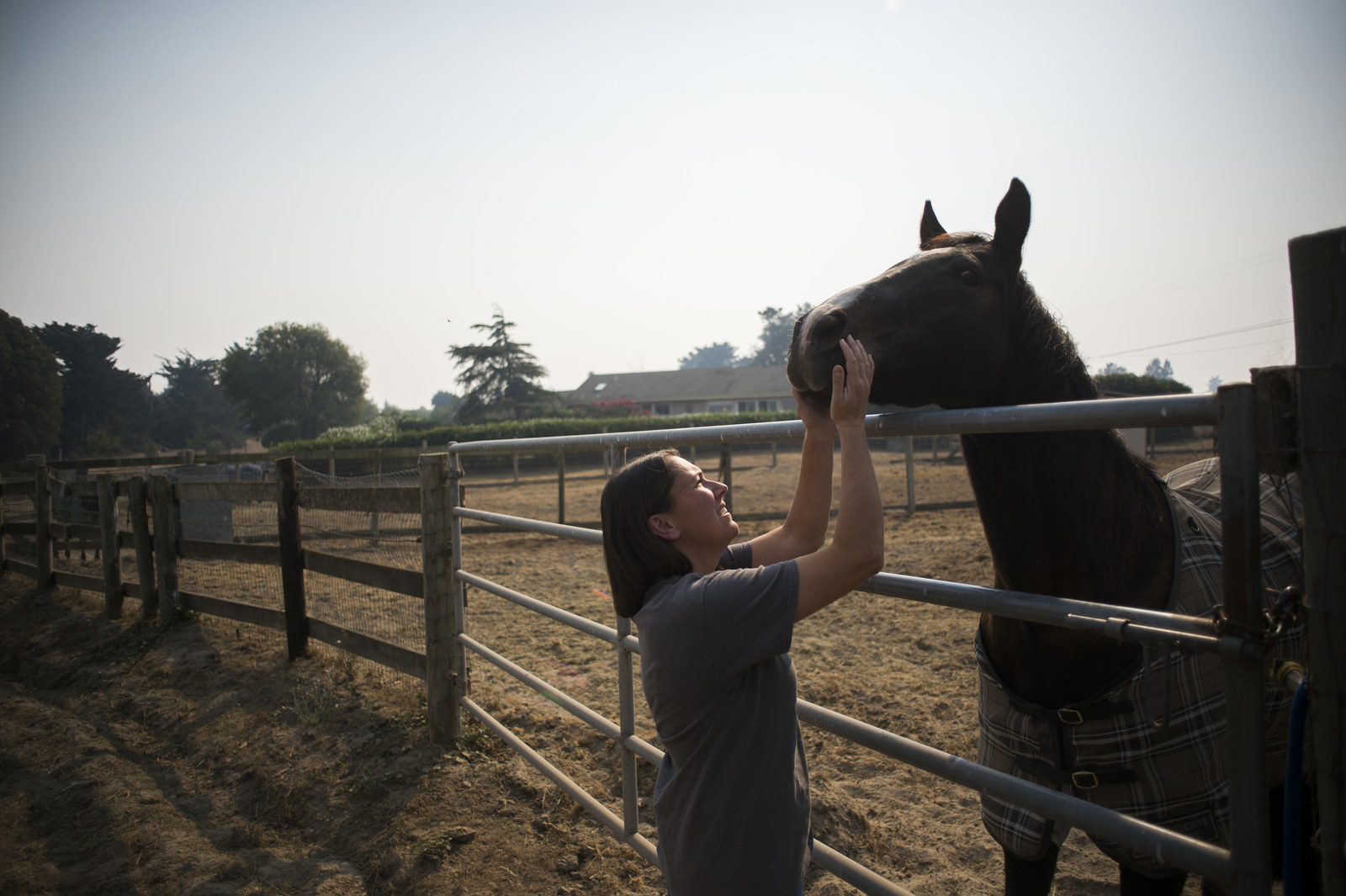 At the Petaluma fairgrounds, volunteer vets and high schoolers tallied up the menagerie of evacuated or displaced animals.
*60 goats, some of them pregnant
*35 dairy cows
*10 other types of cows
*70 bunnies
*15 horses
*7 yaks
"A lot came from evacuated farms and a lot we found just running around," said Lily Manshouri, who has been tending to animals sick from smoke.
Back at the Santa Rosa fairgrounds, volunteers and displaced residents are doing all they can "with what we have" to care for the animals.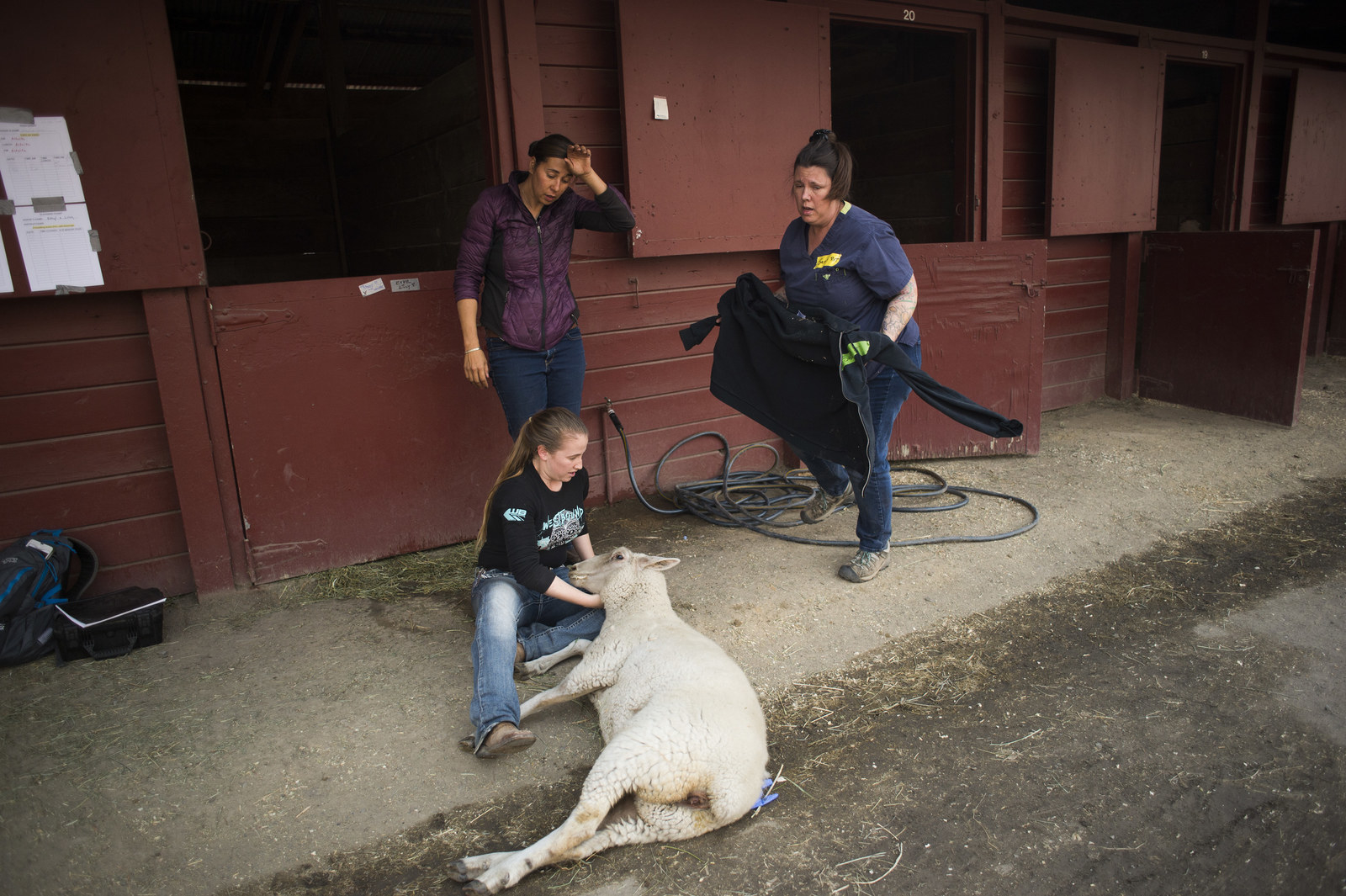 Nineteen-year-old Katrina Horrell recounted in sign language how she, her dad, and firefighters helped evacuate 51 animals (including 39 rescued goats) from their property as flames closed in. Her family almost didn't make it out of their home.
In Mendocino County, where flames wiped out half of rural communities, a member of the California Guard rescued this duck that was left in a cage.
To help fill the constant need, a robust crew of animal lovers from across the country have created a fast-moving network of social media groups focused on donations, volunteers, reuniting pets with their people, and flagging ones still lost or in need of shelter.
Social media have helped dozens of families reconnect with their displaced animals and dispatch necessary supplies, medication, and food to pets and their families, many of whom have now lost everything.
Like Odin the Great Pyrenees, who refused to leave his family's eight bottle-fed rescue goats behind as the fire approached his Sonoma home. Devastated, his family had to make the choice to evacuate without them.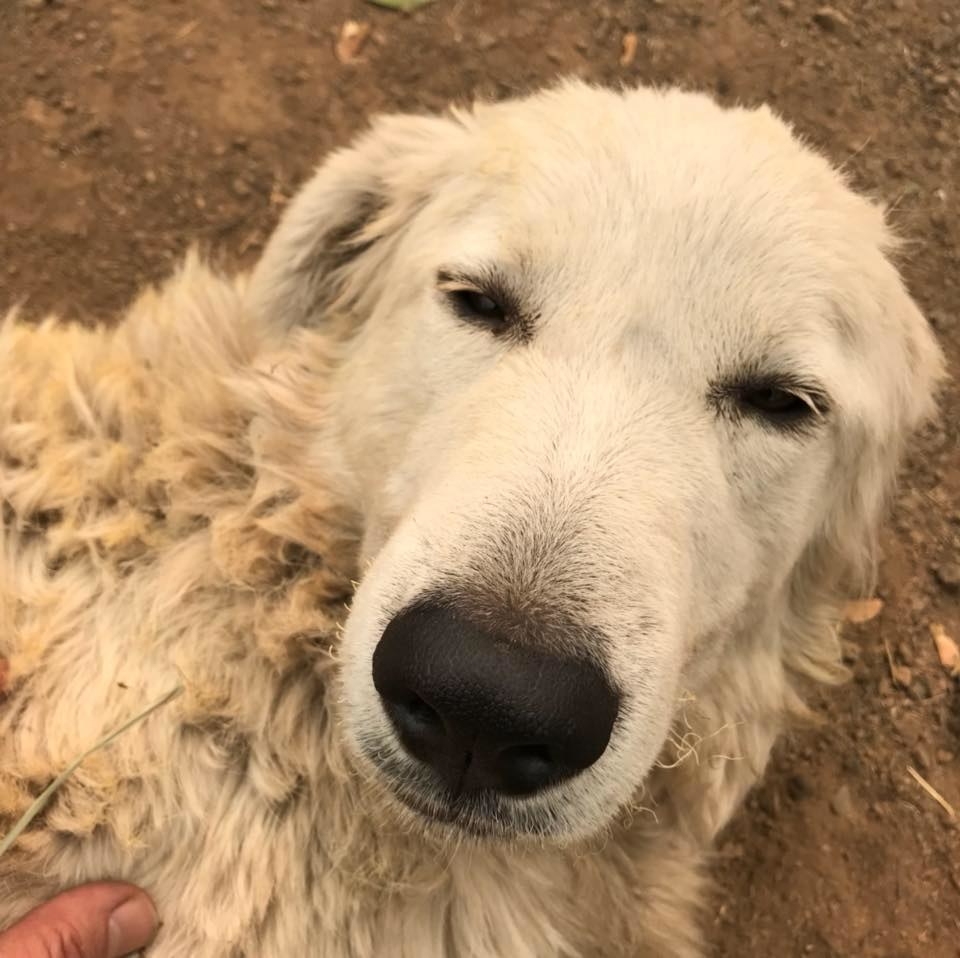 "We had minutes to load up the animals and run from the advancing firestorm," said Odin's owner, Roland Hendel. "Hours later when we had found relative safety we cried for Odin and our goats. I was sure I had sentenced them to a horrific and agonizing death."
Days later, when they were able to go back, they found "a burned, battered, and weakened Odin, surrounded by his eight goats, and several small deer who had come to him for protection and safety."
Limping and with melted whiskers, Odin and his band of goats were in need of medication, shelter, food, and care. The Hendels have now lost their home and all their belongings.
As of Saturday, the band of animals are residing in a volunteer's barn and sleeping on donated bedding. They all got checkups from a vet, and Odin will soon be getting a free shampoo and steak.
"I am crying tears of gratitude and awe at his bravery and devotion," his owner said.