The UK had a snap general election on Thursday, which turned out to be much more of an upset than people expected — especially for Prime Minister Theresa May, who called the election.
Early Friday morning, May took the stage at her constituency count in Maidenhead after her party lost a significant amount of seats.
And people on the internet started to notice something a bit odd.
Like why is Elmo, a Zorro-chimney thing, and a man that looks like Captain Crunch hanging out onstage with May?
SO MANY QUESTIONS.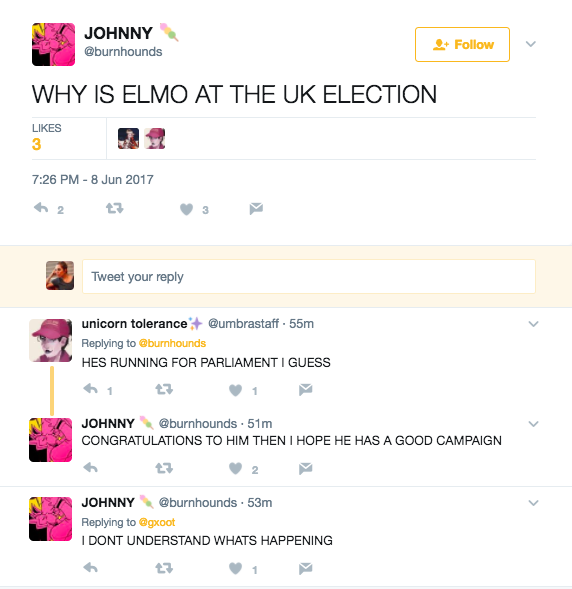 "Starting to hallucinate. Imagining Elmo chilling with May in Maidenhead."
Turns out, these are candidates.
And they run against the big guys.
Meet Lord Buckethead, a dark and mysterious candidate who returned to UK politics after 25 years.
Lord Buckethead, who picked his name from the 1984 film Gremloids, ran for parliament in 1987 and 1992 and told BuzzFeed News that he decided to return because "Britain sorely needs effective opposition."
And here's Howling Laud Hope, the leader of the Official Monster Raving Loony Party, which had several enthusiastic candidates this year.
The Official Monster Raving Loony Party was founded in 1983 and basically exists to make fun of British politics.
Here's a photo of them from last year. Where can we sign up?
Bobby "Elmo" Smith bills himself as a fathers' rights activist who likes to troll the prime minster. You can learn more about him here.
So, yes, people in the UK can actually vote for these candidates and the internet had some ~thoughts.~
Apparently, British politics is kind of lit.
And is the definition of democracy.
People pointed out that while UK politics might seem insane, stuff on the other side of the pond is also pretty wild.
In summary: Smith "Elmo" actually did get three votes.
And Lord Buckethead received 249.
And the Monster Raving Looney Party scored over 100 votes 👏
Oh, and then there was Mr. Fishfinger, a rival of the Liberal Democratic Party leader who didn't do too shabby, either, winning 309 votes.
So cheers to the UK, where Lord Buckethead can dab on an election stage with the best of them.