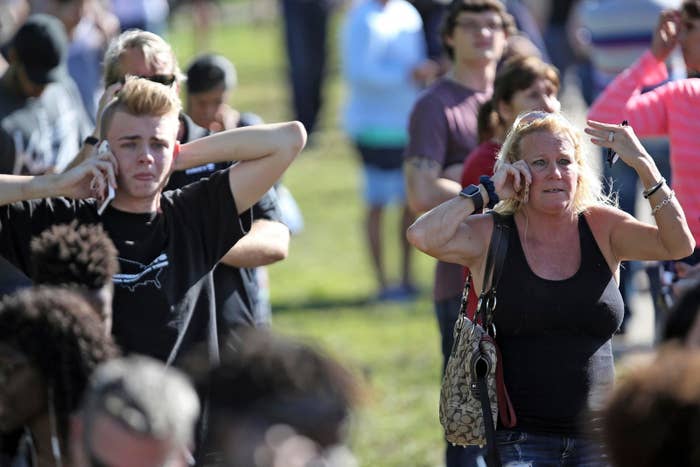 The school security monitor who was skewered, and ultimately transferred, for not stopping the gunman at the Parkland, Florida, high school was suspended last year for sexually harassing one of the victims, Meadow Pollack, and another female student.

Andrew Medina, the 39-year-old campus monitor who was transferred to another school when it was disclosed that he didn't confront the shooter, Nikolas Cruz, or call a "code red" to trigger a lockdown and summon police, was lightly punished for sexually harassing two teenagers in 2017, according to the Pollack family and records obtained by the Sun Sentinel newspaper.
Hunter Pollack, Meadow's brother, told BuzzFeed News that his sister had complained to her boyfriend about Medina's "ongoing gross behavior."

"He would call her names like 'gorgeous and sweetheart' and just be a creep," Hunter Pollack said. "And when her boyfriend confronted him about it, he threatened him, too."
Broward County school district investigated Medina, who is also a baseball coach, last year. Investigators wrote in a report, citing surveillance tape from Feb. 16, 2017, that Medina targeted the girls in the hallway. He asked one whether he could visit her at her job after school and told another she was "fine as fuck," the Sentinel reported.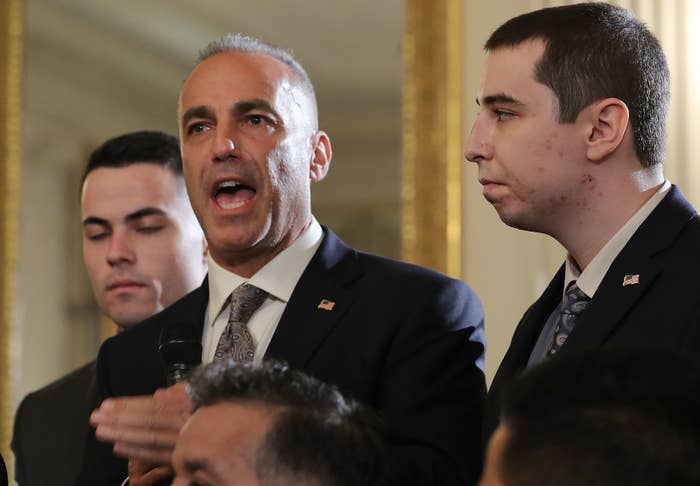 "Both students became so uncomfortable with Mr. Medina's comments and actions, they sought out different routes to their classes in an attempt to avoid him," Robert Spence, a detective with the district's special investigative unit, wrote in his report.

On Oct. 4, 2017, the school district's professional standards committee reviewed the allegations and found probable cause that Medina acted inappropriately. District officials recommended firing him, but a scribbled note on the bottom reads, "discipline should not be termination but instead a three-day suspension."
Craig Nichols, a district official acting as the designee for Superintendent Robert Runcie, signed off on the decision to override the committee's assessment and give Medina a light punishment.

"It's absolutely unbelievable the level of incompetence at this district," Andrew Pollack, Meadow's father, said, sighing. "What do you have to do to get fired at this place? Why do they keep protecting these guys?"

In the report, Medina denied the students' allegations, which, the school district explained in a statement, was one of the key reasons he was suspended and not fired. Because there was no concrete evidence and the campus monitor had a clean track record, he kept his job.
"In this specific case, the employee was investigated for alleged inappropriate comments to students. The final determination, after the review process, was to uphold the finding of probable cause for inappropriate conduct," said Tracy Clark, a spokeswoman for the district. "However, the discipline was finalized at a three-day suspension. There was no direct evidence to distinguish between the conflicting statements provided by the students and the employee, and there were no previous records of discipline for the employee."

Marjory Stoneman Douglas Principal Ty Thompson was not involved in the decision to suspend Medina and require that he attend a three-hour sexual harassment training, said Lisa Maxwell, the Broward Principals' and Assistants' Association's executive director.
"The only individual authorized under school board policy to overturn a decision of the professional standards committee in accordance with school board policy 4.9, is the superintendent or his designee," she said.
A year later, Medina told investigators he saw Cruz walking onto campus carrying a duffle bag, from which he would pull out an AR-15 rifle and kill 17 people in a few minutes.
"He's beelining. He's got his head down. He's on a mission, you know. He's on a mission," Medina said.

He radioed another security monitor, David Taylor, to warn him that Cruz was on campus and to keep his "eyes open." Taylor hid in a janitor's closet once the 19-year-old began firing.

"I'm telling you I knew who the kid was," Medina told investigators. "Because we had a meeting about him last year and we said, 'If there's gonna be anybody who's gonna come to this school and shoot this school up, it's gonna be that kid.'"
The Pollack family say they only found out about Meadow's harassment allegations about 10 days ago. Andrew Pollack, who has been working to help elect several Parkland parents to the school board and oust Runcie, said his ex-wife also filed a report on behalf of her daughter but didn't tell him about it because she knew he "would have freaked out."

"What's killing me is that he should have been terminated and he wasn't and he was at that gate," the father said. "We might have had someone who might have done something like call 'code red' and instead we had someone with half of a brain who did nothing. And after all this, they reassigned him somewhere else where he might act this way to other girls."
Although he was transferred from Marjory Stoneman Douglas last week, Medina still works for the district.