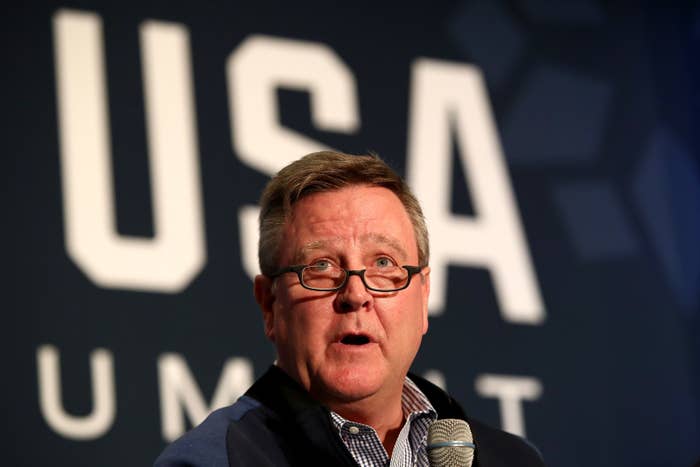 The leader of the embattled US Olympic Committee is resigning just days after the conclusion of the 2018 Winter Games, becoming the latest official to step aside in the wake of the sexual abuse scandal involving USA Gymnastics doctor Larry Nassar.

Scott Blackmun took over as the USOC's chief executive in 2010, and has been widely praised for bringing stability to the organization, as well as for his successful efforts to land another Summer Olympics for the US.
But he faced mounting scrutiny over how the organization handled abuse allegations against Nassar, especially after reports revealed that the USOC declined to intervene after learning of Nassar's potential crimes in 2015. In light of those reports, two US senators, as well as a number of former Olympians, athlete representatives, and child advocates had called for Blackmun to step down.
In a statement Wednesday, the USOC cited Blackmun's health issues — he recently announced he'd been diagnosed with prostate cancer — as the official reason for his resignation. The announcement also outlined a series of changes and new initiatives aimed at better protecting athletes from abuse and responding "quickly and effectively when issues surface."

"Given Scott's current health situation, we have mutually agreed it is in the best interest of both Scott and the USOC that we identify new leadership so that we can immediately address the urgent initiatives ahead of us," USOC Chair Larry Probst said in the statement. "The USOC is at a critical point in its history. The important work that Scott started needs to continue and will require especially vigorous attention in light of Larry Nassar's decades-long abuse of athletes affiliated with USA Gymnastics."
Blackmun and other USOC officials have defended their handling of the Nassar allegations. In January, Blackmun demanded that the entire board of USA Gymnastics resign, and threatened to terminate the organization's status as the sport's governing body if they did not. They complied.
In a statement, Blackmun said Wednesday that supporting US Olympic athletes "has been an honor and the highlight of my professional life."
"I am proud of what we have achieved as a team," he said.

The USOC's new initiatives include additional funding to investigate abuse allegations and provide support for victims, and an outside review of the governance structure and potential cultural issues within the USOC and the national governing bodies of individual sports.
A law firm is also launching a fully independent review into Nassar's abuse, and will produce a public report, said USOC board member Susanne Lyons, who will now serve as acting CEO.
US Sen. Jeanne Shaheen, a New Hampshire Democrat who, along with Iowa Republican Sen. Joni Ernst, had called for Blackmun's resignation, said Wednesday's announcement was "long overdue."
"The US Olympic Committee must now bring on new leadership determined to deliver answers and accountability regarding how Larry Nassar was able to freely abuse young girls for decades, as well as answers to questions about abuse in other Olympic programs," she said in a statement. "It's clear that the culture at the US Olympic Committee desperately needs to change so that it prioritizes the health and safety of US athletes."