1. States that are keeping — or getting rid of — the death penalty:
* The use of the death penalty has decreased since the late 90s in terms of executions, sentences, and states that have the death penalty. There have been 25 executions this year, according to the Death Penalty Information Center, a drastic drop from 1999, when 98 prisoners were executed.
* Sentences have also been steadily declining over the past 15 years. Seventy-three people were sentenced to death last year, compared to 279 in 1999.
* Nineteen states have abolished the death penalty—four within the past five years (Nebraska, Connecticut, Illinois, and Maryland).
* Executions in Arkansas, Oklahoma, and Mississippi have recently been halted for the remainder of 2015 due to legal issues over injection drugs.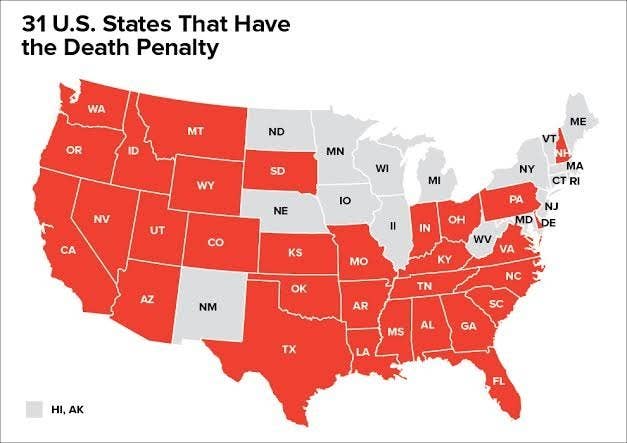 2. How states are using the death penalty:
* There have been challenges over legal injection protocol in almost all the states carrying out executions.
* It's getting increasingly difficult to secure the right drugs needed to execute an inmate, as many domestic drug companies don't want to provide drugs for executions, says BuzzFeed News Reporter Chris Geidner.
Counties marked in red are those with 5 or more death penalty sentences from 2010-present.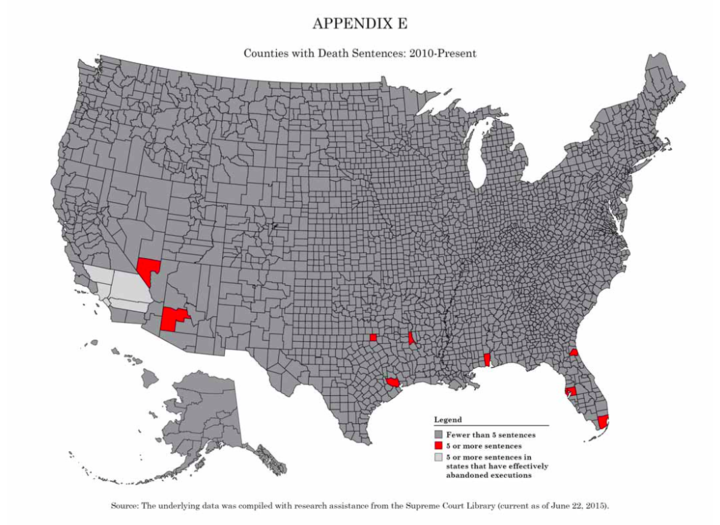 * BuzzFeed News reporters Chris McDaniel and Tasneem Nashrulla reported extensively on Chris Harris, a man in India who has been attempting to sell execution drugs to states in the U.S. for several years. McDaniel is BuzzFeed News's expert on how states are trying to implement the death penalty.
* A 2012 court order states that the Federal Drug Administration cannot allow foreign manufactured sodium thiopental to be imported, but states like Nebraska have tried to do so and Ohio is considering it. Arizona and Texas also attempted to import sodium thiopental illegally from India this July for use in executions.
3. What challenges inmates are bringing to the death penalty:
* Death-row inmates in Arizona, California, and Tennessee brought a case against the FDA for not having confiscated execution drugs when they came into the country, leading to the 2012 order stopping importation today.
* Just this week, there initially had been four executions scheduled for Nov. 3. None of them ended up taking place, with the Supreme Court calling off one due to concerns raised by the Missouri inmate about whether a brain condition would render the lethal injection process unconstitutional, the Arkansas Supreme Court calling off two so that a challenge to the state's execution law and protocol can proceed, and the Texas Court of Criminal Appeals calling off the final one due to claims raised of prosecutorial misconduct.
4. Will the Supreme Court address the constitutionality of death penalty?
* Justices Ruth Bader Ginsburg and Stephen Breyer think it's time for the court to revisit the constitutionality of the death penalty.
* Justices Elena Kagan and Sonia Sotomayor also have serious concerns, at least about the implementation of the death penalty, based off of the arguments in the case of Richard Glossip this spring.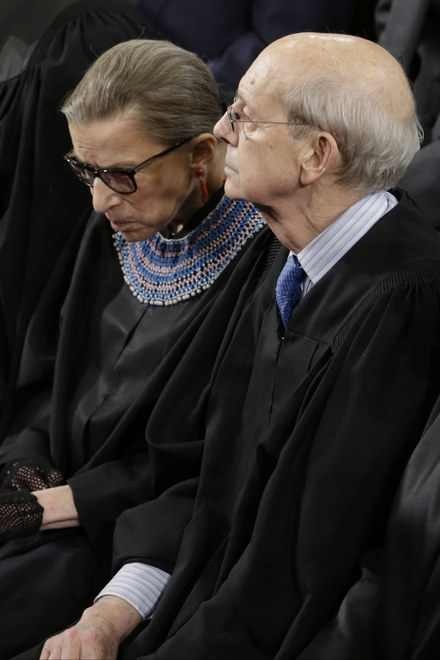 5. How the Supreme Court will address questions about juries and sentencing in death penalty cases?
* Florida inmate Timothy Lee Hurst is challenging the constitutionality of his state's law, which states that a jury—by a majority, as opposed to a unanimous, vote—can recommend an "advisory" death sentence, and the judge then ultimately decides whether to sentence that person to death. Depending on how the Supreme Court decides his case, many inmates on Florida's death row could need to be re-sentenced, says Geidner. Alabama and Delaware also have non-unanimous sentencing.
* The Supreme Court just heard a case about whether prosecutors discriminated against a black defendant, Timothy Tyrone Foster, by barring black jurors from his death penalty trial. This case, out of the Georgia Supreme Court, could have a ripple effect across other states.
* Race of defendants executed since 1976 (as of Oct. 30, 2015):
White—55.4%
Black—34.6%
Latino—8.3%
(Data from the Death Penalty Information Center)
* The current death row population, however, is 41.7% black, 43.1% white, and 12.6% Latino, according to the Death Penalty Information Center.
What's next?
The most ambitious effort yet to abolish the death penalty is in motion: Activists have been laying the groundwork for a Supreme Court ruling that the death penalty violates the Eighth Amendment's ban on cruel and unusual punishments, and thus, is unconstitutional.
Geidner sat down and talked to the leaders of the 8th Amendment Project's about why — and how they plan to win. Check it out here