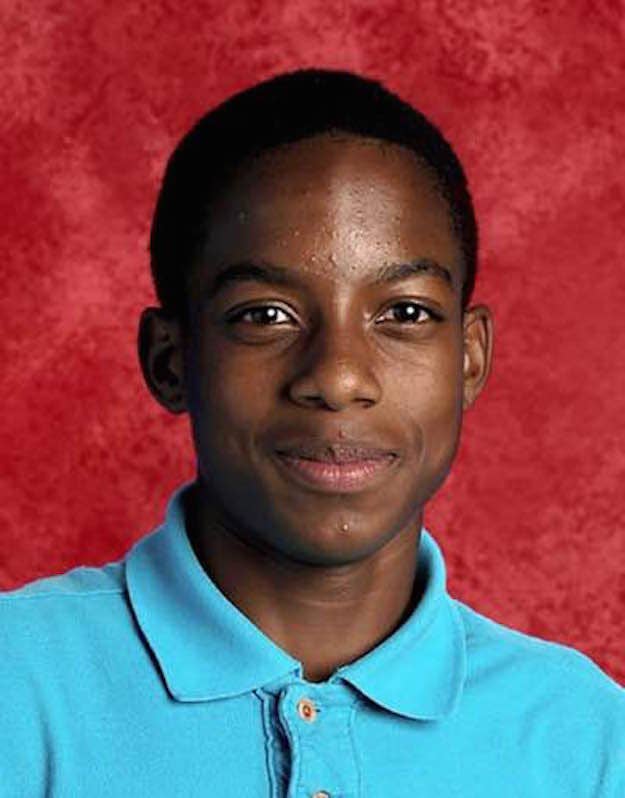 A suburban Texas police department has fired an officer who shot and killed a black teenager as he was leaving a house party on Saturday night, officials said Tuesday.
Jordan Edwards, a 15-year-old freshman at Mesquite High School, outside of Dallas, died after Balch Springs Police Officer Roy Oliver fired multiple rounds with his rifle into the car he was riding in. The car was carrying five teenagers, including Jordan's two brothers, who were trying to leave a house party that had become unruly after cops arrived.
Jordan's 16-year-old stepbrother, Vidal Allen, was driving the vehicle during the shooting and noticed Jordan's head was smoking, attorney Lee Merritt said, and then flagged police to help.
On Tuesday, Balch Springs Police Chief Jonathan Haber said Oliver, who was the second officer at the scene, had been terminated. The chief said Oliver, who had been with the department since July 2011, violated several departmental policies, but would not elaborate on which ones. Prosecutors are still investigating and could charge Oliver, who has the right to appeal his firing.

"You have my assurances my department will continue to be responsive, transparent, and accountable," Haber said.
Oliver, who served in the US Army and the Texas National Guard, had faced disciplinary action once before in 2013, when he was suspended for16 hours after a complaint from the Dallas County District Attorney's office, according to records obtained by The Associated Press.
"He had had a long night before and was frustrated by something and he said 'Fuck' in court. That was it," Balch Springs Officer Pedro Gonzalez told BuzzFeed News. "He apologized and the suspension was to avoid repercussions with Dallas County."
Gonzalez described Oliver as an "average officer" who was easy going and not aggressive or violent.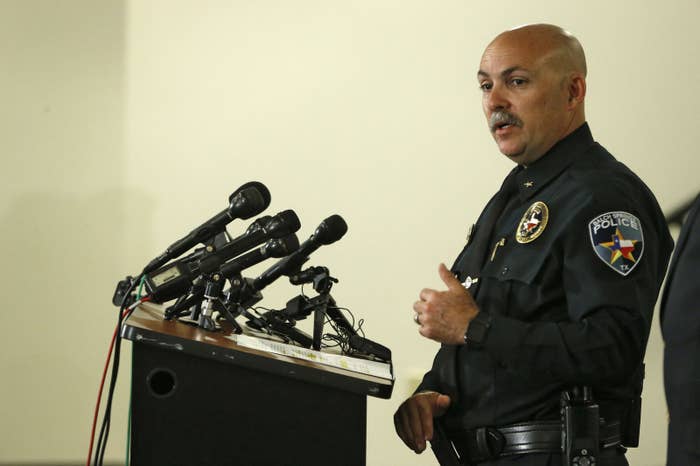 On Monday, Haber reversed the department's original account of the shooting, acknowledging that the car had been driving away when the officer opened fire with a rifle. Initially, police claimed that the vehicle had been backing up toward officers in "an aggressive manner."

"I made a mistake and I apologized for it," Haber said Tuesday.
In a statement, Edwards' family said they were grateful that Oliver had been fired and thanked Haber for his "commendable strides toward justice," but said there "remains a long road ahead."
"The magnitude of his horrible actions cannot be overstated," the family said. "We fully expect an equivalent response from those responsible for investigating and punishing the crime. We also know that although his actions were the most wicked and consequential, he was not the only officer responsible for dreadful behavior that evening."

The family released another statement on Friday saying that they would be holding a private funeral and wake for Edwards and asked the public to respect their wishes.
"We also ask our community and supporters to respect our wishes to refrain from protest, rallies, vigils, marches, etc. until after we have laid our son to rest. We need time to exhale. To allow Jordan's death to be our own loss before we share this loss with the world. Though we understand what his life and death means symbolically, we are not ready to make a martyr of our son. Again, thank you for supporting us through this heart wrenching time," the statement read.
About 800 people packed Friendship Baptist Church in Mesquite on Saturday to mourn Jordan, according to the Dallas Morning News. The paper reported that, surrounded by a crowd filled with the teen's parents, teachers, brothers, classmates, uniformed football teammates, Rev. M.L. Dorsey recited a list of black men killed by police officers in recent years, including Michael Brown, Philando Castile, and Walter Scott, before shouting, "Jordan Edwards. I can't stand no more!"
"Jordan was a very loving brother to me," said Jordan's brother, Kevon Edwards, who was in the car when he died. "I know you're all sad, but we just got to keep pushing."
According to the sheriff's statement Friday, the investigation into the shooting is ongoing and "does not conclude with the arrest of Roy Oliver."

The Balch Springs Police Department said Friday that it did not receive prior notification from the Dallas County Sheriff's Department about the warrant for Oliver's arrest, and that it had learned of it through news reports.
"Since the beginning of this tragic event, the Balch Springs Police Department has supported an independent criminal investigation so that complete transparency was provided to the public," the statement read.
Family Of Black Teen Killed By Texas Police Has Planned A Private Wake And Funeral
buzzfeed.com
Police Shot And Killed A 15-Year-Old Boy Trying To Leave A House Party
buzzfeed.com
Jim Dalrymple is a reporter for BuzzFeed News and is based in
Los Angeles
.Contact Jim Dalrymple II at
jim.dalrymple@buzzfeed.com
.Grace Wyler is a news editor for BuzzFeed News and is based in Los Angeles.Contact Grace Wyler at
grace.wyler@buzzfeed.com
.Brianna Sacks is a reporter for BuzzFeed News and is based in Los Angeles.Contact Brianna Sacks at
brianna.sacks@buzzfeed.com
.Got a confidential tip?
Submit it here
.
Tweet
Tumblr
More ▾
According to Merritt and Jasmine Crockett, attorneys representing the family, Jordan's two brothers "were forced to experience this tragedy up close as occupants of the car." After flagging down the police to help, the teens were "manhandled, intimidated, and arrested while their brother lay dying in the front seat," Merritt said.
Crockett told the Dallas Morning News that as Allen, Jordan's stepbrother, was struggling to follow the officers' directions while getting out of the car as Jordan lay bleeding in the passenger seat, he heard someone say "This [N-word] can't tell his left from his right."
Gonzalez told BuzzFeed News that the department has reviewed several hours of, though not all of the footage, from body and car cameras and did not hear any racial slurs. "No one has come to the police department to officially file a complaint that an officer made a racial slur," he said. "We are still waiting for that."
Oliver was terminated the same day that the Justice Department announced it would not charge the two white Louisiana officers who shot and killed Alton Sterling during a struggle on the pavement outside a convenience store in Baton Rouge last year.
"How many black men have to die before law enforcement changes its culture and regains the trust of the communities it's sworn to serve?" Terri Burke, executive director of the ACLU of Texas, said in a statement.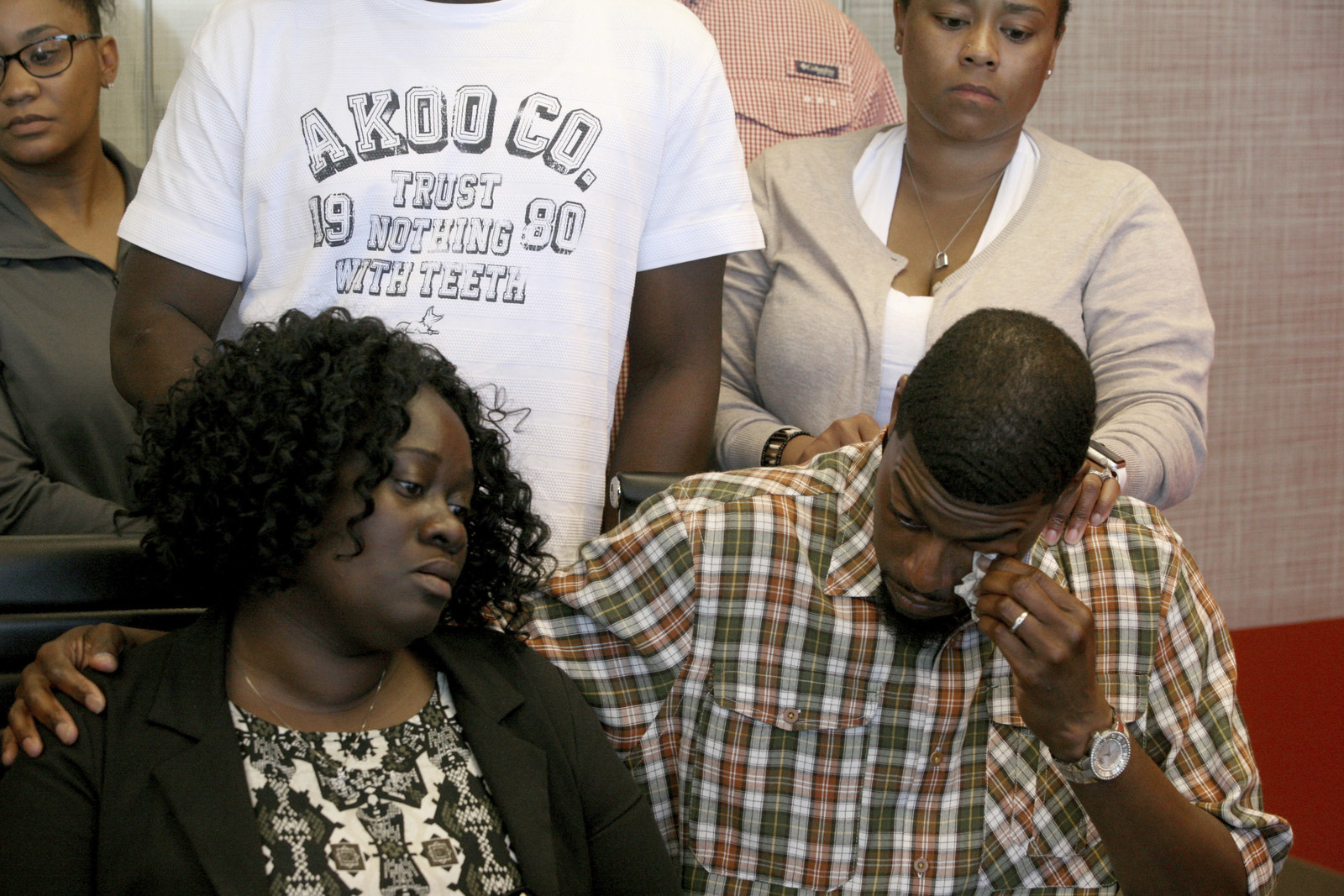 While Edwards' family vowed they would fight to ensure all officers involved "would be properly reprimanded," they urged people not to commit violence against law enforcement or protest or march in their son's name.
"What we desire only second to having our beloved Jordan back, is JUSTICE FOR JORDAN," they wrote.
Explaining the circumstances surrounding Edwards' death Tuesday, Gonzalez said that police arrived at a raucous house party on Baron Street Saturday around 11 p.m. and were attempting to find the owners of the home when they heard multiple gunshots coming from outside "causing a chaotic scene with numerous people running away." After the first officer arrived, the teens quickly scattered, neighbors said. Oliver, the second officer, arrived shortly after.

A neighbor told the Dallas Morning News that about 100 teens were at the house party and several cars were blocking people's driveways. Lisa Roberson, whose son threw the party while she was out of town, told the outlet that her son said there was no alcohol at the house.
Police initially said that officers confronted the vehicle Edwards was riding in, which was backing down the street, and shouted at it. But Haber conceded at a news conference Monday that the officers' account was inaccurate, and that after reviewing dash cam footage, it was clear the vehicle was "moving forward" as the officers approached. As the teens continued driving away from the scene and Oliver then opened fire, striking the 15-year-old passenger in the head. Edwards died from his wounds after being transported to a local hospital.
"After viewing the video, I don't believe that it met our core values," Haber said.
Edwards, an honor student and athlete, was "very well liked by his teachers, coaches, and fellow students," the Mesquite Independent School District said in a statement.
"The entire district — especially the staff and students of Mesquite High School — are mourning this terrible loss," it concluded.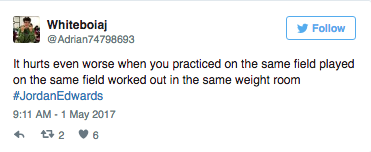 The teen adored football, Merritt told BuzzFeed News, and was excited to play on the freshman team with his friends, many of whom shared their heartbreak and sadness on social media.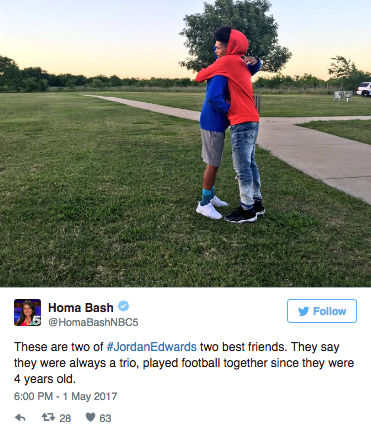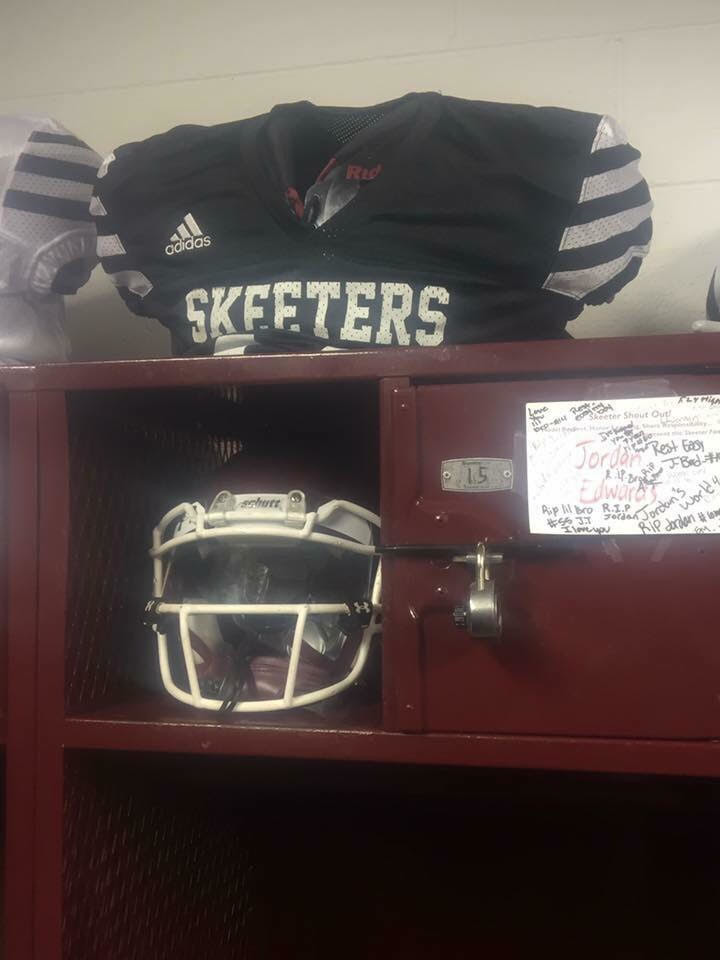 Mesquite High School football coach Jeff Fleener told the Dallas Morning News that Edwards had "a smile that could light up a room."

"The best thing in the world or the worst thing in the world would happen, and he'd smile, and everything would be OK," the coach said. "You create a checklist of everything you would want in a player, a son, a teammate, a friend, and Jordan had all that. He was that kid."