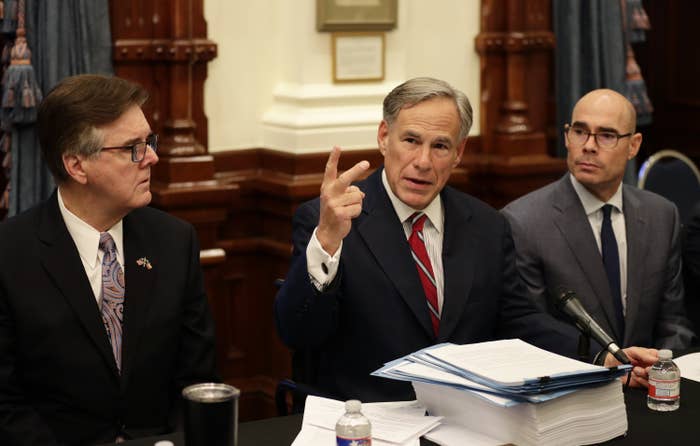 After nearly a week of silence regarding an anti-immigrant fundraising letter, Texas Gov. Greg Abbott said Thursday that "mistakes were made" in sending out a mailer that called on his supporters "take matters into our own hands" to defend the state against "illegals" a day before a gunman drove to El Paso to kill Mexicans and Latinos in an El Paso Walmart.
In response to a reporter's question about the mailer, the Republican governor said he met with members of the El Paso legislative delegation for about an hour and told the press that a "course correction had been made."
The letter, dated the day before a 21-year-old white supremacist opened fire and killed 22 people inside the Walmart, garnered controversy and condemnation for its alarmist rhetoric against immigrants that urged supporters to "take matters into our own hands" to "defend" Texas.
The El Paso shooter said in a lengthy manifesto that he was motivated by a hatred of immigrants and that he was "defending his country from cultural and ethnic replacement brought on by an invasion."

The two-page letter hammered the same flagrant, false, anti-immigrant rhetoric Republicans, emboldened by Trump, have been touting for years: that good, "law-abiding" Americans are in danger as "drug traffickers and violent gangs swarm our border."
Before kicking off the second meeting of the Texas Safety Commission, formed after the massacre and comprised of lawmakers, gun activists, and family members of the victims, Abbott said he discussed the mailer with El Paso representatives and "emphasized the importance of making sure that rhetoric will not be used in any dangerous way."
"I did have the opportunity to visit with the El Paso delegation and help them understand that mistakes were made," the governor said. "And a course correction has been made. And I emphasized the importance of making sure the rhetoric will not be used in any dangerous way. And we will make sure that we will work collaboratively in unification."
Abbott's remarks were vague and did not specify which aspects of the mailer he characterized as a "mistake," nor did he elaborate what steps he has taken to rectify the situation.
Texas Democrats say that while the governor's commission on gun safety is a "step in the right direction," they are still waiting for an apology.
"...let's be clear: Governor Abbott and the Republican Party's white supremacist rhetoric, like that seen in Abbott's fundraising mailer the day before the El Paso shooting, continues to be a major part of the problem," Texas Democratic Party Executive Director Manny Garcia said in a statement. "Governor Abbott refuses to apologize for this racist fundraising mailer and won't answer questions about ending his racist rhetoric immediately."
The Republican is also under fire for lamenting in a late-night tweet that Texas has been forced to pay to educate "illegal immigrants."
Hours after he hosted the commission's first meeting about gun safety and the mailer was reported in the media, Abbott quoted a Twitter user's complaint about teaching "illegals all day long in public schools."
Citing a 1982 landmark Supreme Court case, which bars states from denying students a public education based on their immigration status, Abbott wrote that "5 liberals" ruled that Texas had to teach "illegal immigrants."
All six members of the El Paso delegation decried the governor's message, each tweeting that their "community is trying to heal from racially driven violence. This hurts. It is dangerous.

Although he has been repeatedly criticized for "anti-immigrant" and "anti-Latino" language, the governor has strongly decried the El Paso gunman's attack on those communities as "racist hate."
On Thursday, before ushering media out of the commission's meeting, Abbott called the shooter a "racist" whose intent was targeting Texas for its culture.
"If you look at his manifesto, you will see time and again his target was Texas — the Texas culture, the Hispanic community and blended communities," he said. "Some of the victims of this horrific crimes are blended communities. My family is blended communities. My wife is the first Hispanic first lady in Texas. Her family came from Mexico. We need to address this attack on who we are as Texans."