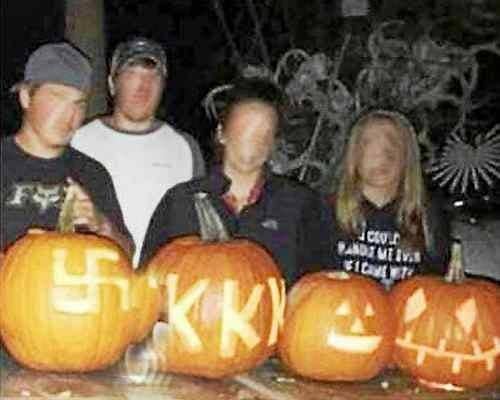 Several US high schools are grappling with a spate of racist incidents this month that have drawn national attention and sparked outrage among students and faculty, who are demanding school officials take more aggressive action to combat racial insensitivity and hate speech.
On Friday, more than 200 students from Coatesville Area High School in Pennsylvania walked out of school in protest after a photo surfaced showing some of their classmates standing in front of pumpkins carved with racist symbols. A week earlier, a dark-skinned doll was found hanging by a tie inside the school's locker room.
"I'm scared to walk around in the hallways, because it's like, people really think like that," Tajanae Primous, a senior, told Philly.com.
Students from the boy's cross country team who were interviewed about the doll called it a prank, Superintendent Dr. Cathy Taschner told BuzzFeed News. Apparently, the teens found the doll in a trash can on Sept. 1 and it was being "treated like a toy version of a team mascot." Students had been moving it around parts of the locker room and hiding it when a custodian found it hanging from the ceiling weeks later. The investigation into the incident is still ongoing to try and determine which student hung the doll and who all participated.
Administrators deemed the hanging doll "racially insensitive" but did not classify it as a hate crime. In a letter to parents and the community, the district explained that the doll was not hanging from a noose, as the tie was wrapped around its neck and arm.
"Ours is one of about four school districts in the greater Philly region that have experienced racially-charged incidents in the last two weeks. It seems tensions are running high in our society at the moment, and schools are certainly a center of our communities," Dr. Taschner said, noting that they have partnerships with multiple organizations such as the NAACP and the Anti-Defamation League to conduct sensitivity training.
As for the photo, the district has repeatedly decried "this kind of hatred and vile behavior" from its students, but since it was taken off-campus, officials cannot do much about it. Police are investigating the photograph, but there is currently no indication it is a hate crime and there are currently no charges against any of the students involved, though they have been spoken with and will go through sensitivity training.
"We are limited in our ability to discipline the students. Sadly, hate speech is protected free speech," the superintendent explained, adding that her district is "extremely frustrated that there is little they can do in the way of discipline in pumpkin situation" except to continue to foster community and student forums.
Across the Delaware River in New Jersey, teenagers at Washington Township High School staged a sit-in Thursday after white and black students clashed over racist text messages between a group of students that went viral after being shared on Snapchat.
Most of the students involved in the group message were white athletes, school superintendent Joseph Bollendorf told Philly.com. More than a dozen high-schoolers who were involved in the messages and the ensuing scuffle have been suspended, he said in a statement.

Nasir Johnson, a Washington Township High senior who helped organize the sit-in and a related event with the NAACP, said that a group of black students surrounded about three white teens who were in the group message when they arrived at school Wednesday morning.
"Say it to my face," one black student reportedly said to a white student who was in the group chat. "I know who they are but I don't know them personally. But when I saw the messages it was first hurtful to see something that I knew was there but actually see it before my eyes."
"Racism has always been prevalent in my school, but has been covered up and suppressed," he added, but students now seem more willing to display it openly.
"People feel more comfortable being open about their feelings with recent changes in politics," he said. "They think if our government officials can be open on their opinions so can they."
At Quakertown Community High School in Pennsylvania earlier this month, "a small group of middle school students" shouted slurs at cheerleaders from a rival school, and threw rocks at their bus, school superintendent Bill Harner said.

Two eighth-graders from Quakertown were punished, but students from Cheltenham High School, the rival school, insisted that other spectators, including adults, lobbed racial slurs and whispered hurtful remarks, Philly.com reported.

"Our cheerleaders and members of our band were insulted, using racial terms — the most divisive racial terms you can use," Cheltenham superintendent Wagner Marseille told Fox 29 News.
In a blog post, Harner said that racism at Quakertown was "not just a one-time incident. We have a problem."

"Several hate-based incidents happened in our schools the day after the Presidential election last November," he wrote in a blog post. "We also have incidents of religious intolerance in our schools. For example, one student asked another student — who is Muslim, when he was going to bring a suicide vest to school...! A few African American students told me that they do not participate in after-school activities because racial slurs are thrown at them."

The recent controversies come amid a national uptick in racially charged incidents and Trump-inspired bullying in schools across the country. As BuzzFeed News reported in June, white students across the country used the president's words and slogans to bully Latino, Middle Eastern, black, Asian, and Jewish classmates in the first school year of the Trump presidency. BuzzFeed News has been able to authenticate incidents of election-related bullying at 88 schools — and counting.
Since the new school year started this fall, racist signs have been popping up at pep rallies and videos of teens shouting racial slurs are spreading like wildfire across social media. In Virginia, at least three schools in the Richmond area are investigating racially charged incidents that took place this month.
White teens make up 88% of the student body at Quakertown High School, and account for 79% of students at Washington Township High School. The Coatesville school district is more diverse, with white students accounting for about half of enrollees, but teens there told several local stations that racist incidents have become more common.
"This isn't something that we want to do," Tyrel Bladen, a Coatesville senior who helped lead Friday's walk-out protest, told Philly.com. "It's something we have to do."
In Washington Township, Johnson said Sunday night that he feels he and his fellow students' voices are finally being heard.
"We feel like now that so many students have spoken up changes are in the process of happening," he said. "This event was just a beginning for what we believe of changing the heart and mindset of a community and its opinions on people who don't necessarily fit the mold."