The 18-year-old who livestreamed a crash that killed her sister on Instagram was sentenced Thursday to six years and four months in prison.
Obdulia Sanchez was driving her 14-year-old sister, Jacqueline, and her girlfriend, Manuela Seja, back to her hometown of Stockton, California, on July 21, 2017, when she lost control of her white Buick while livestreaming herself singing and dancing on Instagram. She crashed through a barbed-wire fence and overturned in a field, ejecting the two 14-year-olds, who were not wearing seatbelts, through a rear window, according to the California Highway Patrol.
Jacqueline Sanchez died at the scene and Manuela injured her leg. Sanchez recorded the entire thing, filming herself over her sister's bloodied body, apologizing, and begging her to wake up. The teen's blood alcohol level was .106 about 90 minutes after the crash, authorities said.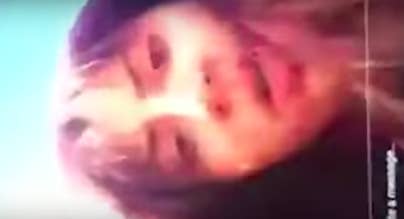 The graphic Instagram video quickly went viral and the story about the crash in a rural California town was picked up by national media.
Sanchez was sentenced after pleading no contest in January to gross vehicular manslaughter, DUI, and endangering a child. She also offered multiple explanations as to why she recorded her dead sister to her thousands of followers. In August, she said she kept streaming as she called the police in an effort to attract help from the public to help pay for Jacqueline's funeral expenses.
"I made that video because I knew I had more than 5,000 followers," she wrote in a letter. "It was the only way my sister would get a decent burial. I would never expose my sister like that. I anticipated the public donating money because my family isn't rich."

Ramnik Samrao, the public defender representing Sanchez, told BuzzFeed News that they "had made a passionate argument for probation" due to the "events in Ms. Sanchez's life that led up to this incident."
Starting at age 11, Sanchez was repeatedly sexually abused, assaulted, and "forced to use methamphetamines and alcohol," her attorney said. "Thereafter she was trafficked by a male for two years, again forced to use narcotics and alcohol while being raped for profit."
A few years later, she ended up in juvenile court for driving without a license and was placed in a rehabilitation program, where Samrao said she "flourished." At 18, she moved back home for a brief period and, "without the structured environment, therapy, and counseling for her mental health and substance abuse, she relapsed," Samrao said.
"Because she had shown the ability to succeed and demonstrated an appetite for success, we believed probation with appropriate conditions to help her was the right decision," he added. "The judge ultimately disagreed with us."
The teen and her family are comforted by the chance she could be released early, her attorney said, noting that they were able to get more than half of the original charges and enhancements dismissed.
"Based on her age, history, jail credits, and recent criminal justice reform, there's a reasonable chance she is released by the end of this year," Samrao said. "I just feel sorry for the parents who wanted her released and to come home with them. They now feel like they've lost two daughters. I hope they can find some semblance of peace soon."