The 18-year-old accused of driving drunk and killing her younger sister in a crash said she livestreamed the graphic scene to her thousands of Instagram followers to make sure her sibling would "get a decent burial."
Obdulia Sanchez was driving her 14-year-old sister, Jacqueline, and her girlfriend, Manuela Seja, back to her hometown of Stockton, California, on July 21 when she lost control of her Buick while livestreaming herself singing and dancing. She crashed through a barbed-wire fence and overturned in a field, ejecting the two 14-year-olds, who were not wearing seatbelts, through a rear window, according to the California Highway Patrol.
Sanchez, who has more than 5,000 Instagram followers, recorded the entire thing, filming herself over her sister's bloodied body, apologizing and begging her to wake up.
"I fucking love my sister to death. I don't give a fuck. We about to die. This is the last thing I wanted to happen to us but it just did," she said into the camera before turning it back onto her sister's bloodied face.

"Jacqueline, please wake up. This is the last thing I wanted to happen... I killed my sister, but I don't care. I killed my sister. I know I'm going to prison, but I don't care. I'm sorry, baby. I'mma hold it down... Rest in peace, sweetie."
A few days later, dressed in a yellow prison uniform, an emotional Sanchez pleaded not guilty to a host of charges, including felony manslaughter while intoxicated, vehicular manslaughter with gross negligence, two counts of driving under the influence resulting in injury, and driving with a 0.08% blood-alcohol level causing injury. Sanchez's alleged blood-alcohol level was 0.10%.
Sanchez has been speaking out about the accident, explaining to KPGE-TV that she kept streaming on social media as she called the police in an effort to attract help from the public to help pay for Jacqueline's funeral expenses.
In a four-page, double-sided letter sent to KPGE from Merced County Jail, the teen laid out her reasoning.
"I made that video because I knew I had more than 5,000 followers," she wrote. "It was the only way my sister would get a decent burial. I would never expose my sister like that. I anticipated the public donating money because my family isn't rich."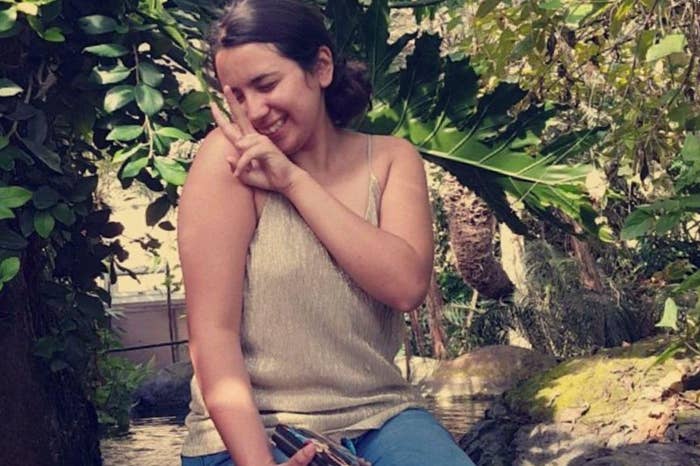 The family has raised more than $12,000 for Jacqueline's burial through a GoFundMe campaign.
"Sorry for making that video," she continued. "I look awful but I accomplished my goal."

Despite their grief, the teen's parents still support their daughter, Ramnik Samrao, a public defender representing Sanchez, told BuzzFeed News.
"The family is still behind her," he said. "They know it was an accident and have now lost two daughters. They just want her to come home."
In her letter, Sanchez also expressed her desire to dedicate a music album to her sister, open a boxing gym with her dad, and start a clothing line.
She also wants to visit schools to share her story and raise awareness about the dangers of using a phone while driving, which she says has become a "reflex" for teens.
"We do it all the time — all the time. Trust me, it's like a reflex. Like, I haven't crashed, you know?" she said. "Everybody does it. Everybody does. They take Snapchats. Everybody does it. Why not? People take video of them in cars, like, all the time. And I'm only 18 — we're still young."
But after seeing the footage for the first time on Sunday, she told the station that she looked like a "horrible monster."
"I didn't even know I looked like a monster — like, I look like a freaking horrible monster," the 18-year-old told the station in a phone interview from jail. "That was not my intention at all."
While Samrao says he didn't know about the interview and is upset that the station did not contact him first, he also argued that social media played a role in the crash, noting the "pressure kids face to act and do things a certain way."
"Social media companies target teenagers and they don't do anything to try and keep kids from doing things they shouldn't. In fact, they encourage it and make a profit of it," he told BuzzFeed News last month, pointing to Snapchat's speed filter that shows how fast the user is going.
"Instagram highlights all these videos of people doing crazy, stupid things to young people who already feel a lot of pressure to fit in and look cool," he added.
Samrao also told BuzzFeed News he believes a worn tire caused the crash and that they are reconstructing the crash scene to further investigate.
"We're still actively investigating the cause of the accident," he said. "We have reason to believe a tire blowout caused the accident."

Sanchez is due in court Friday and faces a maximum of 13 years and eight months in prison if convicted on all charges.
She remains in custody in lieu of $560,000 bail after a superior court judge refused to lower the amount due to her previous conviction for reckless driving when she was 14 and found to be driving without a license.