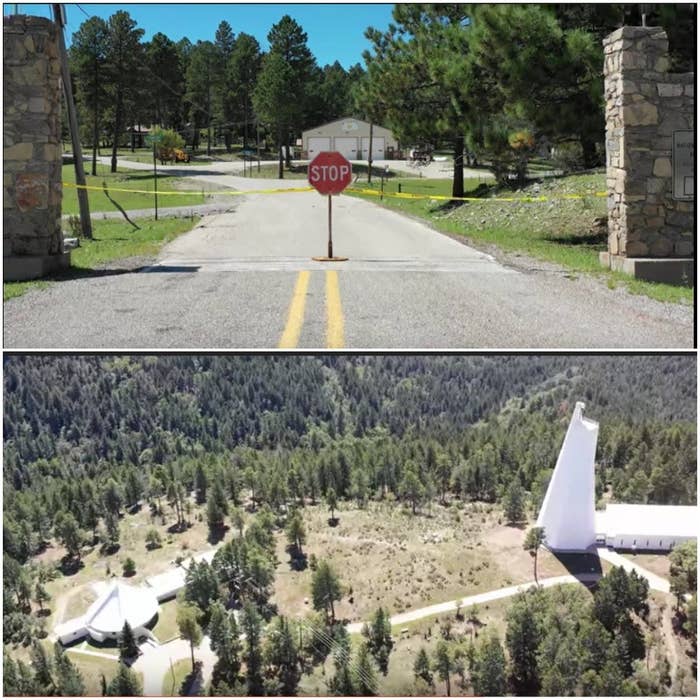 The circumstances surrounding the sudden closure of a New Mexico observatory last week remain a mystery, and the fact that the FBI is involved and no one is talking has whipped the internet into a froth of theories that span everything from aliens to Chinese spies.
The National Solar Observatory's Sunspot facility was closed Sept. 6 due to what authorities said was a security issue, and its employees were relocated without any explanation.
According to the Otero County Sheriff's Office, which was called to help monitor the evacuation, the FBI was involved, but the agency isn't commenting.
The Association of Universities for Research in Astronomy (AURA) manages the observatory, which calls itself the "premier facility for solar research" because of the powerful Dunn Solar Telescope.
The facility, tucked among the trees of the Sacramento Mountains, was closed "due to a security issue," and officials decided to vacate the facility "as a precautionary measure," Shari Lifson, a spokesperson for AURA, said in a statement.
"It was our decision to evacuate the facility," she said.
On Friday, AURA also announced that the observatory will remain closed until further notice due to "an ongoing security concern."

The National Solar Observatory (NSO) is headquartered in Boulder, Colorado, and all of its other facilities remain open, including the Apache Point Observatory, which is about a mile away from Sunspot. But that has fueled even more questions and speculation about what exactly happened on Sacramento Peak.
Sunspot on Thursday issued a statement thanking the public for its patience while the closure is "resolved."
An all-capped announcement of its closure remains bannered across its sparse, vague website, adding that the Sunspot Solar Observatory "continues to work closely with AURA in order to allow for us to reopen as soon as possible."
But as for what's going on — nothing.
"Nobody — the observatory, the FBI — nobody, is giving us details as to what is going on," Otero County Sheriff Benny House told BuzzFeed News Thursday, noting that his department was asked to go "up there stand by" as the employees were leaving.

The call, while not extraordinary, was a bit odd since "they're not federal employees."
"The FBI was there, but for what purpose we don't know," he said. "They were gone when we got there and we reached out to them and they didn't tell us anything."
Adding fuel to the mystery, officers also saw a Black Hawk helicopter, which is used by the military, flying overhead. House pointed out that its presence was not "necessarily unusual" since there is a US Air Force base nearby and the military does train in the area.
"But the timing and location is a very weird coincidence," he said.
The FBI would not confirm whether agents were at the observatory, referring BuzzFeed News to AURA, which said it could not comment on the agency's involvement.
A single line of police tape still hangs across the entrance gate and the sheriff said there has been no activity.
"It looks like it's closed for a holiday or everyone is on vacation," he said.
Sunspot's "temporary" closure bubbled around local media until recently exploding on the internet, fueling thousands of discussions across as to what could be happening in New Mexico.
People on platforms from 4Chan, Reddit, and Twitter threw out everything from the Chinese spies infiltrating the observatory's antenna array to monitor the US White Sands Missile Range, to electromagnetic weapons testing, to the government quickly trying to cover up a discovery of extraterrestrial life.
On Facebook, several former NSO employees and other scientists also discussed the situation, calling it "fishy" and "pretty weird."

"Why all the secrecy?" asked Claude Plymate, who once worked for the organization as an engineering physicist in Arizona.
"If forced to guess, I'd say some sort of personnel and/or funding issue(s). What I can't fathom is why they won't release any official statement!" he said in another post.
John Varsik, a data scientist and telescope operator at Big Bear Solar Observatory, worked at Sunspot about 20 years ago and said the whole thing "is very fishy."
"Nothing like this has ever happened before [at an observatory]," the former NSO research associate told BuzzFeed News. "It's unusual and none of us know anything. We've been sitting around trying to guess what kind of security issue they would be worried about."

The National Science Foundation set up the NSO to run two solar-monitoring facilities: Kitt Peak, near Tucson, Arizona, the other in Sunspot, New Mexico, Varsik said. But the organization has been undergoing a big change and is building a new observatory in Hawaii, "phasing the old ones out," he added.
"Over the last decade, they have been gradually winding things down," he said. "I don't think there would be more than a dozen people working there. It's very small and isolated and in the middle of nowhere."
And though he preferred to keep his theories as to what exactly is going on to himself, Varsik emphasized that, despite one conspiracy theory, we are not in any immediate danger of a solar flare obliterating Earth.
"The sun is very quiet right now," he chuckled. "As for aliens, I don't think so."