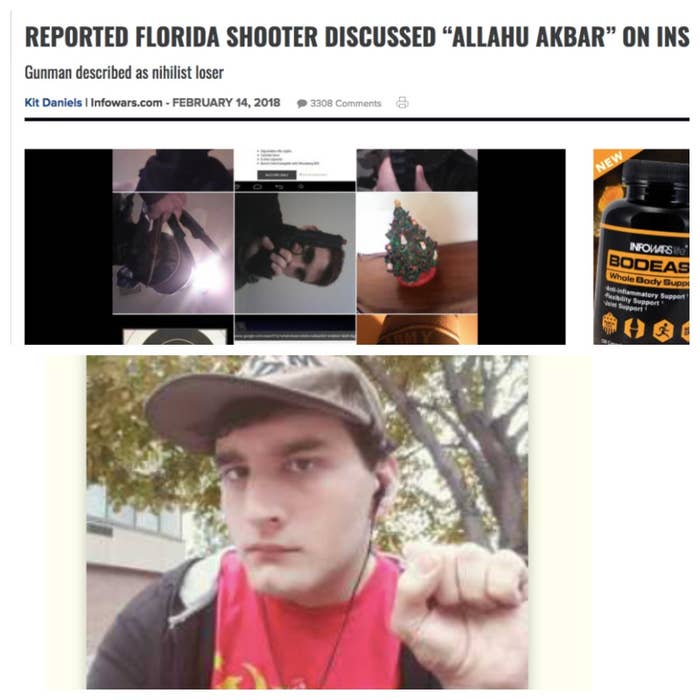 A 24-year-old man from Massachusetts is suing Alex Jones — the bombastic, right-wing internet personality known for fueling and spreading conspiracy theories — and his website Infowars for falsely identifying him as the Parkland school shooter.

Marcel Fontaine, who lives outside Boston and has never been to Florida, filed a $1 million defamation lawsuit against Jones and Infowars, which has peddled a slew of conspiracies, including that the massacres in Sandy Hook and Las Vegas were faked, Pizzagate, and that Chobani, the yogurt company, imported "migrant rapists."
The lawsuit was filed in US District Court in Travis County, Texas, where Jones started his career and Infowars is still based.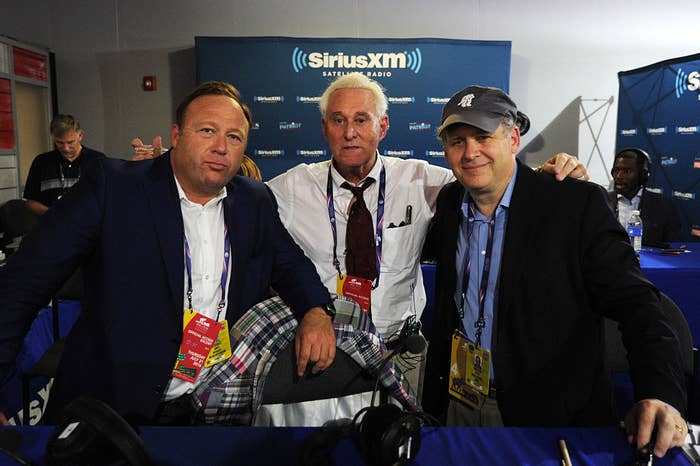 On Valentine's Day, as the media raced to discover who was behind the mass shooting at Marjory Stoneman Douglas High School, Infowars published an article with Fontaine's photograph, insinuating that he was the man who walked onto campus and killed 17 people.
The article, written by Kit Daniels, was on the site's homepage and blasted across its social media accounts that day as the story developed, the lawsuit states. Its revised titles included "Reported Florida Shooter Dressed as Communist, Supported ISIS," "Florida Shooter Inspired by ISIS — ALLAHU AKBAR," and "Reported Florida Shooter Discussed 'Allahu Akbar' on Instagram Profile."
A photograph of Fontaine in a red shirt showing Communist leaders partying sat right in the middle for "several days," his attorney, Mark Bankston of Farrar & Ball, told BuzzFeed News.
"This spread like fire all over the internet," Bankston said. "It was in China, Vietnam, all over the world, and has now amassed billions of clicks. We asked for a statutory correction 30 days ago and they have ignored us. They haven't made a statement or apologized to Marcel."
"Another alleged photo of the suspect shows communist garb," read part of the article, which was removed without an explanation, statement, or correction, according to the lawsuit.

Numerous other right-wing sites republished the article verbatim, "further increasing the distribution of the defamatory accusation," the lawsuit states.
Larry Pittman, a Republican state legislator in North Carolina, even shared comments about Fontaine and the red shirt at the time, writing "many of these shooters turn out to be communist democrats."

Neither Daniels nor a representative for Infowars immediately responded to requests for comment.
On Feb. 26, Fontaine asked Infowars to issue a correction but they did not respond to him, the lawsuit said. A day after the lawsuit was filed, a correction appeared at the top of the story stating that Infowars had incorrectly attributed Fontaine's photo to the Parkland suspect.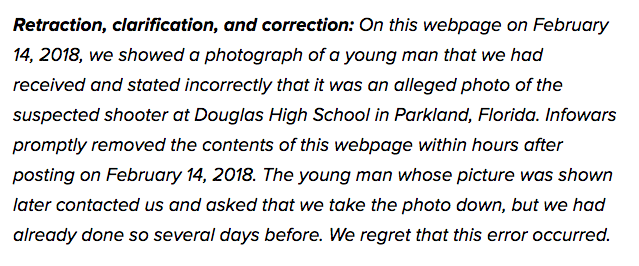 A current version of the article shows no trace of Fontaine's photo, nor does it mention that it falsely identified a person who had no ties to the massacre.

On Feb. 10, four days before the shooting, someone posted Fontaine's Twitter profile to 4chan, a fringe website, with the title "Antifa/Lefty/Commie Cancer." From there, others posted several photos from Fontaine's social media accounts, including the photograph Daniels used in the original article.
Despite another user commenting below the photo, "I can guarantee that this loser works at the Palladium in Worchester, MA. They play loads of metal shows, far more than any other genre," Daniels included it in his article about the Parkland shooter.
"They published this photo with zero confirmation. They published knowing it was false or with such reckless disregard that they didn't care," Bankston said. "Even doing the most basic thing like a reverse image search would have shown that he had nothing to do with Florida or the school shooting."
As a result, the 24-year-old incurred a wave of harassment and abuse online that still continues regularly and he "now has a lot of problems dealing with his normal routine," Bankston added.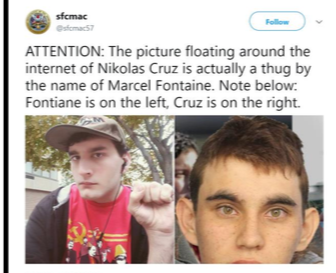 "As it was happening he tried to show a strong face, but he now genuinely fears for his safety at this point," he said. "He is scared. The threats are violent."
A major problem, the lawsuit notes, is that many Infowars readers distrust the government and mainstream media. This deep-rooted suspicion is fueled by Jones and his media empire, which also hawks products aimed at fighting back against "the deep state" and further perpetuates the notion that Jones is the only one telling the truth.

Fontaine is now caught in the crosshairs, the lawsuit states, citing several examples of Infowars readers using his photo to prove that he is part of a "false flag operation," or that he is a crisis actor.
"After experiencing this, Marcel felt it was his responsibility to bring the suit against Infowars," his attorney said. "We believe he was targeted because of his shirt, what he was wearing. It's malicious."
It's the second defamation lawsuit filed against Infowars in recent weeks. In March, Brennan Gilmore, a counterprotester at last year's deadly far-right rally in Charlottesville, Virginia, sued Jones for claiming, without evidence, that he orchestrated the car attack, calling him a "CIA asset."