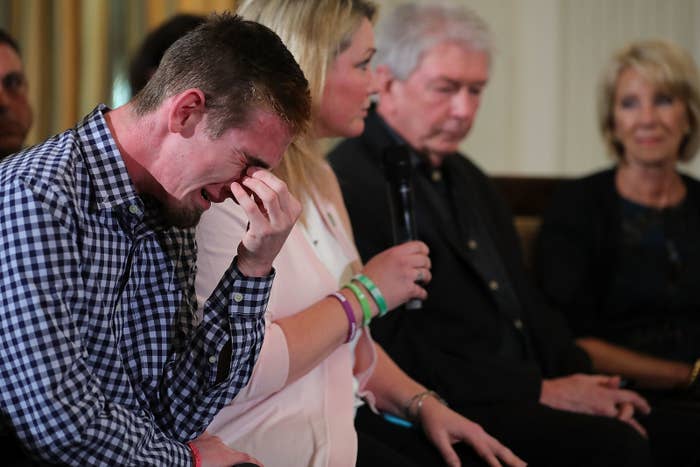 After pleading with President Trump to enact stricter gun laws during an emotional, tense White House listening session last week, several Parkland, Florida, students and their parents say they are disappointed by his continued campaign to arm teachers.
In the wake of the Valentine's Day school shooting at Marjory Stoneman Douglas High School, in which 17 people died, the president has repeatedly touted the idea to arm teachers across the country with concealed weapons as an added layer of security against mass shootings in schools.
"The teacher would have shot the hell out of him before he knew what happened," Trump said Friday. "These teachers love their students. And these teachers are talented with weaponry and with guns. And they feel safe."

The next day, he suggested that teachers trained to fire weapons "should get a yearly bonus," but that it should be "up to states" to implement any such program.
His ongoing comments have riled politicians, educators, parents, and students who contend that arming teachers is not the answer to the nation's gun problem, nor should it be the responsibility of a teacher to learn how to carry and use a weapon while also instructing dozens of children in districts already sapped of resources.

Several students who survived the Florida school shooting, as well as their parents, attended a listening session with the president last week in hopes of persuading him to change federal gun laws. They said that while they felt Trump was compassionate and empathetic, they were incensed by his push to put guns in classrooms.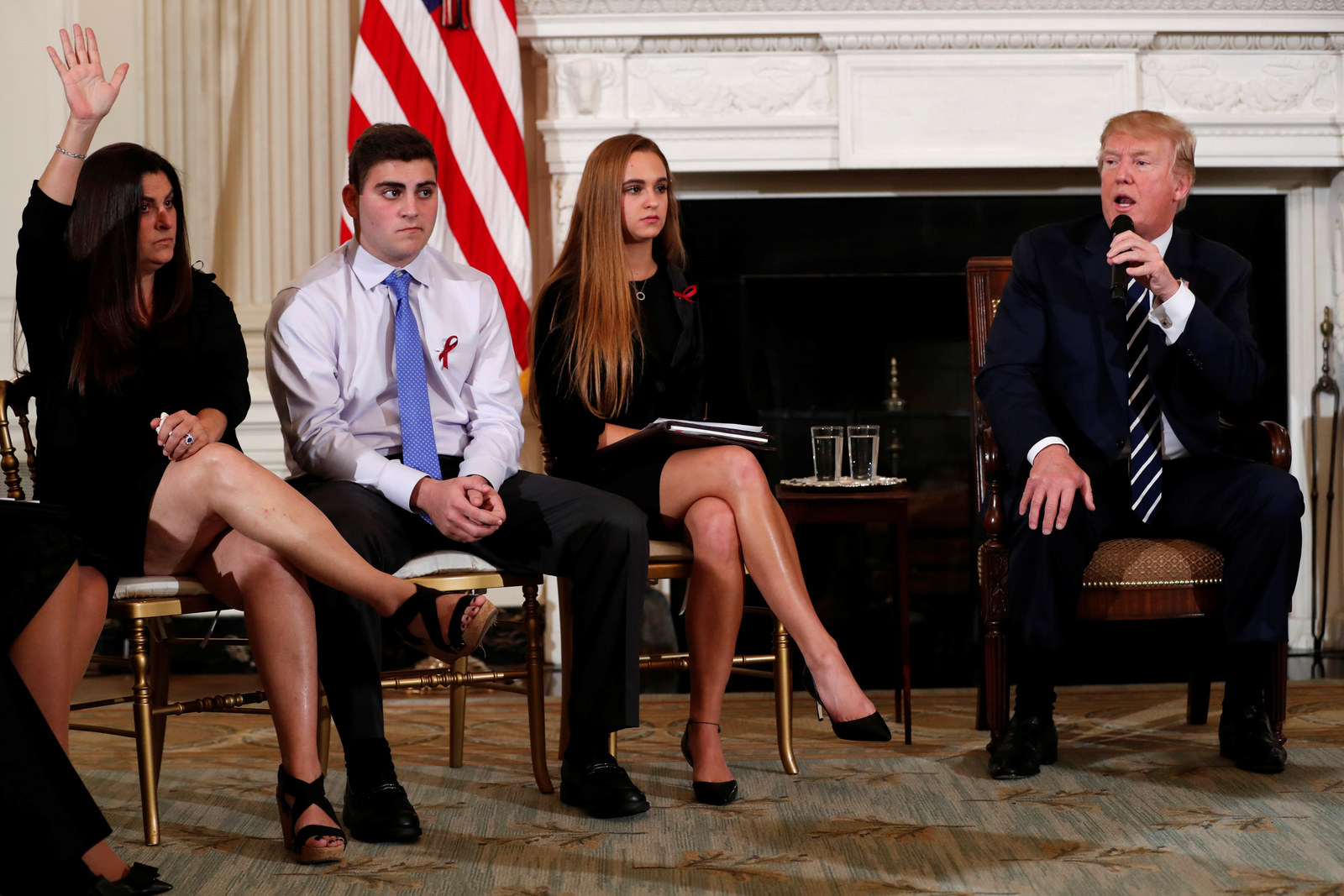 "I felt that Trump was sincere and the White House was respectful when I was there," Melissa Blank, whose son, Jonathan, survived the shooting, told BuzzFeed News. "I honestly believed he was listening and compassionate toward us and did a great job, but as soon as I heard him say we should arm teachers, I was in shock."

Blank, a teacher's aide at Westglades Middle School, which is near Stoneman Douglas, recounted the two horrific hours in which she tried to calm a classroom of petrified seventh graders while barring the door in case a shooter came barreling in.
"I am holding this door and at the same time trying to text my son, who is in the high school, and he finally answers, 'Mom, students next to me are getting shot,' and then no response after that," she said. "Can you imagine what that is like and then to hear the president say he wants to arm teachers. It's absurd. Are you out of of your mind?"
Jonathan Blank watched two of his classmates die "right in front of me" during his Holocaust study class. While he, like his mother, is not against guns if "someone needs it to protect themselves and they are old enough to handle it," he doesn't think teachers should have them.
"I don't believe guns in the classroom is the way to go," the 17-year-old said. "I think security guards should have a gun, but not a rifle. Why does anyone need this type of gun at all? I don't understand."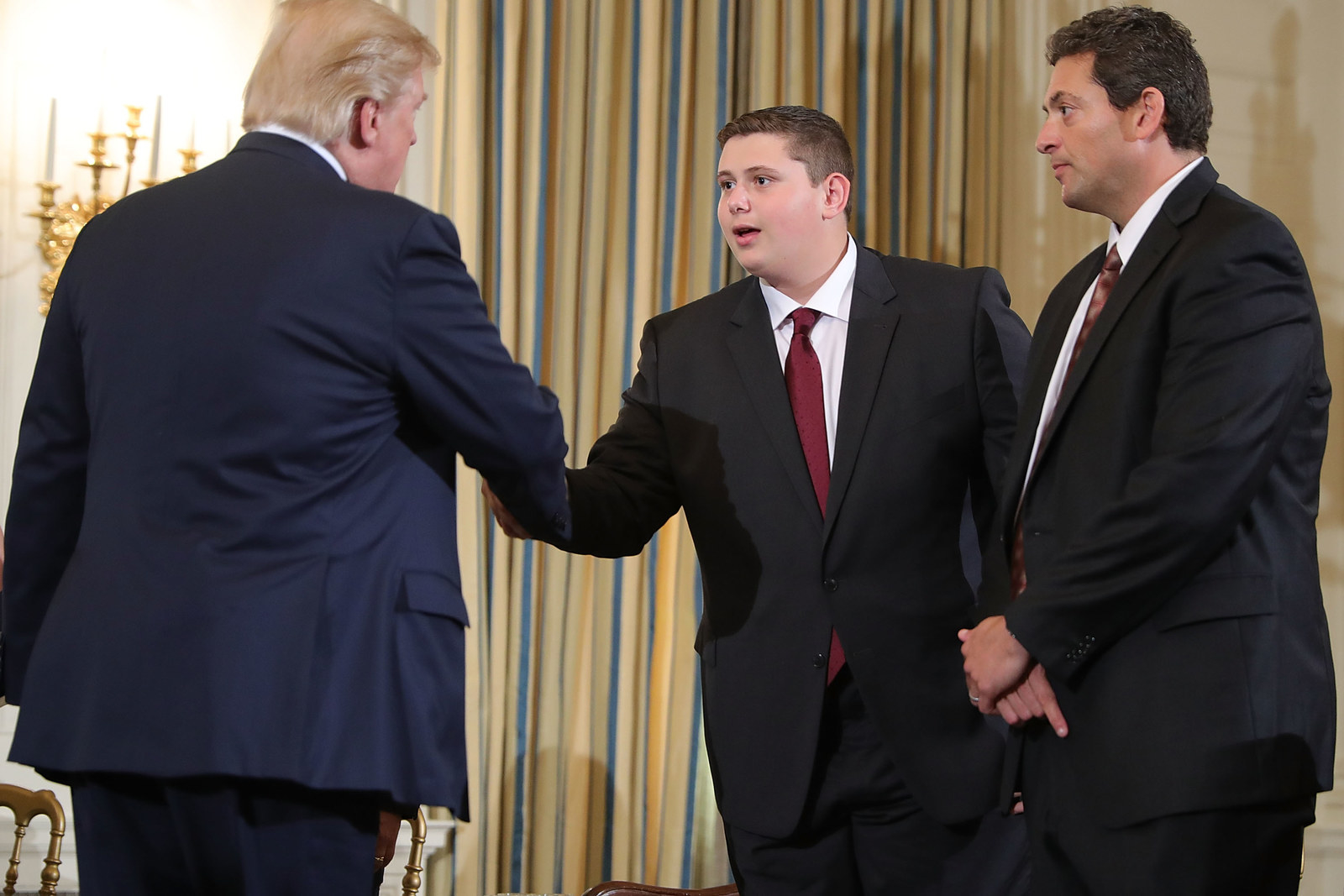 For 15-year-old Justin Gruber, meeting the president was a "powerful, emotional, and moving experience," but the school shooting survivor said he does not feel the president is pitching constructive ideas to ensure a shooter can never again walk onto a campus with an assault weapon and open fire.
"I feel that he wants to make change, but I don't see realistic, sensible solutions," said Gruber, who, like many in his community, is advocating for an assault weapons ban. "They are weapons of war. The founding fathers intended using weapons for defense, not offense."
Raising the age so that an 18-year-old can no longer buy an assault rifle "is a step in the right direction," Gruber said, but he added that it won't "do the amount of change that needs to be done."
The sophomore also said arming teachers is a "terrible idea."
"Adding guns to solve a gun problem will increase the possible negative outcomes," he said. "Teachers shouldn't have to be trained to carry weapons. They are supposed to mold the minds of the next generation."
Just days before he and his other nearly 3,300 classmates are set to go back to school, Gruber said he was disappointed with the ongoing discussions by politicians as to how the country should proceed after the latest mass shooting tragedy.
"If there is not significant change in this country right now, these tragedies will keep happening again and again," he said. "The president and senators need to write legislation to fix this."
In an interview with CNN, Stoneman Douglas senior Samuel Zeif said he doesn't think Trump will take action, nor does he have hope that the president will push for legislation.

"I just feel everyone saw on his note card, 'I hear you,' and I think he did hear us, but I don't think he was listening to us, mainly because he only listens to people putting money in his pocket," said Zeif, who added that he also does not think raising the age limit goes far enough.
"We had a long talk with [the president] and I'm sure that right after we left, after everyone was gone, he had a long talk with the NRA," he said. "And who is he going to listen to?"
Instead of arming teachers, Gruber and Melissa Blank say they would like to see that money and resources funneled into mental health programs and tighter school security, such as bulletproof windows, automatic locks, steel reinforced doors, and more deputies on campuses.
Educators are also in dire need of mental health support, Melissa Blank added.
"Why would we ever think putting guns where there are children is a good idea?" she said. "My son, he doesn't smile anymore. His head is always down. He jumped and turned pale when he heard a dog bark. We need people in our legislation to help us. We need gun control. To the NRA and any of those politicians who won't help us because of the NRA, I say shame on you."
The NRA has lashed out at critics in recent days, pointing the finger at missed opportunities by local and federal authorities to stop the 19-year-old shooter weeks before the attack.
In a defiant speech to the Conservative Political Action Conference last week, NRA CEO Wayne LaPierre accused critics of exploiting the Florida tragedy for political gain.
"What they want are more restrictions on the law-abiding — think about that," LaPierre said. "Their solution is to make you, all of you, less free. They want to sweep right under the carpet the failure of school security, the failure of the family, the failure of America's school systems and even the unbelievable failure of the FBI."
And not everyone affected by the tragedy is pessimistic when it comes to Trump.
Andrew Pollack, who lost his 18-year-old daughter, Meadow, in the shooting, gripped the nation with a powerful address to Trump during the listening session. The grieving father told BuzzFeed News that he felt "the president heard what he had to say and that he is going to act."
"I am for safe schools," he said. "That is what I want."