On Wednesday, Mediaite published some very :eyes: emoji behind the scenes footage of the veteran news anchor freaking the F out over an apparently malfunctioning earpiece and it is a doozy.
For a wild eight minutes between segments about President Donald Trump, O'Donnell loses his damn mind over a woman talking about a Labor Day special in his ear, hammering noises, and just a lot of "fucking out of control shit."
After wrapping up an on-script bit, O'Donnell hears some noise in his earpiece. His eyes widen. His face tightens.
"What's going on, why am I losing this, why don't I have sound," he barks in a rising voice. "Who's asking for a Labor Day rundown in my ear?"
"God dammit," he mutters and slams his fists on the desk.
He pulls it together for the next scene, and then yells" "There's insanity in the control room tonight!"
Enraged, he begins to visibly shake with anger, but manages to stay calm and read from the prompter.
"You have insanity in my earpiece," he yells at his staff, face livid.
"Someone in that control room is out of control," he continues, steaming, shaking his head, and muttering "fuck" to himself.
At one point, someone from the production staff runs over to try and help but O'Donnell angrily waves him away while his lips basically disappear into his face.
This rollercoaster continues until THE HAMMERING. O'Donnell's head almost explodes over some an apparent knocking sound in the background.
"STOP THE HAMMERING!" He yells suddenly, standing up and screaming at whoever is behind the camera.
"STOP THE HAMMERING UP THERE. WHO'S GOT A HAMMER? WHERE IS IT? WHERE'S THE HAMMER? GO UP ON THE OTHER FLOOR. SOMEBODY GO UP THERE AND STOP THE HAMMERING. STOP THE HAMMERING. I'LL GO DOWN TO THE GODDAMNED FLOOR MYSELF AND STOP IT, KEEP THE GODDAMNED COMMERCIAL BREAK GOING. CALL FUCKING PHIL GRIFFIN (president of MSNBC), I DON'T CARE WHO THE FUCK YOU HAVE TO CALL. STOP THE HAMMERING. EMPTY OUT THE GODDAMNED CONTROL ROOM AND FIND OUT WHERE THIS IS GOING ON."
The night, sadly, does not get any better. "It just fucking sucks. It fucking sucks to be out here with this out of control shit," he continues.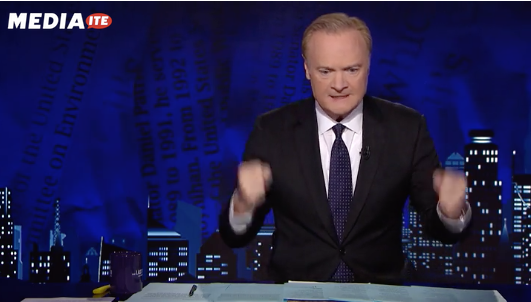 An MSNBC spokesperson said the network had no comment on O'Donnell's outburst, but the internet sure did. (NBCUniversal is an investor in BuzzFeed.)
They marveled at his ability to go from batshit crazy to calm, cool, and collected.
"Mad Lawrence O'Donnell is my everything"
Obviously, "Hammertime" made its way into the mix.
And a video editor even mashed up O'Donnell's tirade with Bill O'Reilly's infamous, "Do It Live" moment.
The anchorman later apologized for the rant, tweeting "a better person would've had a better reaction to technical difficulties. I'm sorry."
NBCUniversal is an investor in BuzzFeed.