Yes, it happened. SpongeBob SquarePants performed at the largest, most important sporting event in America.
I don't know why and how we got here, but Maroon 5, the halftime show's lead act, and Travis Scott paid tribute to the iconic Nickelodeon cartoon during probably the biggest, most high-profile performance of the year.
So back to How did we get here? Honestly, an evergreen question to everything in life right now.
But, this convergence of quintessential early 2000s childhood and the biggest day in American sports came to fruition because, back in 2001, SpongeBob and his squad performed "Sweet Victory" at the halftime of the Bubble Bowl.
This created an iconic moment, that only recently rebubbled to the surface of our meme consciousness thanks to the powerful mix of famous people, boy bands, an online petition, and Twitter.
Some quick Sparknotes:
Last year, a mega-fan launched a Change.org petition requesting that the America's major sprotz event honor SpongeBob's creator, Stephen Hillenburg, who died last November. More than 1.2 million people signed it.
Last week, Maroon 5 seemed to announce the petition had worked. In a teaser for the band's performance, SpongeBob appeared, suggesting the cartoon would be featured.
Like most things that explode online, people lost their damn minds.
Fans said the little awkward sea sponge appearing was the best thing about the multimillion-dollar sports event thus far.
That without this brief blip of cartoon royalty, "Super Bowl 53 would be irrelevant."
Many were all kinds of here for it.
THAT IT ACTUALLY HAPPENED AND IT WAS NOT A DRILL.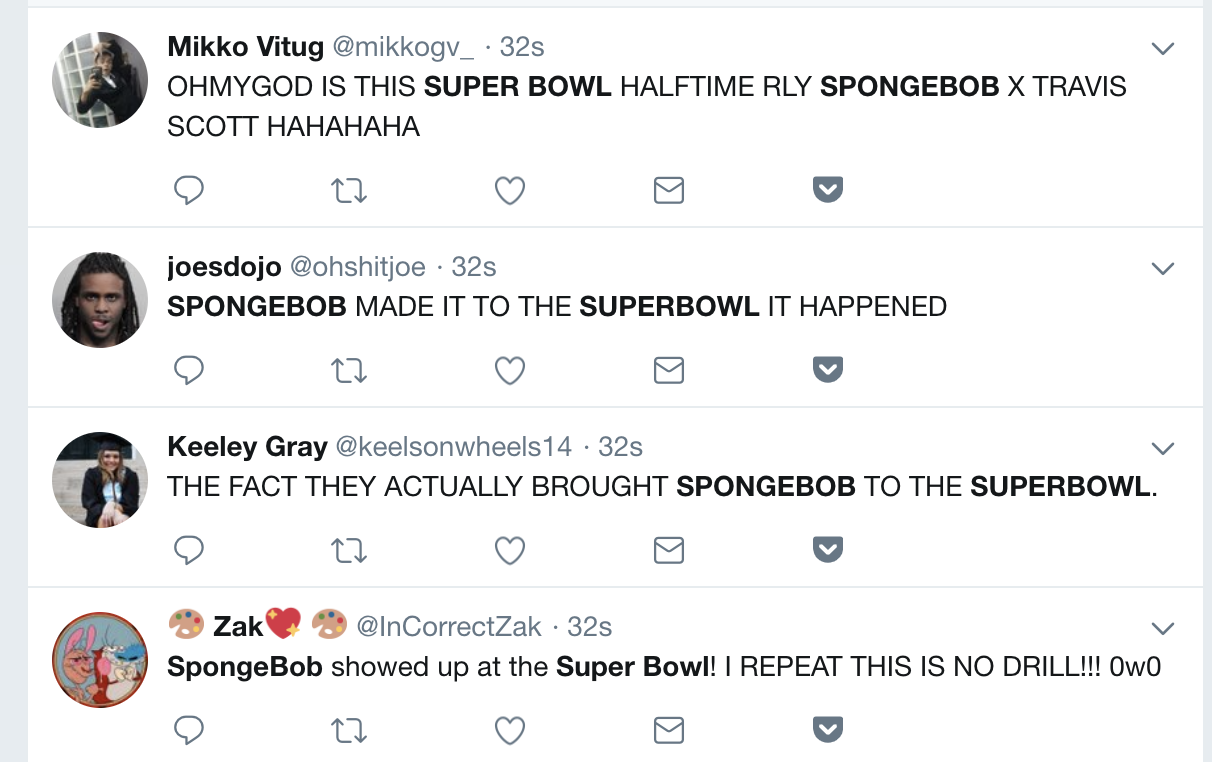 And that Hillenburg got the attention and callout that his fans felt that he deserved.
But there were many, many fans whose thirst for SpongeBob and the rest of the nautical nonsense crew was far from quenched.
It was too short, they agonized.
"We wanted more," they gifed.
"How dare this Travis Scott guy steal the spotlight from SpongeBob," they queried.
People lamented that, after all that buildup, they didn't even play "Sweet Victory."
This Twitter user took it especially hard, but reasoned that, after all that, his "favorite sponge" still had his (albeit brief) moment on the big screen.
He said that sometimes, as that other kind of famous band once said, you can't always get what you want, but you get what you need.