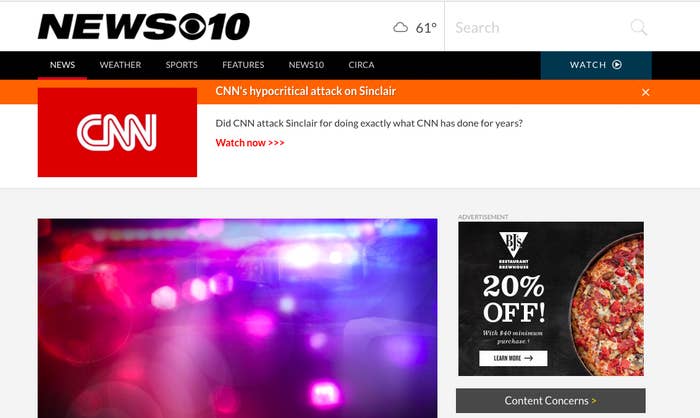 If you checked our your local news station Tuesday, you might have noticed a strange ad banner touting "CNN's hypocritical attack on Sinclair," the sprawling, conservative-leaning broadcast group that owns and operates nearly 200 TV stations across the US.

The new banners, which appear on every one of Sinclair's dozens of affiliate websites, link to a nearly four-minute-long YouTube video attacking CNN for being "hypocritical and dishonest."
Sinclair, the largest broadcaster in the country, is on the offensive after it forced local news anchors to recite a prewritten promo about "biased and false one-sided news stories plaguing our country," which riled and upset many of its own employees and has been compared to propaganda. Deadspin made a mash-up of anchors reading the script, which went viral.
CNN has been covering the controversy and last month reported on "small acts of rebellion" simmering inside some of Sinclair's local TV stations. CNNMoney spoke with current employees who lamented that their parent company's actions were hurting their journalistic credibility.
The attack video was sent out by recently hired 5WPR, now acting as Sinclair's representative.
Weaving together clips (as "evidence") from various CNN segments, mostly from 2016, the video argues that the cable channel and one of its top hosts, Brian Stelter, issued their own warnings about fake news and are thus being hypocritical for calling out Sinclair.
The video leads in with dramatic music and a snippet from March 11, in which Stelter says Sinclair is taking a "page out of Trump's playbook" and is damaging its reputation as a fair and biased news source. For nearly four more minutes, it cuts back and forth from old CNN blips and white screens defending Sinclair's decision to make its news anchors read the fake news warnings.
"Sinclair offers a similar warning: that some outlets re-publish fake stories without fact-checking," the video explains after airing a 2016 clip of Stelter telling viewers to "triple check before you share."
It concludes with the question: "Is it really news that 'fake news' is a concern in 2018? Or is this an attack on Sinclair?"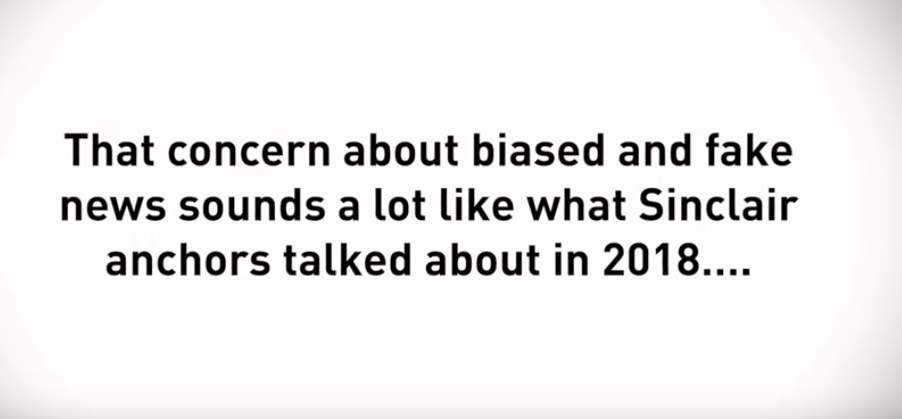 In a statement explaining the video, Ronn Torossian a 5WPR representative acting as a Sinclair spokesperson, said that the broadcasting group "values and preaches the notions of providing content and perspective."
"One of the more hypocritical and dishonest depictions of Sinclair's promotional spots has come from CNN," he said. "As outlined in the video produced today, CNN was warning its own news consumers about the dangers and impact of 'fake news' — back in 2016 and 2017. CNN used some of the same language that Sinclair used in its journalistic responsibility promos in 2018."
Echoing the video, Torossian cited a poll from Monmouth University, a private school in New Jersey, concluding that the majority of Americans believe "major TV and newspaper media outlets 'report fake news.'"
"For CNN to try to politicize Sinclair's journalistic commitment promos is hypocritical and shameful," he said.

Stelter, the main target in the video, pushed back at Sinclair on Twitter.
"There's a huge difference between my coverage and Sinclair's mandatory promos," he said. "No one tells me what to say. But these anchors were told exactly what to say."

Stelter said the Sinclair "promos became a story" because the employees were uncomfortable about recording them.
A CNN spokesperson told BuzzFeed News they had nothing more to add and that Stelter's comments spoke for themselves.
One reporter from a Sinclair-affiliated news station said he had not seen the video and banner. But another staffer told Los Angeles Times reporter Matt Pearce that they were "mortified."
"Never have they done something like this," the staffer said.
Sinclair's CEO sent out a memo apologizing to employees for the "politically motivated attacks" they have had to endure "regarding our news promotions," Stelter reported Tuesday.
"As an organization it is important that we do not let extremists on any side of the political fence bully us because they do not like what they hear or see," CEO Chris Ripley told staffers in the memo, which was obtained by CNN. He also refuted the notion they are taking over the news market.
"Contrary to much of the uninformed coverage on Sinclair we are not a monopoly and do not have any material market power, even by pre-internet standards."
It comes a day after Sinclair fired a commentator in St. Louis for tweeting about sexually assaulting Parkland survivor David Hogg with a "hot poker," sparking backlash.