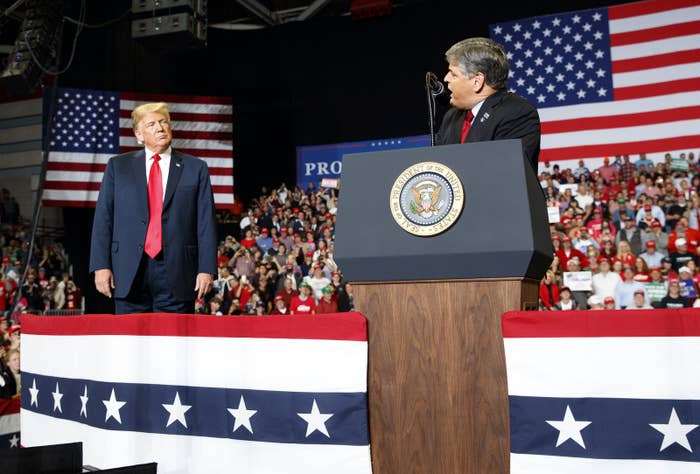 Sean Hannity insisted on Tuesday that he had not lied about participating in a campaign rally with Donald Trump, saying that he was surprised to be invited on stage and that his appearance was "NOT planned."
The talk show host also specified in a tweet that he was not referring to colleagues at Fox News when he pointed to journalists covering the rally and said "all those people in the back are fake news."
Fox News, which had previously said Hannity would not participate in the rally, declined to defend his decision to go on stage. Instead, the network said in a statement that Fox does not condone talent participating in campaign events, and added that the incident was "an unfortunate distraction and has been addressed."
Hannity took the stage in front of a cheering crowd in Missouri Monday night after Trump invited him on stage to speak, despite claiming earlier in the day that he would not be campaigning for the President.
The Trump campaign had announced Sunday that Hannity, along with talk radio host Rush Limbaugh, would be "special guests" at the president's final rally before Election Day in Cape Girardeau, Missouri.
"We're glad to welcome Cape Girardeau native Rush Limbaugh and Sean Hannity as special guests to this final stop on the tour where President Trump will make his case to the American people to support GOP candidates on Election Day in order to continue our great American comeback under his leadership," Trump's campaign said in the press release.
Fox News, however, denied Monday that Hannity would be a part of the campaign rally, stating that the cable news host would instead be there to interview the president before the event.
Hannity also denied that he would participate in the rally, tweeting that he would be doing a live show at the venue but would "not be on stage campaigning for the president," adding in tweet that this was "[s]omething I have done in every election in the past."
But Trump's campaign website still listed Hannity's name in the billing for Monday's event, titled: "Cape Girardeau, MO w/ Sean Hannity, Rush Limbaugh..." And when the president announced he was en route to Missouri to stump for Republican Senate candidate Josh Hawley, he retweeted Hannity's tweet announcing his own arrival at the venue.

As planned, Hannity hosted a live show from the packed floor of the Show Me Center.
But later, as Trump took the stage, hours before polls opened for the midterm elections, the president called on Hannity to come up and address the crowd, describing the Fox News host as an "incredible person" who has "been with us since the beginning."
Adjusting the mic, Hannity immediately pointed to the back of the arena, at the press pit. "By the way, all those people in the back are fake news," he told the crowd, before stating that he had no idea Trump was going to invite him up to speak.

The Fox News host then proceeded to repeat the president's stump speech slogans, lauding Trump for fulfilling his campaign promises and bringing "4.5 million new American jobs, 4.3 million Americans off food stamps."
"Mr. President, thank you," Hannity concluded, before shaking Trump's hand and exiting the stage.
Trump also brought up another Fox News personality, Jeanine Pirro, whom he dubbed "Justice Jeanine" who "always speaks from the heart," and described her as a "good friend."
"Do you like that this man is the tip of the spear who goes out there every day, who goes out there and fights for us?" Pirro bellowed from the podium. "If you like the America he is making now, you have to make sure you get out there tomorrow, if you haven't voted yet."