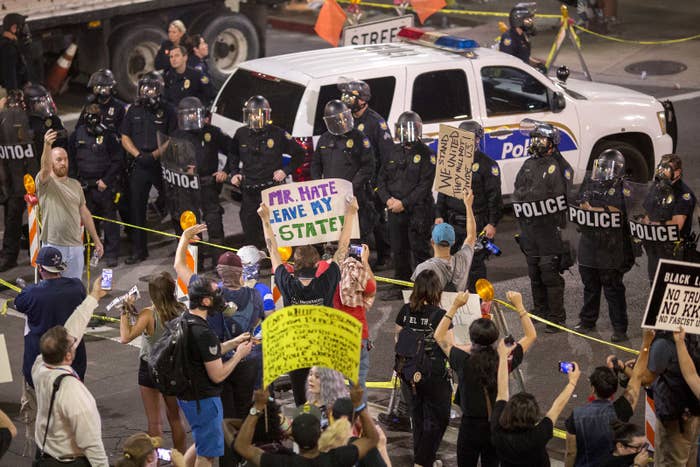 As Trump supporters made their way out of the Phoenix Convention Center on Tuesday night, Phoenix police deployed pepper spray on protesters who remained gathered outside.

The initial clouds of chemical gas were met with confusion by protesters, many of whom did not hear any order to disperse or see any act of aggression.
Witnesses said some protesters threw plastic water bottles at police, but were quickly stopped by others. Others said some demonstrators were shaking the barricades separating them from the arena as Trump supporters were leaving.
In a tweet, Phoenix Police said it was responding to "criminal behavior" in the area — people throwing rocks and bottles, according to ABC 15.

But multiple people told BuzzFeed News that as soon as Trump supporters came out of the arena, police became aggressive and started working to disperse the whole crowd.
Around 8:45 p.m. no one knew why they were getting sprayed and didn't see violence. Protesters were shouting "hands up, don't shoot" as police closed in.

Witnesses and protesters reported that participants were mostly peaceful and stayed behind barricades within the protest zone throughout. Despite this, riot police fired multiple rounds of pepper-spray balls, flash bangs, and rubber projectiles. No dispersal order was given and the scene quickly becoming chaotic.
Crowds of people fled the area, but dozens remained, demanding to protest peacefully.
A police helicopter hovered overhead 20 minutes after police began firing and sounded a dispersal order. It continued to circle, repeatedly warning protesters to leave the area.
At least six people told BuzzFeed News that some protesters threw water bottles, and that police then responded with pepper-spray balls.
Austin Michael, a 22-year-old Trump supporter, said he was trying to get to his car after leaving the rally and didn't see anything thrown at officers.
"This is ridiculous. [It's] not what I stand for," he said.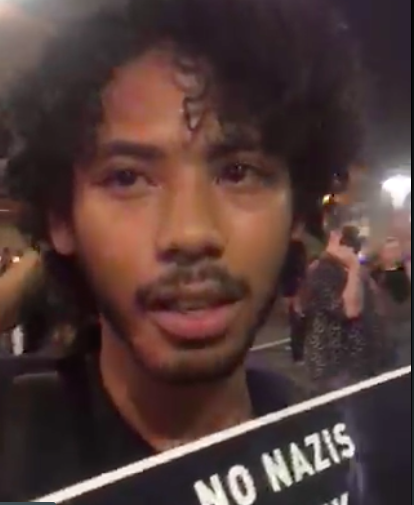 A protester named Zion told BuzzFeed News that they were at the line and "protesters were shaking the fence after police shot tear bullets and they shot more and then protesters threw water bottles and then chaos erupted."
"Things got out of hand. There was a lot of yelling and people were shaking the fence and police shot us with pepper balls," he explained. "It was a mess from the beginning."
Another protester, who did not give his name, added: "We were carrying water bottles to hand out to people and they just started shooting. It was crazy, you see stuff like this on TV. It was unnecessary."
Four people were arrested on charges related to the protest, and one person was arrested on an unrelated warrant, Police Chief Jeri Williams said. Two officers were treated for heat exhaustion, she added.
Riot police weren't called in until after Trump's speech had ended.

"Some people in the crowd began fighting and throwing rocks and bottles at police," Phoenix Police spokesperson Sgt. Jonathan Howard told media, telling Reuters that officers then "responded with pepper balls and OC [oleoresin capsicum] spray in an attempt to disperse the crowd and stop the assaults."
On Wednesday, the Arizona chapter of the ACLU called for an independent investigation into the police response. The group asked for anyone who had experienced excessive force, or taken photos or video showing it, to report it to them.
Alessandra Soler, executive director of the ACLU of Arizona, said in a statement that Phoenix police failed to protect the First Amendment rights of protesters. Already they'd received dozens of complaints, she said, from people caught unaware by the police pepper balls and OC spray — including children and people with health issues.
"They used harmful chemical agents against a peaceful crowd, which turned a nonviolent gathering into one where many, many people were harmed," she said. "Law enforcement's decision to swiftly and brutally end hours of civil protest could profoundly chill the freedoms of speech and assembly in Phoenix for years to come."
President Trump arrived in Phoenix on Tuesday afternoon and was heckled by protesters as he and his supporters entered the city's convention center.

The campaign-style rally came as Trump continues to face criticism for his response to violence at the Charlottesville white supremacist rally.
During his speech, President Trump lied about how he responded to Charlottesville and blamed the media for the rise of racists and neo-Nazis in a rambling, almost 90-minute speech.
He blamed the media — singling out the New York Times, the Washington Post, and CNN — for divisions within the US and accused them of giving a platform to hate groups.
"It is time to expose the crooked media deceptions and to challenge the media for their role in fomenting divisions. And yes, by the way, they are trying to take away our history and heritage. You see that."
Additional reporting by Andrew Kimmel and Claudia Koerner.