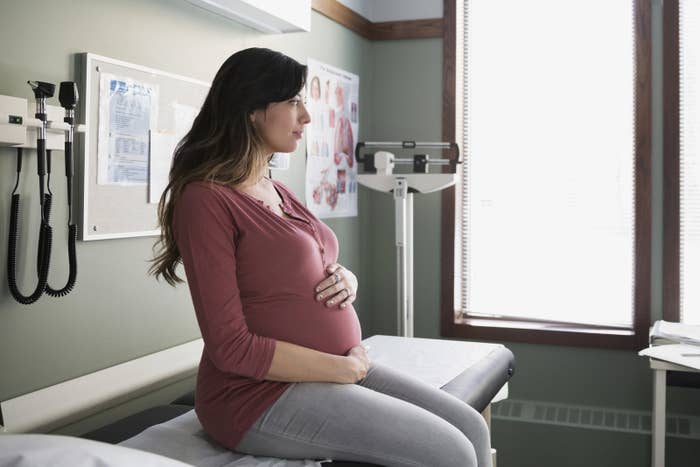 If you pissed off a pregnant women in New Hampshire, she almost would've been able to kill you and be in the clear — thanks to some rather careless bill writing by state legislators.
Republican lawmakers in both the House and Senate recently cleared a bill that would define a fetus as a person after 20 weeks in cases of homicide. Thirty-eight states currently have "fetal homicide laws" that define a fetus as a person after a certain period of time to protect women and their unborn children when they are victims of violence.

Abortion rights groups say these laws encroach on women's reproductive rights, as they give a fetus legal protections while inside a mother's body. New Hampshire Democrats opposed this particular bill, calling it unnecessary since a statute already enhances felony penalties for crimes against pregnant women.
So to try and accommodate their critics, Republicans added some exemptions to Senate Bill 66 to ensure women seeking abortions and doctors would not be prosecuted.
Originally, the bill read: "Any act committed by the pregnant woman: Any act committed at the request or direction of the pregnant woman or for the benefit of the pregnant woman," and any act committed by a doctor wouldn't apply "in cases of second-degree murder, manslaughter, negligent homicide, or causing or aiding suicide."
So the bill, which was on its way to the governor's desk, literally read any act. Like, pregnant women in the state could potentially form a kill-squad and be fine.
"The bill as drafted allows for physician-assisted suicide and allows a pregnant woman to commit homicide without consequences," Republican Rep. JR Hoell told the Concord Monitor.
Whoops.
Republicans soon realized the ~minor~ error and fixed it through a process normally used to correct spelling and grammar, the Associated Press noted.
The updated bill was then sent to Republican Gov. Chris Sununu, who is expected to sign it into law.
"Whether you are for SB 66 or against it, I don't think anybody would support allowing manslaughter, murder, etc.," said Senate Majority Leader Jeb Bradley.
Probably not.