The Mesa Police Department is under fire again for its use of force after body camera footage showed officers wrestling with and repeatedly punching a man until his face became a bloodied pulp, and later mocking him after another violent confrontation at a hospital.
The video clips, taken from multiple officers' body cameras, document the hours-long arrest of Jose Luis Conde.
The ordeal began with a traffic stop and search on January 28, and escalated to a physical confrontation, which sent Conde and the officers to the hospital. There, the 23-year-old had another violent confrontation with the officers after he allegedly tried to escape while being treated for his injuries.
Bret Royle, Conde's attorney, provided the cadre of videos and photos of the scene and his client's injuries, as well as the police report, to BuzzFeed News.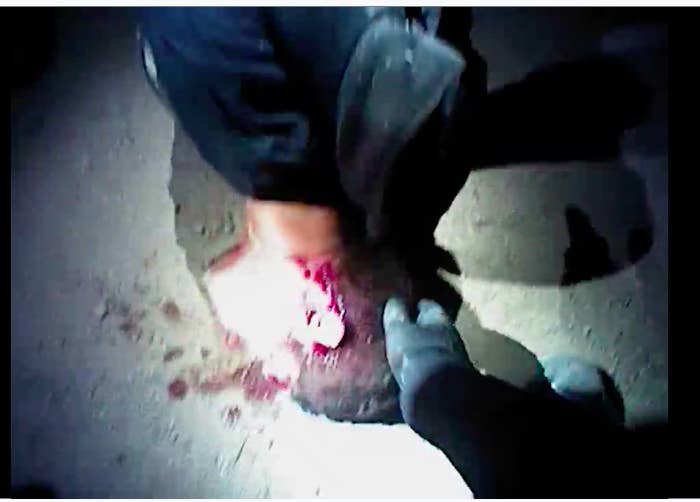 Shortly before 1 a.m., officers pulled Edwin Cabanillas over for not having his headlights on. While questioning the 19-year-old, another officer asked his passenger, Conde, to step out of the car for a search because he was acting fidgety and has a history with police, records and video show.
During the pat-down, the officer said he felt a small bulge in Conde's sock, similar to a bag of drugs; the suspect then began to tense up and turned to face the officer, according to the police report.
Shortly after that, the 23-year-old was on the ground in the dirt, scuffling with one of the officers. The officer was punching and elbowing Conde, and seemed to say "fuck you," as two other officers newly on scene tried to hold him down and handcuff him, according to video from several bodycam vantage points.

Throughout the grainy footage of the three-minute scuffle, Conde can be heard yelling, "what the fuck, man?" and "you're hurting me" as an officer told him to "eat shit" and to let go of something and hold still. Grunting, Conde told the officers to get off him, yelling that he couldn't breathe and calling for his friend, "Edwin."
"If you can talk you can breathe," an officer replies. The struggle continued and an officer told him, "if you fight, I fight" and "yeah, it's going to break," seemingly referring to his arms as the police tried to handcuff him.
At one point during the melee, Conde was slammed into a cinderblock wall, causing a severe rip to his ear, prompting cops to call an ambulance.
According to the police report, the interaction with Conde escalated when he became confrontational during the pat-down, instigating a fight with officers. The report also states that he used a nearby pole to "assist himself in standing back up while struggling with the officer" and was "pushing and shoving them."
Once handcuffed, an officer can be heard on one of the bodycam videos telling Conde to "stop being a little bitch," when he complained about being in pain.
At this point, Conde is still on the ground, but police have rolled him over onto his back. "If you relax we will let up," one cop says. A few minutes later, another officer says, "you picked the wrong people to fight, brother."

That's when Conde says, "I didn't fight you guys, dude. You guys started punching me."
Conde is currently on probation for a DUI and has a previous arrest for illegal possession of a firearm and shoplifting. Police say they found three bags of cocaine in his sock and another two near him on the ground, totaling about 10 grams.
Conde was taken to the hospital, where his restraints were removed while he was treated for his injuries and given stitches. It was then that police said Conde tried to escape, sprinting past officers and leading to another scuffle, according to the police report. Nurses are also seen in the video discussing Conde's escape attempt.
Officers say they tackled and punched Conde because he was flailing around and grabbing at their belts and gear. One officer said he took out his flashlight "and swung it an attempt to strike him in the shoulder at the same time I collided with him," but he "plowed headfirst into the double doors."

"During the midst of this, I observed that [Conde] had begun bleeding profusely from his head," the report states.

According to Royle, Conde's attorney, an officer cracked the back of Conde's head with a flashlight during the chase, sending him to the ground in a pool of blood. In one clip, a nurse is seen leading police to Conde, who was lying on the floor in a pool of blood, and explaining that he had tried to flee.
Officers are then heard mocking the bleeding Conde, "Bless his little heart," the officer replies, saying "aww" as he approaches Conde, who is surrounded by several officers and nurses as he is being treated for the head injury. He also is heard telling him to "be a man" and "man up."

"They are lying about how he got that injury," Royle said Thursday. "And then, when he is on the ground bleeding, they are mocking him. It's disgusting."

In response to a request about the arrest, Nik Rasheta, a spokesperson with the Mesa Police Department, said that they weren't aware of the incident until they were contacted by the Arizona Republic newspaper about the footage.

"We confirmed we have not received a complaint and we currently do not have an internal investigation concerning this incident. Based on their inquiry we are researching the incident," Rasheta explained. "The released article depicts a portion of the body camera footage (not released by MPD) available and we will be preparing the full report and body camera footage to be released soon."

When he was finally taken to jail, Conde was charged with two counts of resisting arrest, possessing narcotics and possessing narcotics for sale, trying to escape, and one count of aggravated assault on police, a felony.
Officers say they incurred injuries during the confrontation. Photos show small cuts and abrasions to their arms, knees, and hands, as well as bloodied knuckles. One officer's radio and other equipment was also smeared red.
"Their hands and knuckles are cut from punching my client and slamming him into a wall," Royle countered. "You can hear them in the videos talking about how hard they hit him. It's laughable they are saying Jose injured them."
The disturbing event is the latest in a string of controversial use-of-force incidents by Mesa police officers. The department is currently in the throes of two separate investigations delving into police conduct that was also captured on video, forcing the chief to place seven officers on administrative leave pending the outcome.
Last month, leaked surveillance video showed a group of officers beating an unarmed black man who they say was also confrontational and didn't obey orders to sit down.
"I am asking that something be done to stop this from happening in the future. As it now stands, several officers within Mesa's police force have demonstrated their willingness to hold themselves above the law rather than to protect and serve it," Conde said in a statement through his attorney. "My hope in sharing my story is to alert the community of the actions of these officers and to bring about change to the culture within the Mesa Police Department."