On Wednesday, the Trump administration launched a new office called the Victims of Immigration Crime Engagement Office (VOICE), to assist victims of crimes committed by undocumented immigrants as part of the president's executive order to curtail illegal immigration.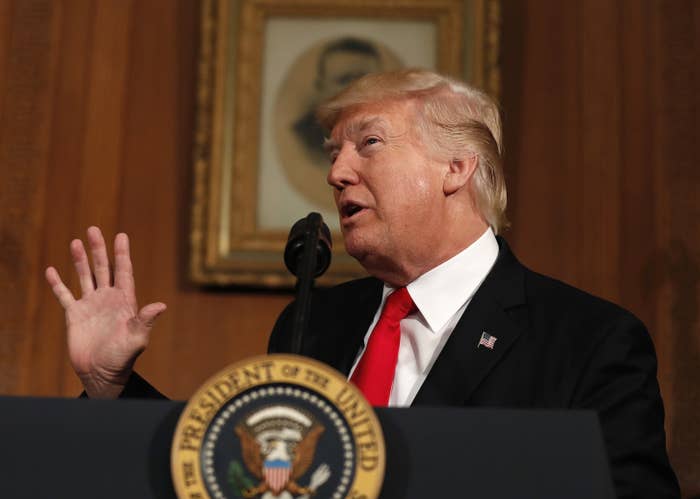 As part of VOICE, immigration officials also established a hotline where "people impacted by crimes committed by illegal aliens" could receive support.
Critics say the initiative unfairly targets and instills fear in nonwhite immigrants and condones racism. And it did not take long for people to realize this new "criminal alien" crackdown campaign on #AlienDay. So naturally...
...the internet, obviously, heeded the call. People started sharing the hotline's number, telling others to call and report how they've been victimized by space aliens.
Don't forget about those at-large Muggles.
Or Superman or Big Foot.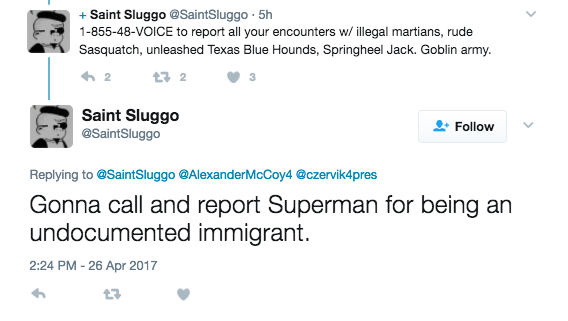 Others said they were calling to report an illegal alien who was impersonating the president.
Alexander McCoy, a Marine Corps veteran, told BuzzFeed News he called the hotline Wednesday afternoon to report that he had been abducted by a UFO. He said he was on hold for about 20 minutes before speaking with someone, who asked him if he "was calling to report a crime committed by an illegal alien."
When asked what the crime was, McCoy said the operator didn't really get the joke.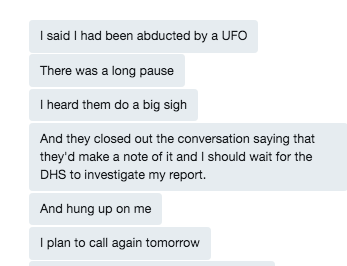 McCoy, a member of the activist group Common Defense, said he came up with the idea to troll VOICE because he noticed #AlienDay was trending on Twitter and thought it might "be a catchy way to fight back against the Trump administration's use of bigoted language and racist stereotypes of criminality."
"I think it's powerful to see the response there's been. I think there are a lot of people who have been searching for something they can do to speak out, and I'm glad that so many people are showing solidarity with the immigrant community," he said.
Another caller, Lisa P., told BuzzFeed News she dialed the hotline to report being victimized by first lady Melania Trump. It also did not go over so well.

Like McCoy, people said they were on hold for sometime before getting through.
US Immigration and Customs Enforcement officials told BuzzFeed News the hotlines were "tied up by hoax callers."
"There are certainly more constructive ways to make one's opinions heard than to prevent legitimate victims of crime from receiving the information and resources they seek because the lines are tied up by hoax callers," an ICE spokesperson said.
"We will adjust resources, if necessary, to ensure that the victims for whom this office and hotline is intended get the info and resources they need."
So next time something like this happens, you know who to call.