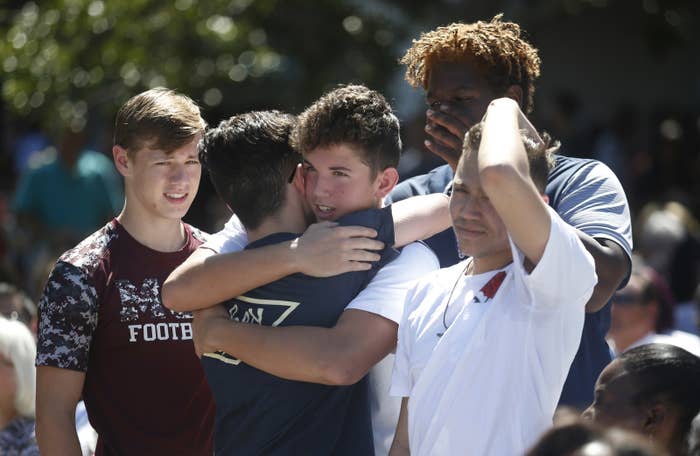 A newly released timeline of the deadly school shooting last month in Florida details the chaotic and disjointed law enforcement response to the attack at Marjory Stoneman Douglas High School, and reveals that officers did not enter the building where students were gunned down until more than 11 minutes after the first shots were fired.

By that time, suspected gunman Nikolas Cruz had already fled.
The records weave together information from the school's security video, the Broward County Sheriff's Office, and the Coral Springs police and fire departments, documenting the tense, frantic minutes between 2:21 p.m. and 3:40 p.m., when the 19-year-old arrived on campus that Valentine's Day, allegedly opened fire on his former classmates and teachers, killed 17 people, and slipped out via a stairwell before he was arrested several blocks away.
The timeline chronicles the chaos and uncertainty responding law enforcement officers faced while making decisions, as well as difficulties communicating, navigating multiple channels, and coordinating arriving deputies and police officers.

The dispatch records and video not only confirm previous reports that school resource officer Scot Peterson remained outside the building while the shooting was occurring, they also show that the deputy told other officers to stay away even as he repeatedly radioed that he heard "shots fired" from that location.
"We're talking about the 1200 building," Peterson told the dispatcher at 2:24 p.m., right after Cruz allegedly opened fire and pulled the fire alarm to send scores of students out into the hallways. Yet Peterson remained outside that building throughout the shooting.
The timeline also suggests that other deputies who arrived at the school after Peterson called for help refrained from entering the building, violating the department's active shooter policy.
Furthermore, the records illustrate the difficulties Coral Springs Police and the sheriff's office had communicating and sharing crucial information with each other due to their inability to "patch" their channels together, as well as radios not working properly.
"The Coral Springs Communications System operates separately and attempts to patch these systems prior to the entry of Building 12 were unsuccessful," sheriff's spokeswoman Joy Oglesby told BuzzFeed News. "Therefore, BSO and CSPD personnel were not able to communicate via a common channel."
In the frantic minutes during and immediately after Cruz stopped firing his weapon, the two agencies were struggling to relay information about where the shooting was coming from and what the suspect looked like.
The influx of high traffic inundated the radio system, which is "nearing its end of life," the department said in a statement. As a result, users may have been unable to send or receive any messages at all, officials said.
The system is slated to be switched out next year.

"White male with ROTC uniform burgundy shirt," a Coral Springs police officer radioed in. "Last seen in the three-story building (12), north parking lot." At that same minute, sheriff's deputies were asking about Cruz's location, to which one responds, "We don't know, but we're heading in the building, in front of the 13 building — building 13."

It wasn't until 2:32 p.m., 11 minutes after Cruz allegedly first opened fire, that four Coral Springs police officers finally rushed into the building. Two Broward County deputies assisted them with the "rescue effort to extract a victim," although the agency had already been at the scene.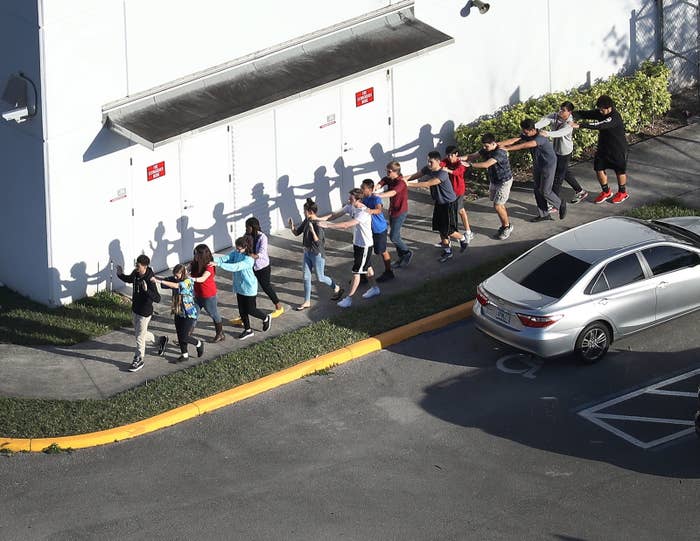 Here's a detailed timeline of what happened on Feb. 14:
2:19 p.m.: Cruz arrives in an Uber. Two minutes later, he enters building 12 and begins firing.
2:23 p.m.: Peterson leaves his post at the administration building and heads straight toward building 12, alerting the Broward County Sheriff of "possible shots fired" at that exact location.
At that minute, he parks himself at the corner of the building for the rest of the afternoon, video shows, calling for more units, repeatedly warning of shots fired, and notifying arriving back-up officers to "get the school locked down, gentlemen."
2:24 p.m.: Two Broward County deputies state that they are "shutting down" the west and east side entrances of the campus. Two others say they are heading that way.
2:25 p.m.: Peterson tells deputies, "All right... We also heard it's by, inside the 1200" building. He orders the school on lockdown. Another deputy reports that he hears shots "by the football field," which the dispatcher relays.
2:26 p.m.: Peterson states, "We're locking down the school right now." At that moment, a Coral Springs police dispatcher "confirms active shooter" and that 911 lines are "blowing up" about the shooting. This is also when Cruz allegedly fires multiple rounds through the third-floor window.
2:27 p.m.: Peterson warns his fellow officers to stay away from the scene while video shows Cruz at the same minute running down a stairwell and fleeing the building.

"Stay at least 500 feet away at this point," Peterson says, just five seconds after Cruz drops his AR-15 rifle in the third-floor stairwell and makes his way outside.
Heeding Peterson's command, the dispatcher tells deputies to "stay away from 12 and 1300 building."
These actions, as well as those of the other deputies who arrived on scene minutes after the shooting began, appear to violate the sheriff's active shooter policy, which advises deputies to engage an active shooter and eliminate the threat.
Sheriff Scott Israel has skewered Peterson, who has since resigned, for doing "nothing" during the school massacre. Israel has also been under intense scrutiny for his agency's response to the massacre. The Florida Department of Law Enforcement is currently investigating his leadership.
This is when Coral Springs police arrive on scene. Thirty seconds later, video shows Cruz in the stairs, tossing aside his weapon, and then exiting the west side of the building.
2:28 p.m.: A Coral Springs dispatcher radios out the first description of Cruz as officers ask for more details and position themselves around the school. Meanwhile, on the sheriff's channel, deputies already on scene are calling in descriptions of wounded students — "a child down," a "victim with a gunshot to the right leg" — as authorities seek information on the whereabouts of the shooter.
The chaotic seconds continue to tick by as authorities attempt to work together and locate a young man in a hoodie, possibly carrying an AR-15 or AK-47–style rifle, with multiple dispatchers ping-ponging descriptions and possible locations.

2:29 p.m.: Coral Springs police meet Peterson near building 12, "getting info." A Broward County Deputy asks "where the shooter is," to which another replies, "we don't know, but we're heading in the building, building 13." However, they were unable to enter because it was locked.
"We need to get units in here so we can start trying to find this guy," one deputy states. Twenty seconds later, school security video records Cruz "on the southwest part of campus."
Another asks for bolt cutters to help free a student who got stuck in a fence while fleeing. Officers and deputies call in information of victims and ask if there is a perimeter set up, to which a dispatcher replies, "that's negative." A minute later, Peterson states that the school is "in a total lockdown," while another unit asks if the middle school has been secured.
2:32 p.m.: Four Coral Springs officers enter the building while two Broward County deputies help with rescuing victims. For the next few minutes, teams flood the building, some using golf carts to transport victims.
2:48 p.m.: Walmart security video captures Cruz entering the parking lot. The 19-year-old makes his way to a McDonald's restaurant.
3:40 p.m.: Cruz is apprehended by a Coconut Creek police officer.