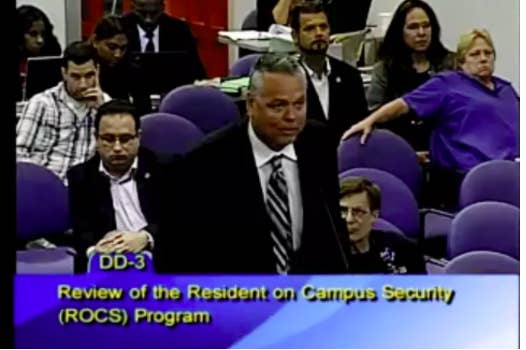 The Broward County Sheriff's deputy who waited outside Marjory Stoneman Douglas High School as a shooter opened fire on students and teachers, killing 17 people, is being paid more than $8,000 a month from his state pension.
Scot Peterson, who was the school resource officer at the Parkland, Florida, high school, was heavily criticized for taking cover as the massacre unfolded on Feb. 14. The 55-year-old retired a week after the shooting, explaining that he remained outside the school because he didn't know where the gunfire was coming from.
Radio transmissions from the day of the shooting have since contradicted Peterson's defense, showing that he not only knew that the shots were coming from inside the freshman building, but that he directed his fellow officers to stay away from that location.
Last month, Peterson received his first monthly pension check of $8,702.35, the Florida Department of Management Services confirmed Wednesday morning. That amounts to $104,428.20 annually, which is about $2,550 more than he made during his last year with the department, according to the Sun Sentinel, which first reported his pension payment Tuesday night.
He began receiving his monthly payment after Broward County State Attorney Michael Satz verified that "there were no charges filed against Mr. Peterson that would cause him to forfeit those benefits per Florida law," the office said in a statement to BuzzFeed News.
In Florida, a deputy's pension is calculated by the length of his service and the average salary of his five highest-earning years, according to the state pension handbook. Peterson began his career with the Broward County Sheriff's Office in 1985.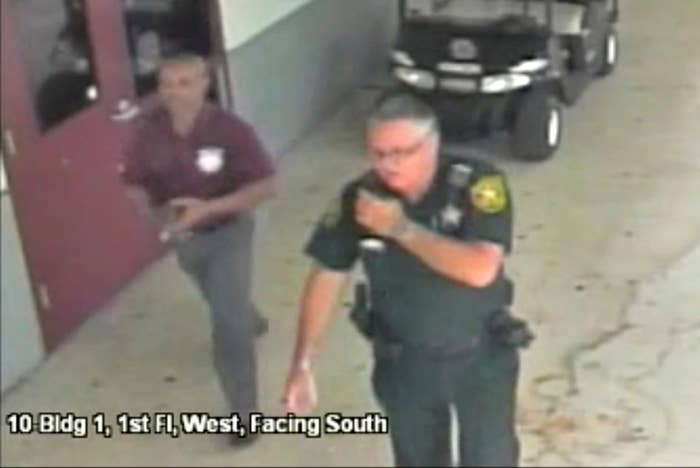 It is possible that Peterson could lose his pension if he is convicted of a crime that involves a breach in public trust, the Sentinel reported. The sheriff's office has opened an investigation into his actions on the day of the shooting. Florida's Department of Law Enforcement is also conducting a thorough probe into how authorities responded to the shooting.
Although Peterson has been vilified by some for not running into the building to engage the shooter, the deputy had an otherwise respectable career as a "trusted school resource officer," said the Sentinel, citing annual reviews of his performance.
"He's the first person ever in the history of our department to be suspended without pay for an alleged policy violation without the outcome of an investigation," said Jeff Bell, president of the Broward Sheriff's Office Deputies Association. "Had he been a member we would have filed a grievance because there are still no charges against him."
In a March 28 letter to the state attorney and Sheriff Scott Israel, the DMS's secretary pointed out that Peterson applied for receiving his pension right after he retired. At that time, neither the sheriff's office nor the attorney had filed anything that would prevent the deputy from receiving his benefits.
Andrew Pollack, the father of one of the Parkland shooting victims, called Peterson's pension payment "disgusting" and said that the money should go to bolster school safety efforts. Pollack has sued Peterson over his response during the shooting,
"It's outrageous," Pollack told BuzzFeed News on Tuesday night. He added, though, that he has chosen not to think about Peterson and "focus on things I can control," like electing new members to the Broward County school board.
"Thinking about a selfish coward wouldn't do my soul any good," he said.
Other Parkland parents and students expressed their outrage on social media.
"This infuriates me in ways people cannot comprehend. My daughter would still be alive if this person did his job," wrote Fred Guttenberg, who lost his daughter, Jaime, during the Valentine's Day massacre.

"He could have gone and shot bullets in the air. That would have caused the killer to pause and save lives. Without going into details, my daughter only needed one more second and she would be alive today," Guttenberg said in another tweet.
"He stood by as 17 were murdered, 17 more were wounded, & thousands more traumatized...and he gets to retire comfortably," wrote April Schentrup, whose 16-year-old daughter, Carmen, also died in the shooting.
Alyssa Goldfarb, a 16-year-old student at Marjory Stoneman Douglas, declared that Peterson should not "receive any sort of pension."
"If Peterson had acted accordingly, some of my friends would have never died, perhaps the shooter would've never reached the third floor. He failed to do his job, in return failing us," Goldfarb tweeted.