A March For Our Lives Event Was Canceled Over Concerns About a Gun Rights Group
Survivors of the shooting in Parkland, Florida, were supposed to hold a town hall in Salt Lake City Saturday, but their host suddenly canceled over concerns of a "contentious situation."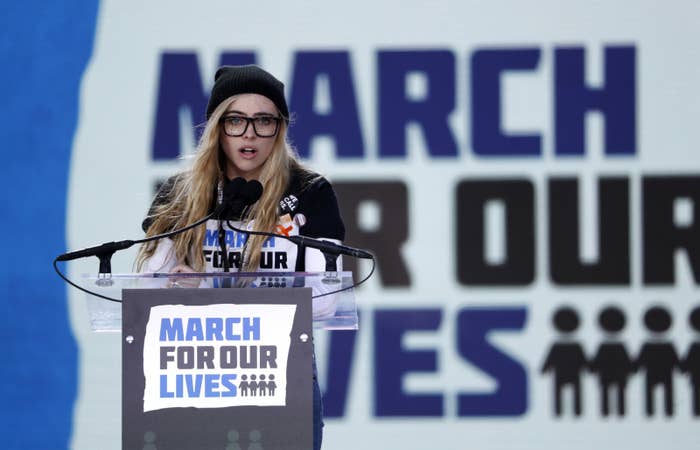 A movie theater in Utah reversed its decision to host survivors of the Parkland, Florida, mass shooting during a nationwide tour because of concerns that the town hall could spark a "contentious situation" amid an ongoing back-and-forth between a gun rights group and March for Our Lives activists.
On Wednesday, three days before the planned event, Larry H. Miller Megaplex Theatres said in a statement that it had decided to cancel the gun reform rally, saying that the company had not been aware of the "full context" of the tour.

"When this event was initially booked, the full context wasn't fully understood and now it appears to be escalating into a potentially contentious situation where additional security will be required," the company said in a statement.
A group of students from Marjory Stoneman Douglas High School were slated to stop in Salt Lake City this weekend as part of their "Road to Change" bus tour. Created by March for Our Lives, the gun control advocacy organization born in the wake of the Parkland shooting on Feb. 14, the tour's events aim to register young voters and "stand up to the National Rifle Association."

"It's the first time an event has been pulled in this way," said Madalena McNeil, one of the lead advisors for March for Our Lives Salt Lake City. "It's disappointing, but everyone in the community is banding together to make this happen."
And they did. After scrambling, the students secured a new venue and will be hosting the Saturday evening event at the America Expo Center in Sandy, March for our Lives said in a statement Thursday.
About 1,000 people are expected to attend, McNeil said, including a Utah gun rights organization that has been following the Parkland teens across the country for the past few weeks.
The theater group backtracked on its plans to host the teens one day after the Salt Lake Tribune published a story chronicling the Utah Gun Exchange's journey. The company, which McNeil calls "Utah's version of the NRA and a very well-organized machine," has been showing up at March for Our Lives events in a black armored vehicle with a massive gun on top, encouraging Second Amendment supporters to join them, including pushing people to attend the Salt Lake City town hall.
The online gun marketplace created its own #UGEFreedomTour, which it said "coincidentally" coincides with the Parkland teens' road trip. Over the past few months, the gun group and March for Our Lives have bristled against each other online and at rallies.
"They are very much about putting themselves at the scene and have a big presence online," McNeil said. "I'm not sure if the March group have encountered a counter-protest during their tour of this scope."
Since June, around the same time the Parkland teens kicked off their road trip, Bryan Melchior and about seven other members of the gun company have been on their own tour "alongside March for Our Lives teens," but touting their support of the Second Amendment and usually streaming live on Facebook from the students' town halls.
And on March 24, the gun company tried to host a joint rally with the Salt Lake City chapter at the exact same time as the nationwide event, but conceded to start an hour earlier due to safety concerns.
"#UGEFreedomTour is headed to Florida to intercept the March For Our Lives Florida Tour! We will be debriefing and letting you know our objectives," they wrote on Facebook last week from Virginia.
Showing up to the Parkland teens' events in their militarized "BearCat" Humvee decked with gun paraphernalia and American flags, the Utah Gun Exchange members have raised concerns among March for Our Lives activists. Parkland students like David Hogg, as well as Marjory Stoneman Douglas High School parents, have been denouncing the group for "trolling" and intimidating those who attended the Road to Change rallies.
"This group is trolling the Parkland kids who are peacefully calling for nothing more than common sense gun reform," tweeted Fred Guttenberg, whose daughter, Jamie, died in the massacre.
Addressing the cancellation of their upcoming event, March for Our Lives Salt Lake City members said they "are heartbroken and blindsided by this turn of events, and even more so by the inappropriate behavior and intimidation tactics by outside groups that led to these circumstances."
Although the gun rights group has been trailing the teen activists for months, its leaders say its not a trolling tactic, but an opportunity to voice their beliefs and start a conversation.
"We are fighting for our right to bear arms and letting organizations know what we stand for and one of those groups is March for Our Lives," Melchior said. "But we are not against them. We have had positive interactions and it all comes down to just having a conversation. But everyone on the media wants to see something else."

Last week, UGE posted a Facebook event for its counter-protest at the Utah Megaplex where the students planned to be, writing: "This will be the second time this group has had an event in the SLC Area to advocate for more Gun Control under the guise of protecting our children, schools and communities."

Citing safety concerns, Megaplex Theatres then cut its contract with March for Our Lives and refunded the security deposit, stating "our venues are focused on providing a safe, world-class movie experience for our guests, which include families in children."
The theater also explained that it hadn't realized that additional security would be required for the event.
However, Melchior, the gun company's co-founder, said his organization was not planning to incite violence or cause any disruption and, in fact, had "bridged a ginormous gap with the school kids" after an event in Florida on Wednesday.

"We sat in a room and talked together for a while without cameras and it was a very productive conversation," he said. "I find them to be not as anti-Second Amendment as the media projects and I find them to be interested and open to dialogue on how we can work together to find common ground."
In a statement, March for our Lives explained that they, too, "are happy to continue the conversation, as demonstrated by the recent meeting."
However, the activists pointed out that the gun group is a business, unlike the NRA.
"We are not obligated to mold our movement for gun reform and public safety around the desires of a business whose financial success could be negatively influenced by our legislative goals," they stated.

The Utah Gun Exchange has repeatedly posted an invitation to host the Road for Change event at its facilities, pushing back on claims that it was threatening or escalating tensions, and even offered to pay for extra security at the event.
"We have big warehouse offices that can hold thousands of people," Melchior told BuzzFeed News. "It's unfortunate the Megaplex pulled out on the kids. We want to lend a helping hand and move forward in the right direction."
While wary and still uncertain of the gun-group's motives, McNeil and the Utah students say they are "extremely grateful" for the offer, but say it's against the Road for Change rules to have weapons at events and are concerned about putting shooting survivors and movement leaders like David Hogg in that position.
"I believe their leaders have good intentions but I'm not sure about the rest of the group," she said. "It's really hard to know what the true intentions are behind this whole thing."