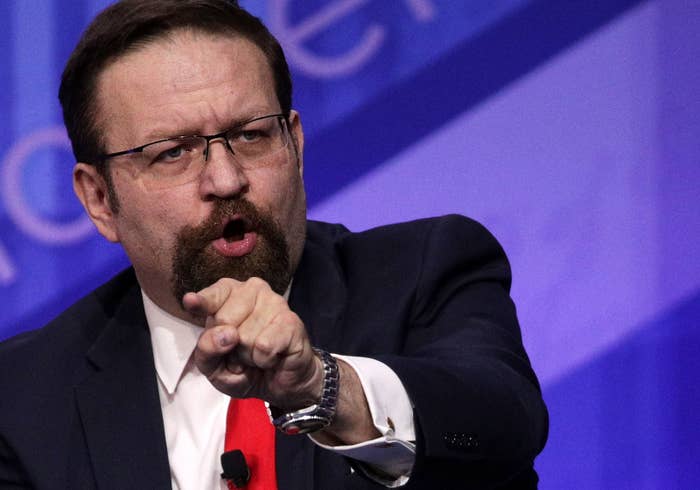 Sebastian Gorka, a national security advisor to President Donald Trump who has become a source of controversy for the administration, is set to leave the White House in the coming weeks, according to multiple news reports.
Gorka, a former Fox News counterterrorism analyst who joined the administration as a deputy assistant to the president, will be moving outside the White House for a different role, the Washington Examiner first reported Sunday. While it's not entirely clear what that means, the Examiner said Gorka's new post will "deal with the 'war of ideas' involved in countering radical Islamic extremism," and will involve an appointment to a federal agency. But CNN reports that it's more likely Gorka will be leaving the administration altogether.
A spokesperson for the White House told BuzzFeed News that there was "nothing to announce at this time" regarding Gorka.
Citing an unnamed administration official, the AP reports that Gorka was initially brought on to serve on the Strategic Initiatives Group, an advisory team created by Trump's chief strategist Steve Bannon to run adjacent to the National Security Council, but the group never gained traction in the West Wing. Gorka was unable to get clearance for the National Security Council "after he was charged last year with carrying a weapon at Ronald Reagan Washington National Airport," the AP notes.
Gorka has been a source of mounting controversy for the administration in recent months, amid questions about his lack of qualifications and ties to a far-right Hungarian political groups.

In March, a report surfaced that Gorka is a member of Historical Vitézi Rend, a far-right Hungarian group with Nazi roots. He denied the claim, but a current leader in the group later told BuzzFeed News that Gorka is, in fact, a current member.
Gorka's departure would mark yet another reshuffling of Trump's national security team, after the firing of the administration's first national security advisor Michael Flynn and Bannon's removal from the National Security Council's Principals Committee.