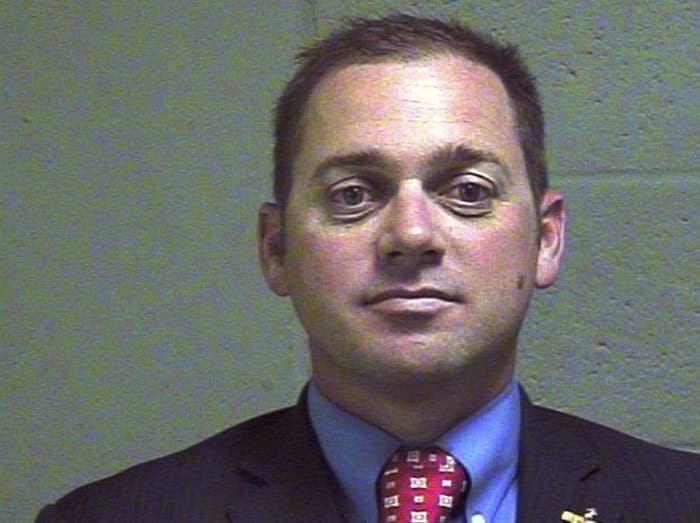 Oklahoma state Sen. Bryce Marlatt has resigned after being charged with sexual battery after an Uber driver accused him of grabbing and kissing her while she drove him to a bar.
The Republican submitted his letter of resignation to Oklahoma Gov. Mary Fallin Tuesday afternoon, six days after being charged with one felony count of sexual battery, Marlatt's attorney, Scott Anderson, told BuzzFeed News.
"I delivered the letter to the governor's desk myself," Anderson said. "His resignation is effective immediately."
"My service on behalf of the people of northwest and the panhandle of Oklahoma has been the privilege of my career," Marlatt wrote, according to Tulsa World. "I would like to thank my constituents, friends and most importantly, my family for the confidence they have placed in me and the kindness they have shown me during my tenure."
Marlatt was booked at the Oklahoma County jail Tuesday morning, and later released on a $5,000 bond. His next court date is in October, Anderson said.
The charge stems from a June 26 incident, when a 41-year-old female Uber driver picked up Marlatt at around 10 p.m. from a restaurant; the senator told her that she had nice breasts, according to court records obtained by Tulsa World, before he grabbed her head and kissed her.
The driver claimed that the 40-year-old state lawmaker "kissed her on the right side of her neck down to her shoulder leaving saliva on her neck and shoulder area," according to a police report obtained by BuzzFeed News in June. "She told him to sit down and not touch her or she was calling police," the report said.

"She was giving this person a ride," Gary White, a spokesperson for the Oklahoma City Police Department, told BuzzFeed News back in June. "He was in the back seat. And, he kept reaching around, grabbing her, kissing on her, things along those lines."
If convicted, Marlatt could face up to 10 years in prison.
Marlatt has served in Oklahoma's state Senate since 2008, representing District 27 in the western part of the state. In 2015, he pleaded no contest to a misdemeanor after a sheriff's deputy found him drunk and asleep in his running pickup truck on a country road in Oklahoma's Woodward County.