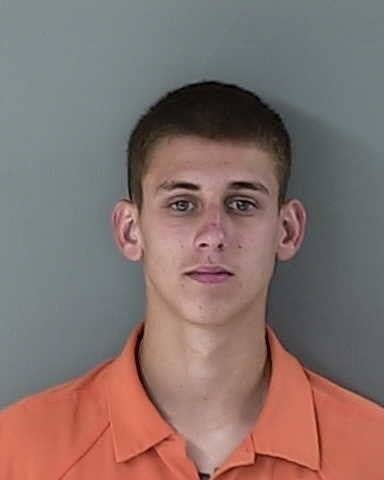 A man convicted of raping a 14-year-girl in Idaho may have dodged prison time, but sentencing him to an intensive six-month therapy program, the judge added another restriction: no sex until marriage, at least while he's on probation.
Cody Duane Scott Herrera, now 19, pleaded guilty to raping the girl in 2015 when he was 18. The two had met a year earlier, and started hanging out and chatting on Facebook under the ruse that she was 16. But her mom discovered their relationship and told Herrera her daughter was only 14 and not allowed to date.
One night in March 2015, however, after sneaking into her room, he removed her clothes and raped her, even when she started crying and told him to stop, according to the criminal complaint.
A judge in Twin Falls, Idaho, had sentenced Herrera to five to fifteen years in prison for statutory rape, but then suspended that for another option: a yearlong therapeutic prison program and probation with a twist — celibacy until marriage.
Herrera's admission to investigators that he'd had 34 sexual partners is what prompted the judge's decision.
"I have never seen that level of sexual activity by a 19-year-old," Judge Randy Stoker said, according to theTimes-News.
Placing Herrera in a "rider" program means Idaho retains jurisdiction over his case for a year and sends him to a correction facility for intensive rehabilitation.

"If you're ever on probation with this court, a condition of that will be you will not have sexual relations with anyone except who you're married to, if you're married," Stoker told Herrera.
Stoker was able to order the restriction under Idaho's rarely enforced fornication law, which calls for a fine of up to $300 and six months in prison for "any unmarried person who has sexual intercourse with an unmarried person of the opposite sex," and since people on probation can't break any laws, Herrera would have to comply.
Twin Falls County Prosecutor Grant Loebs likened the sentence to a convicted drunk driver not being allowed to consume drugs or alcohol depending on their probation.
"While someone is on probation for a sex offense, they have to tell their officer who they are seeing, dating, how they met them. The officer approves everything," Loebs told BuzzFeed News. "They also can't violate any laws in the state of Idaho, and whether or not we agree with it, one of them is no sex before marriage."
But the law is likely only still on the books because it hasn't been challenged in the courts, where it probably wouldn't withstand legal scrutiny, experts say.
Shaakirrah R. Sanders, an associate professor at the University of Idaho College of Law, told the Associated Press she thinks such a particular term of probation would be unconstitutional because it infringes on Herrera's right to procreate.
"I think if he appealed, he would win," she said. "How would you even enforce this? It seems to be quite intrusive if they can just bust into his bedroom to make sure he's not getting it on."
Loebs agreed that enforcing the law would be difficult, since police don't "wander around making sure people are sleeping with who they are supposed to be sleeping with." But Herrera's potentially strict monitoring and Idaho's requirement that those on felony probation for a sex offense submit polygraphs would ensure he doesn't break his celibacy, Loebs added.
However, Loebs repeatedly pointed out that Herrera's strict terms may not even happen. He first has to successfully complete the program, be placed on probation, and agree to its terms.
And although Herrera was not designated a sexual predator, the victim's mother painted him as one.
"It was his intent from the beginning to take what he wanted from my 14-year-old child — her virginity," she told the court. "And he stayed around until he got it from her. Cody will never understand what he has done to our family. Cody robbed her of her innocence. He destroyed the child left in her. This can never be returned."