Meet Jack Davis, a self-proclaimed "Guardian of the Galaxy" and alien-hunter extraordinaire who wants to protect our planet from extraterrestrials.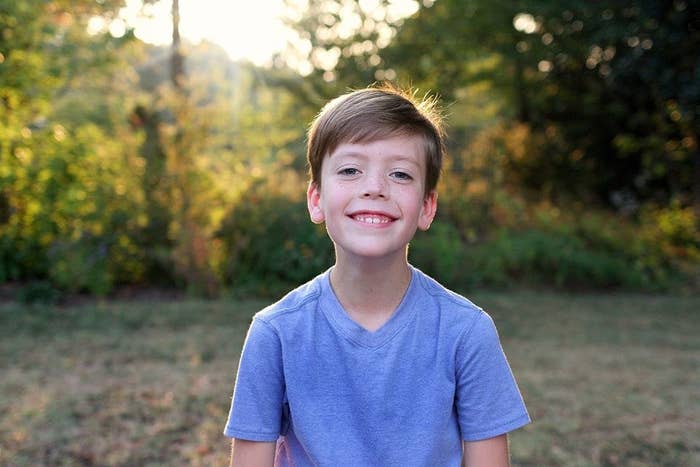 The nine-year-old saw NASA's recent job posting for a "Planetary Protection Officer," which got a lot of attention for its salary—between $124,406 to $187,000 per year—and because, you know, the title sounds cool.
Jack wrote a letter a few days ago asking to be considered for the position. He laid out his experience and tbh, he seems extremely qualified.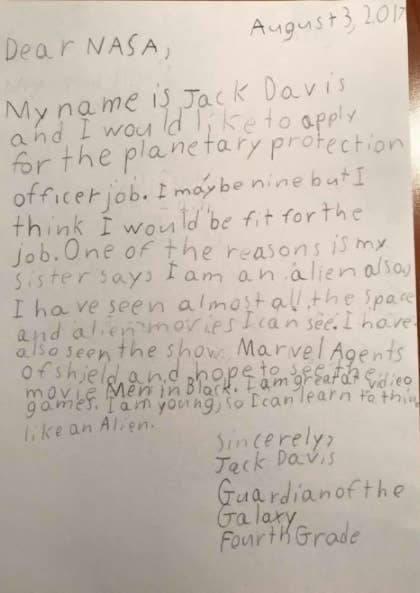 "I may be nine but I think I would be fit for the job," Jack wrote. "One of the reasons is my sister says I am an alien. I have also seen the show Marvel Agents of Shield and hope to see the movie Men in Black.."
Jack also pointed out that he's great at video games and since he's young, he can learn to think like an alien. Clutch.
He signed the letter: "Jack Davis, Guardian of the Galaxy, Fourth Grade."
Unfortunately, the job isn't as cool as it's title suggests—according to NASA, it's mostly about protecting Earth from "microbial contamination from other planets." So the space agency wrote Jack back to clarify.
The job "is about protecting Earth from tiny microbes when we bring back samples from the Moon, asteroids and Mars," James L. Green, director of NASA's planetary science division, explained to the nine-year-old applicant. "It's also about protecting other planets and moons from our germs as we responsibly explore the Solar System."
Green then encouraged Jack to study hard, do well in school, and apply again when he's older, at which point there will perhaps be actual aliens threatening our planet.
But Jack is undeterred. He told ABC6 that getting a reply from NASA was pretty cool, but that he thinks they should take him anyway. "I feel like I am the only one who really wants a job at NASA this young," he said.
As for his letter going viral, Jack's dad says he is too busy being a regular nine-year-old kid hanging out with his friends.
"He's pretty much done with the work involved in being famous," Bryan Davis told BuzzFeed News. "But you should rest assured the galaxy is safe. He's on the job."
People were inspired by Jack's dedication and enthusiasm.
They told their kids about Jack's letter.
And wanted to hire him themselves.
For some, his letter brought back memories of their own childhood letters to NASA.
Keep on guarding our galaxy, Jack.