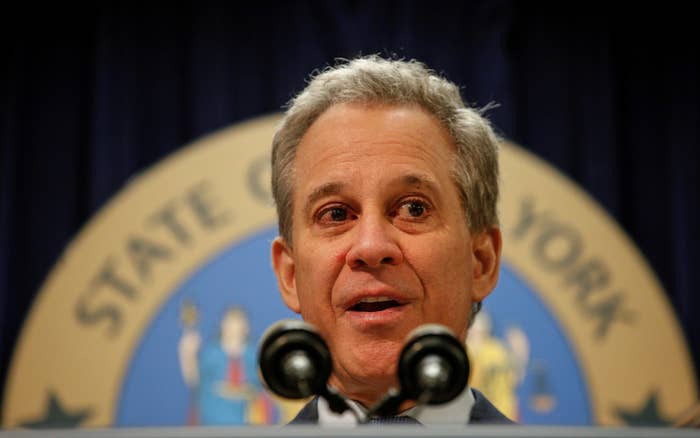 New York Attorney General Eric Schneiderman announced his resignation Monday night, just hours after the New Yorker published an explosive report in which four women who had been romantically involved with the powerful Democrat alleged he had physically abused them.
"It's been my great honor and privilege to serve as Attorney General for the people of the State of New York," Schneiderman said in a statement. "In the last several hours, serious allegations, which I strongly contest, have been made against me. While these allegations are unrelated to my professional conduct or the operations of the office, they will effectively prevent me from leading the office's work at this critical time."
Schneiderman's resignation will take effect at the end of the day Tuesday, the statement said.
The allegations that prompted his abrupt resignation appeared in a bombshell story published earlier Monday by the New Yorker, in which four women said that the prominent progressive and vocal supporter of the #MeToo movement had engaged in violent, abusive behavior while they were involved in romantic relationships with him.
Two of the women, Michelle Manning Barish and Tanya Selvaratnam, who spoke to the magazine on the record, said they were hit repeatedly by Schneiderman over the course of their romantic relationships with him. Both said they sought medical treatment following the alleged abuse and confided in people about the incidents, but did not file any complaints with the police.
A third woman said that Schneiderman slapped her across the face without her consent, and a fourth described similar experiences. They too said the abuse occurred while they were romantically involved with the New York attorney general. All four women described the violence as nonconsensual.
In an initial statement addressing the allegations, Schneiderman contested that the behavior wasn't consensual, calling it "role-playing," and insisted he never crossed a line.
"In the privacy of intimate relationships, I have engaged in role-playing and other consensual sexual activity," he said in that statement, which was provided to BuzzFeed News. "I have not assaulted anyone. I have never engaged in non-consensual sex, which is I line I would not cross."
New York Gov. Andrew Cuomo and other leading politicians in the state reacted swiftly to the allegations, demanding New York's top legal officer resign given the severity of the accusations. The governor's demand, which came soon before Schneiderman himself said he would step down, came with an announcement that he is requesting an immediate investigation into Schneiderman's actions, stating that "no one is above the law."
"My personal opinion is that, given the damning pattern of facts and corroboration laid out in the article, I do not believe it is possible for Eric Schneiderman to continue to serve as Attorney General, and for the good of the office, he should resign," Cuomo said in a statement.
US Sen. Kirsten Gillibrand agreed, calling the actions described in the story "abhorrent."
"Based on the extensive and serious reporting, I do not believe Eric Schneiderman should continue to serve as Attorney General," she said.
Less than an hour later, Schneiderman had complied, marking a stunning fall from grace for a politician widely seen as a rising star in the Democratic Party and a champion of the #MeToo movement. Schneiderman was thought to be, at least, a future potential candidate for governor in New York.
Late Monday the Manhattan District Attorney's office announced it had opened an investigation into the allegations against Schneiderman. The New York Police Department said that it had no complaints on file against Schneiderman.
In recent months, he had also prominently placed himself in the center of the reckoning against Harvey Weinstein, filing a civil rights lawsuit against the disgraced media mogul and his company, calling Weinstein's treatment of women "despicable."

Even before he drew national attention for leading the legal charge against Weinstein, Schneiderman had developed a reputation as a champion for women's rights. In 2010, as a state senator in New York, he spearheaded a bill to make intentional strangulation and suffocation into unconsciousness a violent felony, garnering praise and support from domestic violence victims and law enforcement agencies.
And just last week, his office launched an investigation into how Manhattan's district attorney and the New York Police Department handled criminal complaints against Weinstein. Schneiderman also accepted an award this month from the National Institute for Reproductive Health for being a "Champion of Choice."
"If a woman cannot control her body, she is not truly equal," he said during the ceremony — a statement that Manning Barish described to the New Yorker as hypocritical and said made her "feel sick."
In a statement posted to Facebook shortly after the New Yorker piece was published, Manning Barish said she decided to come forward for her daughter and that she "could not remain silent and encourage other women to be brave for me."
In her account to the New Yorker, Manning Barish said that shortly after she and Schneiderman started dating in 2013, he grew violent, once slapping her and calling her a whore "out of nowhere" as they were getting ready for bed.
"I got up to try to shove him back, or take a swing, and he pushed me back down. He then used his body weight to hold me down, and he began to choke me," she told the magazine. "The choking was very hard. It was really bad. I kicked. In every fibre, I felt I was being beaten by a man."
After the incident, Manning Barish said that Schneiderman threatened her, accusing her of scratching him and saying that hitting an officer of the law is a felony. Eventually, they reconciled and saw each other off and on for about two years, during which she said he often hit her during sex without her consent, called her names, and critiqued her body, leaving her "emotionally battered."

She told the New Yorker that she felt "ashamed" for protecting him and not coming forward with the abuse, which often came after the attorney general consumed large amounts of alcohol.
Another woman said that Schneiderman became "sexually aggressive" and called her "a dirty little slut" during a romantic encounter at a party in 2016. She said she was repulsed, and that after she pulled back from him, he then slapped her hard across the face, twice. Stunned and upset, she says she demanded to leave and he quickly tried to remedy the situation.
"A lot of women like it. They don't always think they like it, but then they do, and they ask for more," she recalled him saying.

That same year, at the Democratic National Convention in Philadelphia, Tanya Selvaratnam met Schneiderman. The two hit it off and began dating, Selvaratnam told the New Yorker, but she said that not long after, he began physically and emotionally abusing her, slapping her, choking her, spitting on her, and calling her a "brown slave."
"It wasn't consensual. This wasn't sexual playacting. This was abusive, demeaning, threatening behavior," she said. "I began to feel like I was in Hell."
Schneiderman had been running for re-election this year. Under the state's constitution, the state legislature is tasked with selecting a replacement to serve until after November's election.
Upon his resignation Tuesday, Solicitor General Barbara Underwood will take over as New York's acting attorney general, the office confirmed late Monday night. A former clerk to Justice Thurgood Marshall, Underwood has served as Acting Solicitor General and has argued 20 cases before the US Supreme Court.