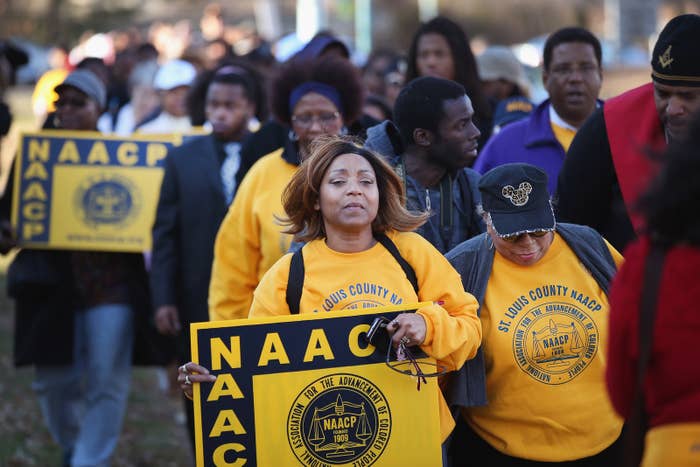 The NAACP has issued a travel advisory for the entire state of Missouri, cautioning people of color that they may face heightened discrimination, threats, and harassment while traveling there.
It marks the first time that the civil rights organization has issued such a warning, a move prompted by a new state law that critics say targets minorities by making it more difficult to prove workplace discrimination claims.
In its alert, the group urges "African American travelers, visitors and Missourians to pay special attention and exercise extreme caution when traveling throughout the state given the series of questionable, race-based incidents occurring statewide recently, and noted therein."
The advisory was also extended to all people of color, women, and the LGBT community. "Race, gender, and color based crimes have a long history in Missouri," the organization emphasized.
Citing an uptick in attacks against people of color, recent deaths of black men in police custody, and a report from the Missouri Attorney General that found black drivers are 75% more likely to be pulled over in the state, the group argues that Missouri is threatening one of Americans' "most basic freedoms—the ability to freely travel from state-to-state without fear of threat, violence or harm," said Derrick Johnson, interim president and CEO.
Black students at the University of Missouri have also been repeatedly subjected to racial slurs and the advisory highlighted a February incident near Kansas City in which two Indian men were shot, and one killed, by a man yelling Islamophobic slurs.
"We felt an obligation to warn people that there is a heightened level of risk," attorney Nimrod Chapel Jr., president of the Missouri NAACP, told BuzzFeed News. "And the assaults that have taken place against minority groups and people of color are not being treated as hate crimes."
While the alert is a first for the NAACP, it mirrors similar efforts by other civil rights groups to use travel warnings as a way to highlight racial profiling, including recent advisories issued in response to the passage of harsh immigration laws in Texas and Arizona.
In July, the Bahamas issued a travel warning to its citizens advising them to take precautions when traveling to the US, specifically citing "shootings of young black males by police officers."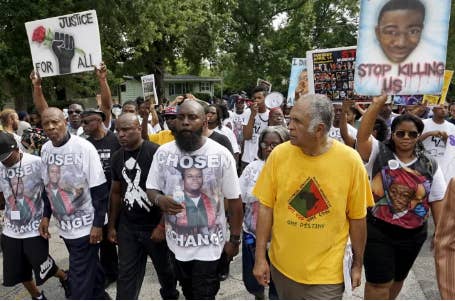 The NAACP advisory will remain in effect at least until the new Missouri law, known as SB 43, takes effect on Aug. 28. The legislation, which was signed by Missouri Republican Gov. Eric Greitens, will require people making workplace bias claims to prove that their race, religion, and gender was a "motivating" — rather than simply "contributing" — factor that directly led to discrimination. The law would also prevent workers from making claims against individuals, and eliminate whistleblower protections.

Critics argue that the law will open up the floodgates for open discrimination against minority workers.
"This is unprecedented," Chapel said. "It legalizes discrimination and if you are in a protected category you are losing your ability to protect your civil rights."
Chapel added that he met with Greitens about the bill several times to explain the state's need for "civil rights and justice," but that "nothing worked" in dissuading the governor, who argued that state legislators were simply following the "federal standard" for discrimination suits.

Greitens' office did not respond to BuzzFeed News' request for comment.
The law's passage — coupled with a spate of racially motivated attacks in Missouri, and nationwide — prompted the NAACP to call for an emergency resolution at its annual convention to recognize the travel warning nationally.
"We are getting complaints of people being killed, assaulted, or targeted because of their skin color, because of who they are, at rates we haven't seen in a long time," Chapel said. "We don't want to see Missouri lead the nation backward."