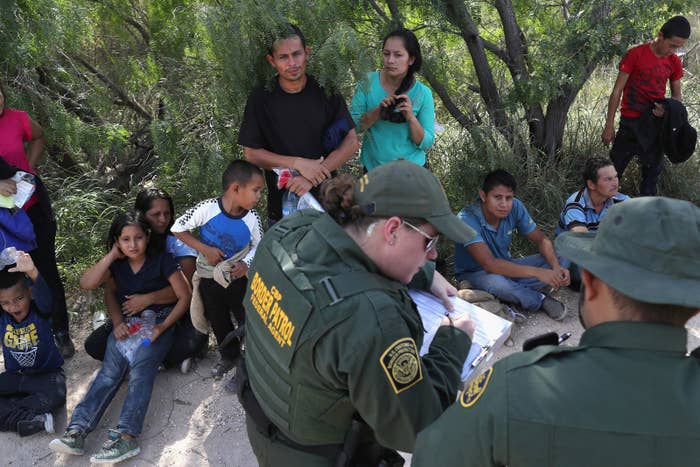 A distraught mother from Honduras says immigration officials took her daughter away from her while she was breastfeeding at a detention center, attorneys with the Texas Civil Rights Project said.

On Tuesday, the "sobbing" woman described the traumatizing encounter to Natalia Cornelio, the Texas Civil Rights Project's criminal justice program director.
"When she resisted having her daughter taken from her she said agents forcibly took her child and then placed her in handcuffs," Cornelio told BuzzFeed News.
The attorney said she met the mother when she was at the federal court in McAllen, Texas, after being found near the Rio Grande trying to cross into the US in the last few weeks. She was one of about 30 undocumented immigrants awaiting prosecution for illegally crossing the border who told Cornelio that day that their children were taken from them without explanation.
In the past two weeks, Cornelio says, she and her team of attorneys have interviewed 180 parents who have no idea where their children are.
As part of the Trump administration's new zero-tolerance immigration policy, officials are separating children from their parents after they are apprehended and charged with illegally entering the United States, a misdemeanor that results in a short prison sentence for first-time offenders.
The regulation is being used as a way to discourage and thwart the growing surge of families trying to cross the southwest border. In May, more than 50,000 people had been detained trying to cross the US border for the third month in a row.
As a result, scores of detained undocumented immigrants are being slapped with civil immigration charges and many are being sent to federal prisons. And since it's against federal law to jail children, they are put in the custody of US Health and Human Services.

"These separations are happening sometime between when people are being apprehended at the border and they are put in holding cells in immigration facilities waiting to be charged," Cornelio said. "They aren't telling them where their children are going, they can't contact them, and many haven't seen their children in weeks. It's a truly horrifying situation."
However, US Customs and Border Protection vehemently denied that an agent forcibly took a baby away from a mother.
"Nothing could be further from the truth and these allegations are unsubstantiated," Daniel Hetlage, the agency's director of media relations, said in a statement to BuzzFeed News. "The incident didn't take place, we did not pull an infant from its mother and ... we don't remove infants from their parents."
The Justice Department told BuzzFeed News Wednesday night that it declined to comment on whether there might be any instances in which a child would be too young to be taken from the parent.
Since the Justice Department enacted the strict rules at the end of May, about 500 children have been taken and separated from their parents in McAllen alone, federal public defenders working in the area told local media.

And these cases are happening with increased frequency all across the Southwest. More than 1,300 children are now in centers without their parents, according to Cornelio, citing figures from the federal government.
"There has been an explosion in the number of families who have been separated and the children removed once they cross the border," she said. "We are trying to keep up with all the stories and so many are heartbreaking."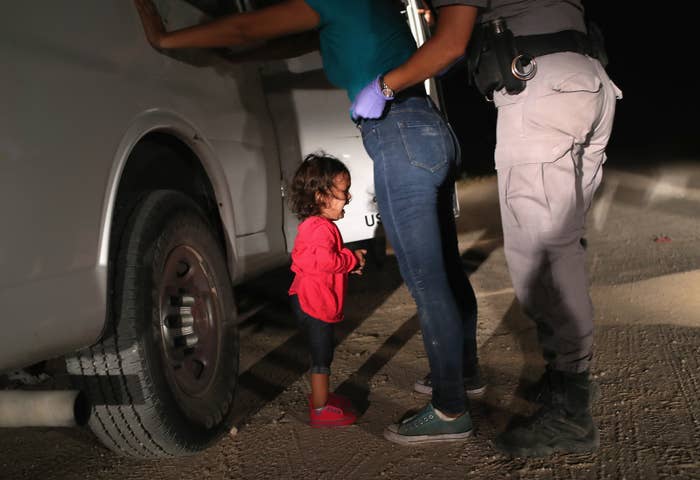 The nonprofit is working with several parents who they say have not seen their children since May 22, like María Andrés de la Cruz, who told TCRP attorneys that she left Guatemala because of life-threatening violence. When she was apprehended at the border, her three children were taken from her without reason.

Antonio Bol Paau, also from Guatemala, was detained around the same time, the center said. When he came out of his cell, his son was gone.

"He wasn't told why they were separated or where his son was sent, only that he would see his son again tomorrow,'" attorneys said in their brief to the Inter-American Commission on Human Rights, asking them to intervene in these cases.

The Texas Tribune chronicled one mass sentencing hearing where about 28 parents pleaded guilty to illegally crossing the border, resulting in some form of prison time and risking their opportunity to get asylum, to try to get their children back from federal shelters, now swelling with scores of undocumented young people.
The families are broken up while the adults are awaiting prosecution. During that process, the Health and Human Services' Administration for Children and Families takes responsibility for the children and places them in Office of Refugee Resettlement centers.
After the mothers and fathers are released, the administration contends that it wants to reunite them with their children. However, its often left to the parents to try to reassemble their family — a daunting and difficult task for people who don't speak the language, are often now in different states, and are not versed in how to navigate convoluted systems.
"We are working with parents who haven't seen their kids in two weeks," Cornelio said. "And some have been moved to different centers. One dad is in Georgia. Another is in Washington even though their children are in Texas."
Hetlage emphasized that agents are following the orders of Attorney General Jeff Sessions, who announced the bolstered immigration policy last month: Prosecute everyone caught entering the country illegally.
"If you're smuggling a child, we're going to prosecute you, and that child will be separated from you, probably, as required by law. If you don't want your child to be separated, then don't bring them across the border illegally," Sessions told the Association of State Criminal Investigative Agencies.

The children are then placed in facilities, because, under federal law, Hetlage said, "we must ensure that unaccompanied alien children in the United States are protected from traffickers and other persons seeking to victimize or otherwise engage such children in criminal, harmful, or exploitative activity."
Asylum-seekers who have entered the country officially, however, are spared from this harsh new system.
But as Cornelio noted, many parents are fleeing their home countries because of violence or threats to their or their family members' lives.
"They are here because they feel it is their only option and they feel they are in danger," she said. "And then imagine, as a parent, going through all this and having your child taken away and you don't know anything. It's fundamentally wrong."