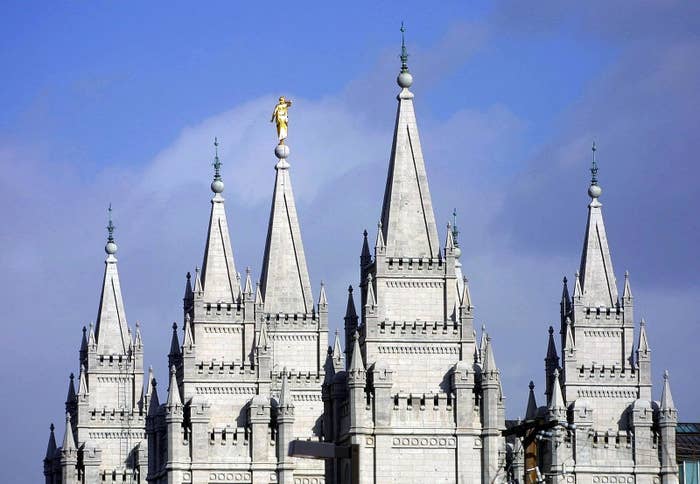 In a stunning move, the Church of Jesus Christ of Latter-day Saints announced Thursday it was reversing its controversial policy that defined same-sex marriage as a grave sin against the church worthy of excommunication and banned LGBT parents from baptizing their children.
The church outlined the surprise decision to reverse its rules implemented in 2015 and soften its treatment of LGBT members in a news release, explaining that the "very positive" changes are "effective immediately" and "should help affected families."
Prior to the reversal, children of LGBT parents could not be baptized until they turned 18 years old. Now, they can take part in the ritual as long as their parents approve and understand that their children will learn and follow the church's teachings.
Same-sex couples will also no longer be seen as "apostates," which refers to those who have turned their back on the church.
"Previously, our Handbook characterized same-gender marriage by a member as apostasy. While we still consider such a marriage to be a serious transgression, it will not be treated as apostasy for purposes of Church discipline," leaders wrote. "Instead, the immoral conduct in heterosexual or homosexual relationships will be treated in the same way."
However, the church said that it is not completely reversing its doctrine on homosexuality and still views same-sex marriage as less moral, but felt moved to alter their policies "to show more understanding, compassion and love..." and "reduce the hate and contention so common today."

Dallin H. Oaks, first counselor in the First Presidency, said the church's decision to completely reverse its policy came after "an extended period of counseling with our brethren" and a "united prayer to understand the will of the Lord." The new policies will be sent to priesthood leaders across the world.
"We are optimistic that a majority of people — whatever their beliefs and orientations — long for better understanding and less contentious communications," the church said. "That is surely our desire, and we seek the help of our members and others to attain it."
While LDS members, prominent gay Mormons, and LGBT groups cheered the move, calling it a step in the right direction, many said there is still work to do to eradicate discrimination from the church.
Troy Williams, executive director of Equality Utah, told BuzzFeed News he was shocked by the First Presidency's announcement, but credited the work of LGBT members and families who have been sharing their stories with church leaders for the change.
In a statement, Williams' organization told its gay Mormon community that they "were heard."
"Today marks a positive step in teaching our young people we all have value – regardless of our sexual orientation or that of our family members," Equality Utah said. "We have work yet to do in order to ensure young LGBTQ people and the children of LGBTQ people understand their tremendous value, and this is an important part of that journey. We look forward to continuing the dialogue. Onward."

The Human Rights Campaign issued a similar response, calling the church's reversal a "welcome change that moves the church closer to a day where LGBTQ Mormons can see themselves affirmed and included in their faith and community."
Tom Christofferson, a well-known gay Mormon who has chronicled his experience in the church, said in a statement that the decision "removes some of the pain that gay parents have felt.
"To me, this is an indication that the leaders of The Church of Jesus Christ of Latter-day Saints continue to wrestle with these issues and to seek the further light and knowledge the Lord has promised," he said.
Others, however, said the reversal was not enough to help heal the "devastating" effects the policy had on LGBT members and their families.
"It's hard to overstate how devastating this was for me personally. I had family members who refused to speak to me for over a year over this," tweeted Emily Coleman, a writer. "I wasn't invited to weddings. This is not just an oops."

In Facebook threads and other online forums, current and former LDS members called attention to the repercussions of the church's policies on LGBT youth, especially in Utah, where suicide is the leading cause of death for children 10 to 17. The state's suicide rate is more than 60 percent higher than the national average.
Lisa Dame, the vice president of Mama Dragons, a support group for primarily Mormon parents with LGBT children, told BuzzFeed News that while they are happy to see the church retract its "harmful" policy, many are still grappling with the pain and loss it has caused.
"There are a lot of people damaged by this," the 57-year-old said. "We lost people, teens, to suicide during those three years and no policy change is going to bring them back."
The mother of five couldn't help but think of the moment she found out that LDS leaders enacted the rules barring children of gay parents from getting baptized, calling it "the hardest day of her life."
"I felt a crushing pain in my heart because I knew what this meant for so many kids, including my daughter," she said. "My daughter was already in a tough emotional place and when you have your church categorize you like that in such a negative way, it's devastating."
The leader of the support group, which has more than 3,000 members worldwide, said they saw a spike in suicides after LDS leaders passed the law. For many of her organization's members, the reversal is frustrating and confusing because it "takes us back to where we were in 2015."
"There are still a lot of feelings of hurt. We want our children to live full and complete lives and this doesn't go far enough to let our kids be in good standing to do that," she said. "It's like salt in a wound."