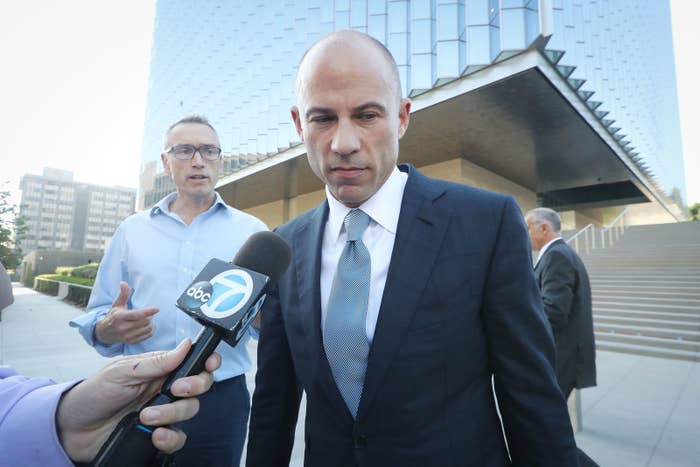 Michael Avenatti, who represents adult film star Stormy Daniels against President Donald Trump, was ordered by a judge to pay his former colleague $4.85 million to settle a dispute over unpaid debt on Monday.
Then, about an hour later, a real estate development company won a court order to evict the firm Eagan Avenatti, and its staff, from their office in Newport Beach's ritzy Fashion Island mall for not paying rent.
The celebrity attorney — who has become one of the president's chief antagonists — is flirting with a 2020 presidential run.

Avenatti and Jason Frank, an attorney at his former law firm, have been locked in a bitter battle over back pay. On Monday, Los Angeles Superior Court Judge Dennis Landin sided with Frank and turned down Avenatti's bid to have the case moved to federal court. He ruled Avenatti must pay back the money because he had personally promised it to Frank as part of a settlement, the Associated Press reported.

Avenatti did not attend the court hearing and never filed any opposing arguments. He told BuzzFeed News that the case was "outright fraud" and that Frank actually owes him millions of dollars.
"The judgment Mr. Frank obtained will be deducted from the $12 million he owes me and my firm for his outright fraud," Avenatti said. "We will net over $7 million."
As for not paying rent and losing his Newport Beach office, Avenatti told BuzzFeed News that he has not owned Eagan Avenatti for months and that he has "no responsibility for the rent." He did not respond to questions about who now owns the firm.
The Los Angeles Times reported that Avenatti was the managing partner of the firm since it got its start in 2007. But Avenatti recently said in court that his other firm, Avenatti & Associates, bought out Michael Eagan and acquired the firm.
Irvine Co., which oversees the Fashion Island mall, alleged that Eagan Avenatti had not paid $213,254 in rent over the last four months. The San Diego Tribune reported that Avenatti had signed the lease on the ocean-view suite and when the landlord tried to cash a $52,235 check for July's rent, it bounced.
As part of a bankruptcy settlement in March, Eagan Avenatti promised to repay millions of dollars to Frank and other creditors. Two months later, a US bankruptcy court judge ordered his old firm, Avenatti & Associates, to pay Frank $10 million. Later that summer, the Justice Department said the attorney owed more than $440,000 in unpaid federal taxes for misrepresenting bankruptcy cases.
Last week, a federal judge dismissed Daniels' defamation lawsuit against Trump. Her attorney has appealed the ruling.