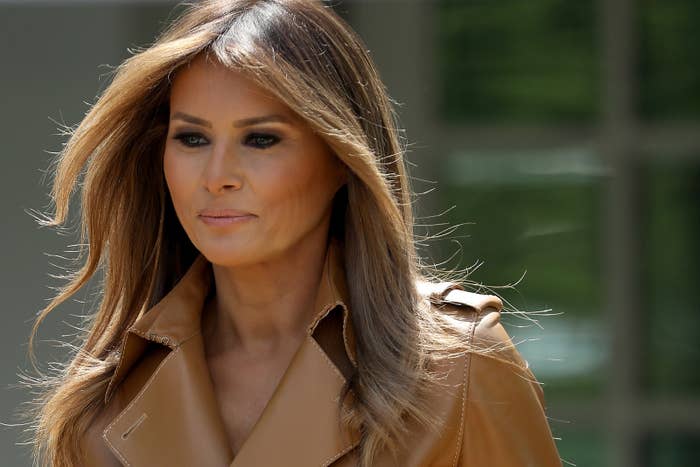 First lady Melania Trump had kidney surgery Monday morning and will remain hospitalized for several days, the White House said.
The 48-year-old had an "embolization procedure to treat a benign kidney condition," the administration said in a statement, adding that the procedure was "successful" and that there were no complications.
Trump was treated at the Walter Reed National Military Medical Center and is expected to remain in the hospital for the duration of the week.
"The first lady looks forward to a full recovery so she can continue her work on behalf of children everywhere," the White House said.
President Trump also tweeted Monday evening that his wife "is in good spirits" while on his way to visit her.
While it's unclear what exactly Melania Trump is being treated for, medical experts surmised that it could be some type of tumor or cyst.
"One explanation is that it she had a benign, fatty tumor of the kidney known as Angiomyolipoma," said Dr. Mohamad Allaf, vice chairman of urology at Johns Hopkins University. "These can be sporadic and happen randomly in otherwise healthy people."
Patients can choose to treat the growths with embolization, a less-invasive procedure that isolates and blocks blood vessels feeding the tumor by cauterizing an artery, Allaf added.
However, he noted that people usually go home the same day, which makes the first lady's lengthier stay "atypical."
"The fact that they said she is going to be there all week puts an interesting spin on it," Allaf said, suggesting that perhaps it was a "very large" growth and doctors wanted to observe her for a longer period of time due to the size and potential after effects.
"When such a large thing is being killed inside your body you can get sick and not feel that great after so they might want to observe her for this period of time," he said. "Or perhaps there is more to it and she is getting other tests done."
If she did have a benign tumor embolized, Allaf noted that she may require follow-up procedures.
The first lady's surgery comes a week after she launched her official "Be Best" initiative geared toward promoting children's health by combatting bullying and drug addictions.