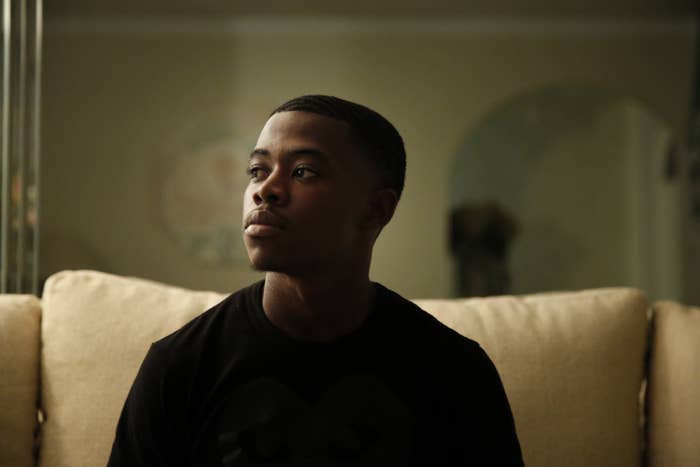 For the rest of his life, Deandre Somerville says he'll think about the 10 days he spent in jail. It's hard not to, because he doesn't think he should have been there in the first place.
The 21-year-old slept through his first jury duty. To punish him, a Florida judge, after chewing him out in court, sentenced him to 10 days in jail and a year of probation, made him pay a fine, and ordered him to serve 150 hours of community service.
"Twenty-four hours in a day felt like 48-hours in a day. All I could do was think, being around criminals, now I am a criminal for doing something that's not even a real criminal act," Somerville told BuzzFeed News on Friday. "I had to tell myself, I am not a criminal. Those 10 days were long and traumatic days."
On Aug. 20, he was picked as a juror for a civil automobile accident negligence case in West Palm Beach County, Florida. The next day, when he was supposed to return to court for the continuation of the trial at 9 a.m., he woke up and realized he had overslept and missed his ride to the courthouse.
So instead of finding another way to get there or calling the bailiff, he ran to work.
He was scheduled to work an afternoon shift at his part-time job as a recreation specialist at a local park — a 10-minute walk from his home — leading youth activities. When he's not working, he's taking care of his grandfather, who lost 50% of his mobility due to a heart attack and uses a walker and scooter to get around. Somerville takes him shopping and to physical therapy, and spends hours with him in the pool doing rehabilitative exercises.

"I should have called, and I own up to that. I made a mistake, but I didn't know I would go to jail. They don't tell you that if you miss jury duty you go to jail," he said. "I don't even have a criminal record."

About three weeks after he failed to show up to jury duty, police arrived at his home. His grandfather told him to "go in and be honest," and that's what he did.

When he went before Circuit Civil Judge John Kastrenakes for a hearing on Sept. 20, Somerville admitted that he had overslept and apologized several times. He explained that he'd never been to a courthouse, let alone a courtroom, and "didn't know the seriousness of it, to be honest."
Kastrenakes chastised him for failing to come to court, delaying the trial, and being unreachable on his cellphone, according to court documents. The judge stated that the trial was delayed for 45 minutes "waiting for juror Somerville and his conduct impeded the due administration of justice."

According to reporters in the courtroom, the judge also stressed that jury service is as important as serving in the military, telling Somerville that he took an oath to serve and "was actually the only African-American on the jury."

"Your intentional, willful failure to follow the orders of the court is a serious matter," he said.
Because of Somerville's "conduct," Kastrenakes convicted him of direct criminal contempt. In addition to sentencing him to jail time, probation, and community service, the judge ordered Somerville to write a letter of apology and pay a $223 fine.
In his sentencing, the judge told Somerville he would be monitoring him closely, saying "this is just a taste of jail."
"I'm dead serious about this. Dead serious," Kastrenakes said, according to court transcripts. "If you don't do the community service hours as I've ordered, you face up to six months in jail, all right? This is just a taste of jail and it's not that long. You'll do this 10 days and then you'll come out and you'll do everything on probation. I'm going to monitor you, make sure your probation is — you adhere to all the rules and conditions of probation."
Somerville described the experience as "shocking" and disheartening. While he said he understands that when "someone makes a mistake, consequences should be given," he felt the judge had made assumptions about who he was as a person.
"For me it was like, dang, it was the first time I go to a courtroom and the second time I show up I get jail time," he said. "I feel like the punishment could have been probation or community service. Why did you have to throw me in jail? Because you assumed I was one way? It's easy to throw someone in jail versus spending the time to really see someone and asking them how they work."
When he heard the sentence, Somerville says he remembers immediately thinking about how it would impact his family.
"A whole 10 days. It put a bind on my family. It neglected me from helping my family," he said. "When I am not working, I am helping maintain the house. I am taking my granddad to therapy. I am constantly going. It was hard. My granddad missed days of therapy when I was in jail."
Spending time in a jail cell, day after day, he said he thought, wrote, and prayed, but it was hard not to feel unfairly targeted.
"Even after those 10 days, why a year probation? Why do I have to go and speak with someone once a month? It was an honest mistake, a 21-year-old mistake and I am still learning as a citizen," he said. "Just because you can put someone in jail doesn't mean you should. It definitely had a lasting impact on me. I will always remember that I went to jail."
The public defender representing Somerville appealed the initial sentence, arguing that the punishment was egregious given the circumstances, citing his ties to the community and lack of a criminal record.
On Friday, the judge reduced the sentence and accepted Somerville's apology. Somerville will now serve three months of probation and have to perform 30 hours of community service, court records show. As part of his probation, Somerville will also have to report once a week to the jury office to give a 10-minute talk about the importance of jury duty. Each presentation will count as three hours of community service.
Somerville said he is looking at every aspect of his punishment as a learning experience.
Legal experts said his handling of the missed jury duty case is unusual when it comes to US courts.

"I haven't ever heard of that," Stephen Susman, a Texas attorney who established NYU Law's Civil Jury Project, the nation's only center that studies shrinking jury trials, told BuzzFeed News. "I assume there has to be something else going on because it's very unusual."
However, he said he "is in favor of" and "applaud[s]" the judge's action "because it is our Constitutional duty."
"This is not something I've been been preaching or urging judges to do," Susman said. "I hope to encourage people to go to jury duty voluntarily because it's great. They love it. When they go, they end up loving it."
Kastrenakes's actions have landed him in the spotlight on other occasions.
In 2010, the Florida Highway Patrol and Palm Beach County State Attorney's Office accused Kastrenakes of using his position to "influence and gain advantage" over an officer who had issued him traffic tickets, calling her "a liar" and threatening to dismiss any case she brought before his court.
Reflecting on the experience, Somerville says he learned that "the world is real" and that "you have to be on top of everything and handle things right." When asked about the judge, he paused.
"I felt that, at first, he made an assumption about me," he said. "But after today, I hope he has a different mindset about me."
Then, he said he wanted to add something: "I thought it was unfortunate that it had to happen to me this way, but my grandma always told me that things happen for a reason. So now, maybe, I think about it as an opportunity to share my story."