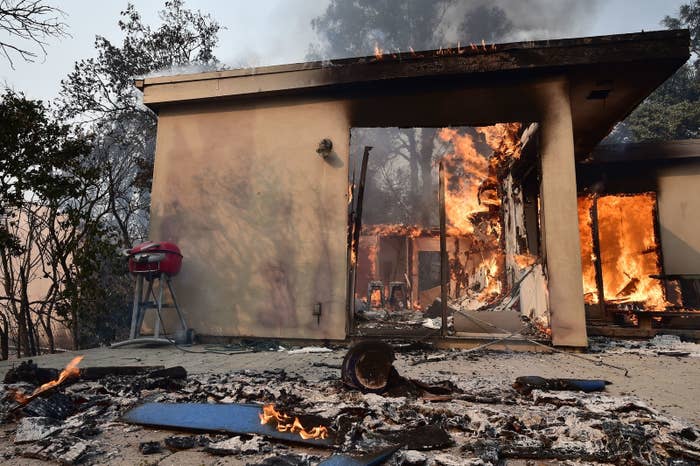 MALIBU — Walking his 17-year-old Australian shepherd Kayla on Saturday, Malibu resident Jimmy Johns marveled at the ingenuity shown by him and his neighbors the day before.
Together, they had used milk cartons, buckets, and whatever else was lying around to scoop water from their condominium complex's jacuzzi to douse their lawns and steps in a desperate bid save their homes.
The Woolsey fire had moved so swiftly over the dry, brush-covered canyons and mountains separating Malibu and Thousand Oaks, California, to the east, that firefighters were left scrambling to keep up with the sheer number of houses burning.
"[Firefighters] would drive by, douse us, and move on to the next because they were working so hard and fast to save other homes, so I understand why they were scarce with water," Johns said. "They did what they could. I'm grateful."
Johns was one of more than half a dozen residents from Malibu neighborhoods who told BuzzFeed News of the creative and chaotic efforts they used to try to protect their homes as firefighters were stretched thin.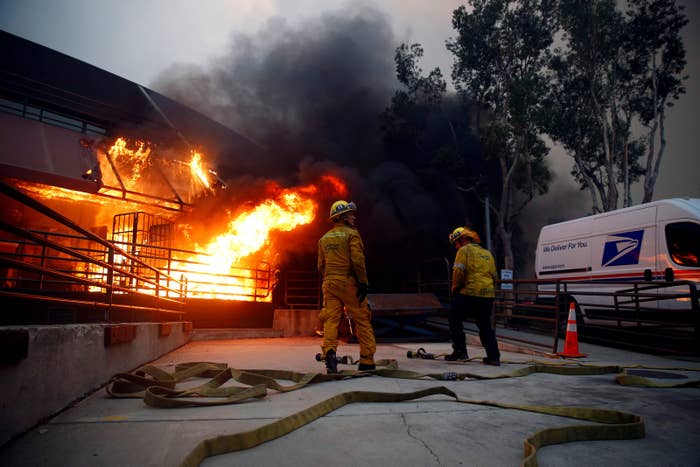 In Point Dume, Johns said they had lost water and fire trucks were running out and having to wait for reinforcements. Residents were taking water from wherever they could find it — pools, fountains, and water bottles — and drenching what they could as the fire skirted by.
Driven by powerful gusts, the flames leaped into and swallowed chunks of Malibu's neighborhoods, many of which are tucked in canyons and wooded streets. Afraid of losing their homes, many residents stayed to hose them down.
Mark Lukan, who has lived in the area since 2004, stayed behind with his neighbor to continuously wet their homes behind Malibu High School as the fire roared down the hill toward them.
He said he only saw one small fire truck up above him, trying to fend off the impending flames.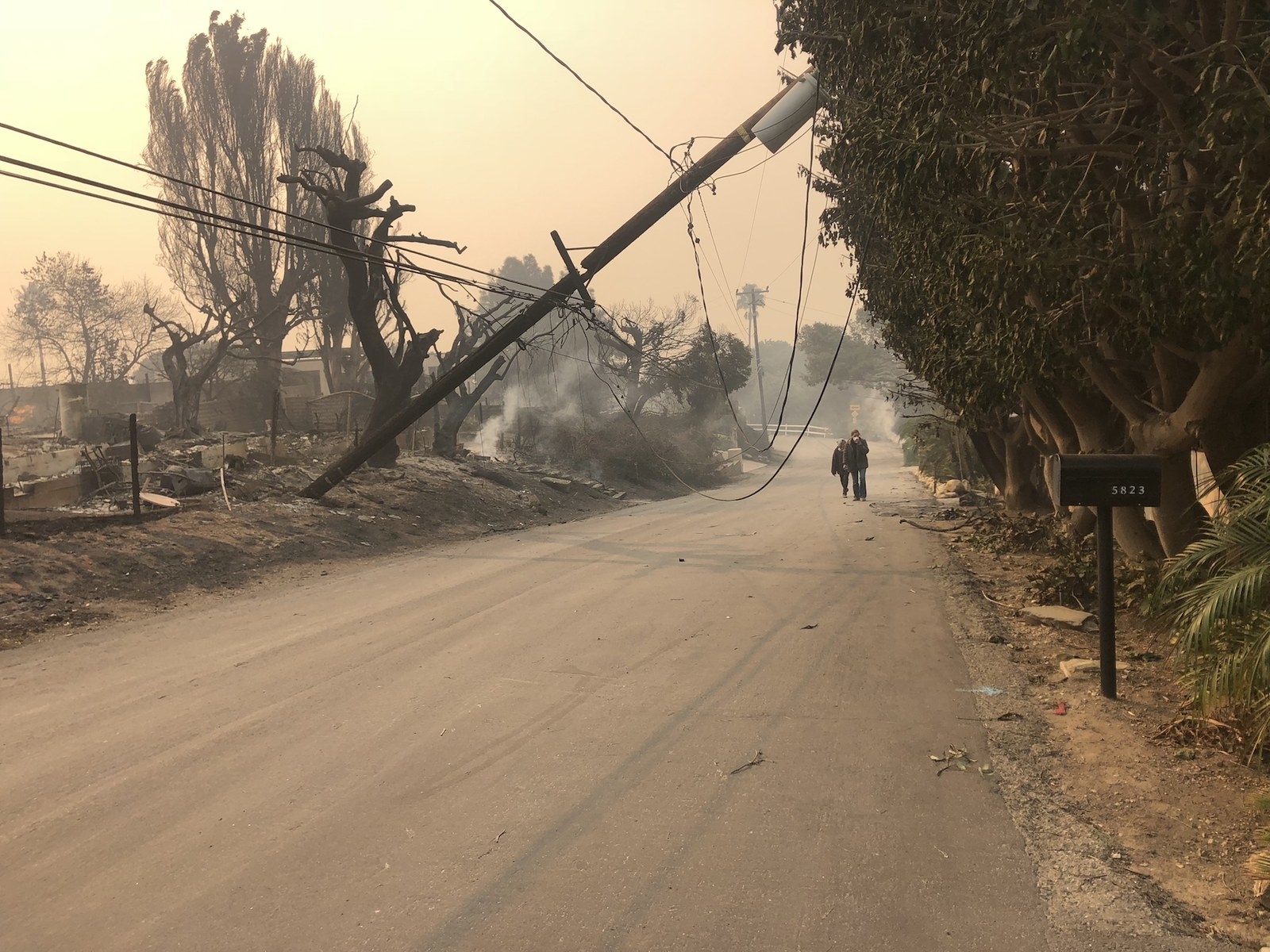 Many homes along his road sat smoking Saturday morning, rendered to piles of ash and bent steel.
"I was looking at the flames shooting up in the air, and the whole thing looked like some monster that was taking over," he said. "I was like, I'm gone."
Both their homes made it, though, sitting behind a homemade sign scrawled with the words "Jesus Christ — Lord of Lords — King of Kings."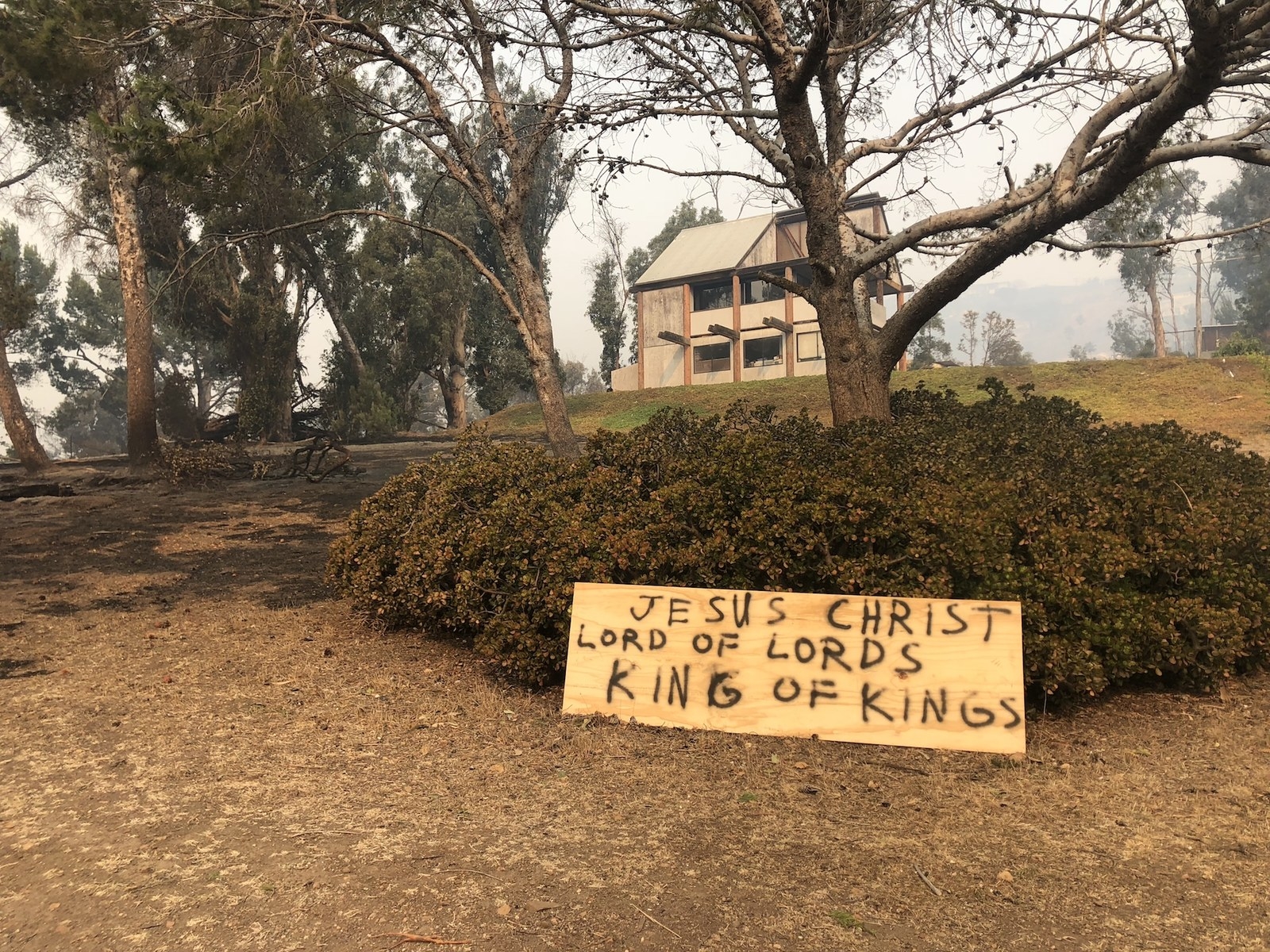 Juan Mendez, a firefighter from San Diego County who drove up to help fight the Woolsey fire, said that firefighters were struggling to get ahead of the flames because of how "rapidly they were moving" due to the wind.
Authorities say the Woolsey fire has now burned more than 70,000 acres and destroyed "numerous" structures. In an update on Saturday afternoon, Cal Fire said 3,500 structures remained under threat.
"Due to extreme fire behavior, firefighting efforts have been focused, and will remain focused, on the protection of life and structures," Cal Fire said.
While they are grateful for the firefighters' efforts, residents like Denusia Larson wished there had been more of them. Larson said she had evacuated her animals down to the beach around 8 a.m. on Friday and went back repeatedly to check on her house and wet it down.
The house was there at 10 a.m. and 1 p.m., but by 3 p.m. she couldn't get back. She said she never saw any fire trucks zoom by.
Her home of 21 years is now gone.
"I know they were stretched thin and I don't know their jobs and I don't know what's going on," she sighed. "But it's hard not to feel like we were abandoned."